Releases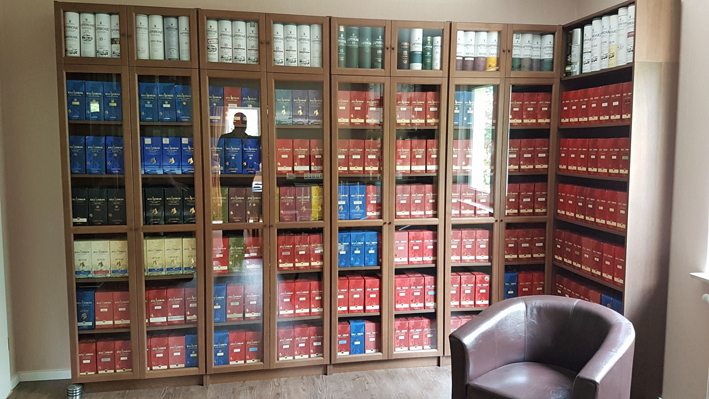 One of the special features of the Kilchoman distillery are the countless single cask bottlings for different countries, whisky shops, whisky fairs or private individuals. On the one hand, this is one of the things that make Kilchoman so appealing to the whisky lover. At no other Scottish whisky distillery can the maturation of the whisky over the years and in different casks be traced so well. On the other hand, this makes creating a database of all Kilchoman bottlings an almost impossible task. The authors of this site have taken up this challenge and the following list is a preliminary result of this Sisyphean task. We can state that we are already able to present here not only the most comprehensive, but above all the most reliable database that can be found at present. In order to avoid incorrect entries, we have not relied on information from third parties. Most of the information has been taken from the large Kilchoman collection by Hans-Peter Neumann or contributed by Kilchoman specialists and verified by us.
The following list shows first the General Releases, then the Small Batches and then the Single Cask Releases, sorted by cask number. At the very end are the independent releases, which are rare in the case of Kilchoman.
We are working on adding an extra page to each listed release with all technical details, photos and tasting notes, but just photographing the bottles with professional equipment and image editing will keep us busy for months to come…
If you find any mistakes in our database or if bottles are missing, please send us an email at hansi@kilchomania.com.
| | | | | | | |
| --- | --- | --- | --- | --- | --- | --- |
| Release | Cask-No. | Distilled | Bottled | Strength | Age | Casktype |
|  |  |  |  |  |  |  |
| Inaugural Release |  | 2006 | 2009 | 46,0% | 3 yo | Bourbon Barrels and Oloroso Sherry Casks |
| Autumn 2009 Release |  | 2006 | 2009 | 46,0% | 3 yo | Bourbon Barrels and Oloroso Sherry Casks |
| Spring 2010 Release |  | 2006 | 2010 | 46,0% | 3 yo | Bourbon Barrels and Oloroso Sherry Casks |
| Summer 2010 Release |  |  | 2010 | 46,0% | 3 yo | Fresh and Refill Bourbon Barrels |
| Winter 2010 Release |  | 2007 | 2010 | 46,0% | 3 yo | Fresh and Refill Bourbon Barrels |
| Spring 2011 Release |  | 2007 | March 2011 | 46,0% | 3 yo | Fresh and Refill Bourbon Barrels |
| 100% Islay, Inaugural Release |  | 2008 | 2011 | 50,0% | 3 yo | Fresh and Refill Bourbon Barrels |
| 100% Islay, Inaugural Release Cask Strength | 100-103/2008 | 2008 | 2011 | 61,3% | 3 yo | Fresh and Refill Bourbon Barrels |
| 100% Islay, 2nd Edition |  | 2008, 2009 | 2012 | 50,0% | 3 yo | Fresh and Refill Bourbon Barrels |
| 100% Islay, 3rd Edition |  |  | 2013 | 50,0% | 4 yo | Fresh Bourbon Barrels |
| 100% Islay, 4th Edition |  |  | 2014 | 50,0% | 4 yo | Fresh Bourbon Barrels |
| 100% Islay, 5th Edition |  | 2009, 2010 | 2015 | 50,0% | 5 yo | Fresh and Refill Bourbon Barrels |
| 100% Islay, 6th Edition |  | 2010 | 2016 | 50,0% | 6 yo | Fresh and Refill Bourbon Barrels |
| 100% Islay, 7th Edition |  | 2010 | 2017 | 50,0% | 7 yo | Fresh and Refill Bourbon Barrels |
| 100% Islay, 8th Edition |  | 2008-2012 | 2018 | 50,0% |  | Bourbon Barrels, Oloroso Sherry Butts |
| 100% Islay, 9th Edition |  | 2008-2010 | 2019 | 50,0% | 9 yo | Fresh and Refill Bourbon Barrels |
| 100% Islay, 10th Edition | | 2008-2011 | 2020 | 50,0% | 9 yo | Bourbon Barrels, Oloroso Sherry Butts |
| 100% Islay, 11th Edition | | 2008-2012 | 2021 | 50,0% | 9 yo | Bourbon Barrels, Oloroso Sherry Butts |
| 100% Islay, 12th Edition | | 2012-2014 | 2022 | 50,0% | 8 yo | Bourbon Barrels, Oloroso Sherry Butts |
| (1st) Sherry Cask Release |  |  | 2012 | 46,0% | 4 yo | Oloroso Sherry Butts |
| Loch Gorm 2013 |  | 2007 | 2013 | 46,0% | 5 yo | Oloroso Sherry Butts, Hogshead Finish |
| Loch Gorm 2014 |  | 2009 | 2014 | 46,0% | 5 yo | Oloroso Sherry Butts |
| Loch Gorm 2015 |  | 2010 | 2015 | 46,0% | 5 yo | Oloroso Sherry Butts and Hogsheads |
| Loch Gorm 2016 |  | 2010 | 2016 | 46,0% | 6 yo | Oloroso Sherry Butts |
| Loch Gorm 2017 |  | 2009 | 2017 | 46,0% | 7 yo | Oloroso Sherry Butts |
| Loch Gorm 2018 |  | 2007-2011 | 2018 | 46,0% |  | Oloroso Sherry Butts |
| Loch Gorm 2019 |  | 2006-2011 | 2019 | 46,0% |  | Oloroso Sherry Butts |
| Loch Gorm 2020 |  | 2007-2011 | 2020 | 46,0% | 8 yo | Oloroso Sherry Butts |
| Loch Gorm 2021 | | 2011-2012 | 2021 | 46,0% | 9 yo | Oloroso Sherry Butts |
| Loch Gorm 2022 | | 2007-2013 | 2022 | 46,0% | 8 yo | Oloroso Sherry Butts |
| Machir Bay 2012 |  |  | 2012 | 46,0% | 3 yo | Bourbon Barrels and Oloroso Sherry Casks |
| Machir Bay 2013 |  |  | 2013 | 46,0% | 4 yo | Bourbon Barrels and Oloroso Sherry Casks |
| Machir Bay 2014 |  |  | 2014 | 46,0% | 5 yo | Bourbon Barrels and Oloroso Sherry Casks |
| Machir Bay (General Release, since 2015) |  |  | 2015 | 46,0% | NAS | Bourbon Barrels and Oloroso Sherry Casks |
| Machir Bay Cask Strength Limited Festive Edition | | | 2020 | 58,6% | NAS | Bourbon Barrels and Oloroso Sherry Casks |
| ► Machir Bay Tour Bottlings | | | | | | |
| ► Machir Bay Collaborative Vattings | | | | | | |
| | | | | | | |
| Coull Point |  |  | 2013 | 46,0% | 4 yo | Bourbon Barrels and Oloroso Sherry Casks |
| Saligo Bay |  | | 2014 | 46,0% | 5 yo | Bourbon Barrels |
| Sanaig (2015) |  |  | 2015 | 46,0% | NAS | Bourbon Barrels and Oloroso Sherry Casks |
| Sanaig (General Release, since 2016) |  |  | 2016- | 46,0% | NAS | Bourbon Barrels and Oloroso Sherry Casks |
| Loch Gruinart | | | 2020 | 46,0% | NAS | Bourbon Barrels, Oloroso and PX Sherry Casks |
| Vintage 2006 |  | 2006 | 2011 | 46,0% | 5 yo | Fresh and Refill Bourbon Barrels |
| Vintage 2007 |  | 2007 | 2013 | 46,0% | 6 yo | Fresh and Refill Bourbon Barrels |
| Vintage 2008 |  | 2008 | 2015 | 46,0% | 7 yo | Fresh and Refill Bourbon Barrels |
| Vintage 2009 |  | 2008/2009 | 2017 | 46,0% | 8 yo | Fresh and Refill Bourbon Barrels, Oloroso Sherry Butts |
| Vintage 2010 |  | 2010 | 2019 | 48,0% | 9 yo | Fresh and Refill Bourbon Barrels, Oloroso Sherry Butts |
| Original Cask Strength Release |  | 2009 | 2014 | 59,2% | 5 yo | Bourbon Barrels |
| Original Cask Strength – Quarter Cask |  | 2010 | 2016 | 56,9% | 6 yo | Quarter Casks |
| Port Cask Release |  | 2011 | 2014 | 55,0% | 3 yo | Ruby Port Casks |
| Port Cask Matured, 2018 Edition |  | 2014 | 2018 | 50,0% | 3 yo | Ruby Port Casks |
| Madeira Cask Release |  | 2011 | 2015 | 50,0% | 4 yo | Madeira Casks |
| 10th Anniversary Release |  | 2005-2012 | 2015 | 58,2% |  | Bourbon Barrels & Oloroso Sherry Casks |
| Sauternes Cask Release |  | 11/2010-01/2011 | 2016 | 50,0% | 5 yo | Sauternes Casks |
| Sauternes Cask Finish 2018 Edition |  | 2012 | 25.09.2018 | 50,0% |  | Bourbon Barrels, Sauternes Cask Finish |
| Red Wine Release |  | 2012 | 03.10.2017 | 50,0% | 5 yo | Red Wine Casks |
| STR Cask Matured 2019 Edition |  | 2012 | 23.04.2019 | 50,0% | 7 yo | STR Casks |
| Am Bùrach |  | 2009-2011 | 15.05.2020 | 46,0% | 9 yo | Bourbon Barrels, Oloroso Sherry Casks, Port Casks |
| Fino Sherry Matured | | 2014, 2016 | 01.10.2020 | 46,0% | 4 yo | Fino Sherry Butts |
| PX Sherry Cask Matured Edition | | 2013,2015 | 2021 | 47,3% | 5 yo | PX Hogsheads & Bourbon Barrels, PX Finish |
| Madeira Cask Matured 2021 Edition | | 2016 | 2021 | 50,0% | 5 yo | Fresh Madeira Hogsheads |
|  |  |  |  |  |  |  |
| Small Batch Releases |  |  |  |  |  |  |
|  |  |  |  |  |  |  |
| Fèis Ìle 2010 Release | 113/2007 | 22.05.2007 | 22.05.2010 | 62,2% | 3 yo | Fresh Bourbon Barrel |
| Fèis Ìle 2011 Release | 31, 32/2006 | 20.04.2006 | 05.05.2011 | 59,5% | 5 yo | Fresh Bourbon Barrels, Refill Oloroso Sherry Finish |
| Fèis Ìle 2012 Release | 100-103/2008 | 23.04.2008 | 24.05.2012 | 58,5% | 4 yo | Fresh Bourbon Barrels, Oloroso Sherry Finish |
| Fèis Ìle 2013 Release | 246, 247/2008 | 22.05.2008 | 22.05.2013 | 60,1% | 5 yo | Fresh Bourbon Barrels |
| Fèis Ìle 2014 Release | 328 & 329/2009 | 01.07.2009 | 20.05.2014 | 58,7% | 4 yo | Fresh Bourbon Barrels, Fino Sherry Finish |
| Fèis Ìle 2015 Release | 245, 449 & 450/2008 | 22.05.2008 / 12.09.2008 | 22.05.2015 | 58,2% | 6 yo | Fresh Bourbon Barrels |
| Fèis Ìle 2016 Release | 429/2007 | 13.12.2007 | 20.05.2016 | 56,6% | 8 yo | Oloroso Sherry Butt |
| Fèis Ìle 2017 Release | 324/2008 + 433/2009 | 03.07.2008 / 08.10.2009 | May 2017 | 58,0% | 7 yo | Bourbon Barrel & Oloroso Sherry Butt |
| Fèis Ìle 2018 Release | 34, 65, 82, 83/2007 | Febr. / March 2007 | May 2018 | 55,5% | 11 yo | Bourbon Barrels |
| Fèis Ìle 2019 Release | 141/2007, 80/2008 | 13.06.2007 / 28.02.2008 | 20.05.2019 | 54,4% | 11 yo | Fresh Bourbon Barrel & Fresh Oloroso Sherry Butt |
| Fèis Ìle 2020 Release | 257/07, 260/07, 353/07, 359/07, 365/07, 141/08, 143/08, 163/08, 166/08, 168/08, 171/08 | 08/2007-04/2008 | 28.04.2020 | 54,2% | 12 yo | Bourbon Barrels |
| Fèis Ìle 2021 Release | 94/2011, 151/2011; 27/2012, 711-714/2012, 718/2012 | 02/2011-11/2012 | 04/2021 | 56,3% | 8 yo | Bourbon Barrels & Oloroso Sherry Butts |
| Fèis Ìle 2022 Release | 01/2006, 04/2006, 08/2006, 21/2006, 27/2006 | 29.03.2006 / 12.04.2006 | 02.05.2022 | 52,1% | 16 yo | Fresh Bourbon Barrels |
|  |  |  |  |  |  |  |
| Small Batch Release for The Kilchoman Club, 2nd Edition | 485-490, 567, 568/2008 | Oct 2008 | 04.11.2013 | 58,2% | 5 yo | Fresh Bourbon Barrels, Oloroso Sherry Finish |
| Small Batch Release for The Kilchoman Club, 3rd Edition | 65 & 66/2010 | 11.02.2010 | 24.11.2014 | 58,4% | 4 yo | Fresh Madeira Casks |
| Small Batch Release for The Kilchoman Club, 4th Edition | 740&790/2010&28/2011 | 2010/2011 | 09.11.2015 | 60,0% | 4 yo | Sauternes Wine Casks |
| Small Batch Release for The Kilchoman Club, 5th Edition | 227 & 308/2006 | 6.9. & 1.11.2006 | 03.11.2016 | 57,0% | 10 yo | Fresh Bourbon Barrel & Fresh Oloroso Sherry Butt |
| Small Batch Release for The Kilchoman Club, 6th Edition | 383-385, 387, 388/2007 | 01.11.2007 | 20.11.2017 | 57,4% | 10 yo | Fresh Bourbon Barrels |
| Small Batch Release for The Kilchoman Club, 7th Edition | 309 & 310/2006 | 01.11.2006 | 07.11.2018 | 55,2% | 12 yo | Oloroso Sherry Butts |
| Small Batch Release for The Kilchoman Club, 8th Edition | 283/2006, 376, 123 & 425/2007 | 11.10.2006 – 13.12.2007 | 27.11.2019 | 54,3% | 11 yo | Fresh Bourbon Barrels & Oloroso Sherry Butt |
| Small Batch Release for The Kilchoman Club, 9th Edition | 548-551/2012 | 23.08.2012 | 16.11.2020 | 56,2 % | 8 yo | Oloroso Sherry Hogsheads |
| Small Batch Release for The Kilchoman Club, 10th Edition | 634, 636, 640/2008 | 04.12.2008 | 18.11.2021 | 52,6% | 12 yo | Oloroso Sherry Casks |
|  |  |  |  |  |  |  |
| Small Batch Release, Sherry Finish |  | Oct 2008 | 30.11.2013 | 58,2% | 5 yo | Fresh Bourbon Barrels, Oloroso Sherry Finish |
| Small Batch Release, Fresh Bourbon |  | 03 & 08/2011 | March 2017 | 58,3% | 5 yo | Fresh Bourbon Barrels |
| Small Batch Release, Fresh Bourbon |  | June 2011 | 18.07.2017 | 55,7% | 6 yo | Fresh Bourbon Barrels |
| Small Batch Release, Bourbon and PX Sherry Finish | 76, 214, 622, 627/2012 | 2012 | 23.04.2018 | 57,8% | 5 yo | Fresh Bourbon Barrels & PX Finish |
|  |  |  |  |  |  |  |
| Small Batch for Germany, Bourbon Cask | 247-249/2007 | 15.08.2007 | 10.10.2012 | 59,3% | 5 yo | Fresh Bourbon Barrels |
| Small Batch for Germany, Sherry Finish | 392-394/2008 | 07.08.2008 | 07.10.2013 | 59,4% | 5 yo | Fresh Bourbon Barrels, Oloroso Sherry Finish |
| Small Batch for Germany, 100% Islay | 358-360/2009 | 30.07.2009 | 27.08.2014 | 60,7% | 5 yo | Fresh Bourbon Barrels |
| Small Batch for Germany, PX Finish/Oloroso Casks | 696,697/2010; 520/2011 | 01.09.2011 | 28.01.2016 | 58,2% | 4 yo | Bourbon Barrels, PX Finish & Oloroso Sherry Cask |
| Small Batch for Germany, Oloroso Casks | 185&186/2008 | 24.04.2008 | 22.02.2017 | 56,6% | 8 yo | Oloroso Sherry Casks |
| Small Batch Rum Finish – Local Dealer Edition for Germany | 143&142/2011, 403&410/2012 | 17.03.2011; 05.07.2012 | 03.10.2018 | 56,2% | 6 yo | Bourbon Barrels, Jamaica Rum Finish |
| Small Batch PX Cask Finish Vatting for The Swedish Whisky Federation |  | 2011 & 2012 | 20.09.2017 | 56,7% |  | Bourbon Barrels, PX Finish |
| [Small Batch] Commemorating the opening of the new still house & visitor centre 21st February 2020 |  |  | 13.02.2020 | 54,3% | 11 yo | Fresh Bourbon Barrels, Oloroso Sherry Casks |
| Comraich Batch No. 1 | 146/2007, 265/2007, 419/2007 | 13.6., 29.8., 4.12.2007 | 14.10.2017 | 55,5% | 9 yo | Bourbon Barrels, Oloroso Sherry Butt |
| Comraich Batch No. 2 | 206, 207, 208/2011 | 21.04.2011 | 11.03.2019 | 55,3% | 7 yo | Fresh Bourbon Barrels |
| Comraich Batch No. 3 | 524/2008, 528/2008, 275/2010 | 16.10.2008, 28.5.2010 | 10.10.2019 | 55,7% | 9 yo | Fresh Bourbon Barrels, Oloroso Sherry Butt |
| Comraich Batch No. 4 | 205/2011, 467/2011, 775/2011 | 21.04., 4.8., 9.12.2011 | 08.02.2021 | 55,0% | 9 yo | Bourbon Barrels |
| Comraich Batch No. 5 | 460, 479, 480, 484/2014 | 27.06.2014 | 09.02.2022 | 55,5% | 7 yo | Port Hogsheads |
|  |  |  |  |  |  |  |
| Belgium Small Batch No. 1 |  | | 17.09.2019 | 48,9% | NAS | 70% Bourbon, 5% Sherry, 25% STR |
| Belgium Small Batch No. 2 | | | 17.03.2021 | 48,4 % | NAS | 70% Bourbon, 5% Sherry, 25% PX |
| China Small Batch No. 1 | | | 06.08.2019 | 48,2% | NAS | 70% Bourbon, 5% Sherry, 25% Port |
| China Small Batch No. 2 | | | 04.04.2021 | 49,0% | NAS | 70% Bourbon / 10% Oloroso Sherry / 20% Sauternes |
| Finland Small Batch No. 1 |  |  | 06.06.2019 | 46,0% | NAS | 80% Bourbon, 20% Sherry |
| Finland Small Batch No. 2 |  |  | 13.05.2020 | 49,4% | NAS | 70% Bourbon, 5% Sherry, 25% Port |
| Finland Small Batch No. 3 | | | 16.03.2021 | 47,5% | NAS | 70% Bourbon, 5% Sherry, 25% Madeira |
| Bourbon Barrel Small Batch (for Finland) Turve | | 2015 | 08.04.2022 | 56,0% | NAS | Fresh Bourbon Barrels |
| Exclusive Selection No. 1 (Small Batch Release for Le comptoir Irlandais, France) | | | 04.09.2019 | 46,8% | NAS | 85% Bourbon, 15% Oloroso Sherry |
| Exclusive Selection No. 2 (Small Batch Release for Le comptoir Irlandais, France) | | | 04.09.2020 | 47,1% | NAS | 80% Bourbon, 20% Oloroso Sherry |
| Exclusive Selection No. 2 [2021] (Small Batch Release for Le comptoir Irlandais, France) | | | 09.06.2021 | 47,2% | NAS | 25% Sauternes % 70% Bourbon / 5% Oloroso Sherry |
| French Inspiration #1 (Small Batch Release for France) | | | 06.04.2022 | 49,7% | NAS | 70% Bourbon / 5% Oloroso Sherry / 25% Calvados |
| French Inspiration #2 (Small Batch Release for France) | | | 07.04.2022 | 49,1% | NAS | 75% Bourbon / 5% Oloroso Sherry / 20% Sauternes |
| Germany Small Batch No. 1 |  |  | 13.06.2019 | 48,9% | NAS | 70% Bourbon, 5% Sherry, 25% Port |
| Genesis – Harvest, Stage 1 | | | 24.09.2020 | 48,6% | NAS | 70% Bourbon, 10% Oloroso, 20% PX |
| Genesis – Malting, Stage 2 | | | 22.11.2021 | 49,2% | NAS | 75% Bourbon, 5% Sherry, 20% Sauternes |
| Japan Small Batch No. 1 | | | 3.2.2020 | 48,1% | NAS | 70% Bourbon, 5% Sherry, 25% Madeira |
| Korea Small Batch No. 1 | | | 2022 | 49,0% | NAS | 75% Bourbon / 5% Oloroso Sherry / 20% Sauternes |
| The Netherlands Small Batch No. 1 |  |  | 27.06.2019 | 47,0% | NAS | 85% Bourbon, 5% Sherry, 10% PX |
| The Netherlands Small Batch No. 2 | | | 08.07.2020 | 49,4% | NAS | 70% Bourbon, 5% Sherry, 25% Madeira |
| Norway Small Batch No. 1 | | | 2021 | 48,8% | NAS | 75% Bourbon, 5% Oloroso Sherry, 20% PX |
| Poland Small Batch No. 1 | | | 30.06.2021 | 47,6% | NAS | 70% Bourbon, 5% Sherry, 25% Sauternes |
| Sweden Small Batch No. 1 |  |  | 12.09.2019 | 47,2% | NAS | 85% Bourbon, 15% Sherry |
| Sweden Small Batch No. 2 | | | 28.10.2021 | 48,4% | NAS | 75% Bourbon, 5% Sherry, 20% Sauternes |
| Taiwan Small Batch No. 1 | | | Nov 2019 | 46,9% | NAS | 85% Bourbon, 5% Sherry, 10% PX |
| UK Small Batch No. 1 |  |  | 29.10.2019 | 48,3% | NAS | 70% Bourbon, 5% Sherry, 25% Madeira |
| UK Small Batch No. 2 | | | 06.08.2020 | 47,4% | NAS | 70% Bourbon, 20% PX, 10% Oloroso |
| UK Small Batch No. 3 | | | 16.11.2021 | 49,1% | NAS | 70% Bourbon, 5% Oloroso Sherry, 25% Sauternes |
| UK Small Batch No. 4 | | | 19.07.2022 | 49,8% | NAS | 70% Bourbon, 5% Oloroso Sherry, 25% STR |
| USA Small Batch No. 1 |  |  | 15.08.2019 | 48,5% | NAS | 70% Bourbon, 5% Sherry, 25% Port |
| USA Small Batch No. 2 |  |  | 18.02.2020 | 48,5% | NAS | 70% Bourbon, 5% Sherry, 25% Madeira |
| USA Small Batch No. 3 | | | 20.08.2020 | 48,9% | NAS | 50% Port, 47% Bourbon, 3% Sherry |
| USA Small Batch No. 4 | | | 03.12.2020 | 48,1% | NAS | 65% Bourbon, 5% Sherry, 30% Madeira |
| USA Small Batch No. 5 |  |  | 07.05.2021 | 48,3% | NAS | 70% Bourbon, 5% Sherry, 25% Sauternes |
| USA Small Batch No. 6 | | | 07.05.2021 | 47,9% | NAS | 70% Bourbon, 5% Oloroso, 25% PX |
| B.I.B. Bourbon Influenced Batch [for the USA] | | | 06.05.2021 | 50,0% | 9 yo | Wheated Bourbon Barrels |
| | | | | | | |
| Single Cask Releases |  |  |  |  |  |  |
|  |  |  |  |  |  |  |
| Single Bottle from Cask No. 1/2005 | 01/2005 | 14.12.2005 | 22.05.2009 | 60,7% | 3 yo | Refill Bourbon Barrel |
| Single Bottle from Cask No. 1/2005 | 01/2005 | 14.12.2005 | 14.12.2015 | 58,2% | 10 yo | Refill Bourbon Barrel |
| Private Single Cask Release for Lord Margadale | 03/2005 | 14.12.2005 | 28.02.2017 | 58,4% | 11 yo | Bourbon Barrel |
| [Part of] Fèis Ìle 2022 Release | 01/2006 | 29.03.2006 | 02.05.2022 | 52,1% | 16 yo | Fresh Bourbon Barrel |
| Single Cask for FC Whisky Denmark (No.) 4 | 03/2006 | 29.03.2006 | 29.03.2011 | 61,5% | 5 yo | Fresh Bourbon Barrel |
| [Part of] Fèis Ìle 2022 Release | 04/2006 | 29.03.2006 | 02.05.2022 | 52,1% | 16 yo | Fresh Bourbon Barrel |
| Single Bourbon Cask for Kilchomania.com | 05/2006 | 29.03.2006 | 15.04.2022 | 53,4% | 16 yo | Fresh Bourbon Barrel |
| [Part of] Fèis Ìle 2022 Release | 08/2006 | 29.03.2006 | 02.05.2022 | 52,1% | 16 yo | Fresh Bourbon Barrel |
| Bourbon Barrel selected by Anthony Wills (The Wills Family Cask Collection [SMCC]) | 11/2006 | 29.03.2006 | 21.07.2021 | 54,3% | 15 yo | Bourbon Barrel |
| Private Single Cask for Whiskyfreunde Essenheim | 13/2006 | 29.03.2006 | 25.01.2019 | 55,7% | 12 yo | Fresh Bourbon Barrel |
| Private Single Cask Release for Pedigree Chums of Durham | 14/2006 | 12.04.2006 | 14.05.2016 | 57,0% | 10 yo | Bourbon Barrel |
| Private Single Cask Release for Robert McClatchey | 17/2006 | 14.06.2006 | 02.03.2015 | 57,5% | 8 yo | Fresh Bourbon Barrel |
| 14 yo Single Cask ImpEx Cask Evolution Special Edition | 18/2006 | 12.04.2006 | 12.05.2020 | 53,0% | 14 yo | Fresh Bourbon Barrel |
| [Part of] Fèis Ìle 2022 Release | 21/2006 | 12.04.2006 | 02.05.2022 | 52,1% | 16 yo | Fresh Bourbon Barrel |
| Single Cask Release for Kilchoman Distillery Shop | 26/2006 | 12.04.2006 | 18.04.2011 | 58,7% | 5 yo | Fresh Bourbon Barrel |
| [Part of] Fèis Ìle 2022 Release | 27/2006 | 12.04.2006 | 02.05.2022 | 52,1% | 16 yo | Fresh Bourbon Barrel |
| 15 yo Single Cask for Bresser & Timmer | 29/2006 | 20.04.2006 | 27.04.2021 | 53,0% | 15 yo | Bourbon Barrel |
| 14 yo Bourbon Barrel (The Wills Family Cask Collection: Anthony Wills) | 30/2006 | 20.04.2006 | 28.05.2020 | 53,3% | 14 yo | Bourbon Barrel |
| [Part of] Fèis Ìle 2011 Release | 31/2006 | 20.04.2006 | 05.05.2011 | 59,5% | 5 yo | Fresh Bourbon Barrel, Refill Oloroso Sherry Finish |
| [Part of] Fèis Ìle 2011 Release | 32/2006 | 20.04.2006 | 05.05.2011 | 59,5% | 5 yo | Fresh Bourbon Barrel, Refill Oloroso Sherry Finish |
| Private Cask Release for Loch Fyne Whiskies 12yo | 36/2006 | 04.05.2006 | 21.06.2018 | 56,9% | 12 yo | Fresh Bourbon Barrel |
| 12 yo Bourbon Single Cask for The Distillery Shop | 40/2006 | 04.05.2006 | 12.04.2019 | 56,1% | 12 yo | Bourbon Barrel |
| Private Single Cask Release for Robert (Rab) Way Exclusive | 41/2006 | 04.05.2006 | 14.07.2016 | 56,8% | 10 yo | Bourbon Barrel |
| Private Single Cask for The Friday Morning Single Malt Club | 42/2006 | 04.05.2006 | 28.07.2016 | 57,6% | 10 yo | Bourbon Barrel |
| Private Single Cask Release for Siingel Målt Skaun | 45/2006 | 04.05.2006 | 20.06.2016 | 57,6% | 10 yo | Bourbon Barrel |
| 12 yo Bourbon Single Cask for The Distillery Shop | 49/2006 | 04.05.2006 | 21.08.2018 | 55,3% | 12 yo | Bourbon Barrel |
| Private Cask Release | 50/2006 | 11.05.2006 | 08.03.2021 | 54,2% | 14 yo | Bourbon Barrel |
| Single Cask for Whisk(e)y Shop Tara 20th anniversary | 52/2006 | 10.05.2006 | 15.09.2014 | 58,4% | 8 yo | Bourbon Barrel |
| Private Single Cask for Whisk(e)y Shop Tara | 53/2006 | 11.05.2006 | 02.07.2018 | 53,8% | 12 yo | Fresh Bourbon Barrel |
| Private Single Bourbon Cask for Johan Hofvander & Tapani Kuusela | 59/2006 | 18.05.2006 | 22.02.2019 | 54,2% | 12 yo | Fresh Bourbon Barrel |
| [Part of] Private Cask Vatting for Johan Hofvander & Tapani Kuusela | 59/2006 | 18.05.2006 | 22.02.2019 | 53,0% | 12 yo | Fresh Bourbon Barrels, Sherry Hogshead |
| Private Single Cask Release for The Toadscorner Whisky Club | 71/2006 | 24.05.2006 | 04.07.2016 | 56,1% | 10 yo | Bourbon Barrel |
| Private Single Cask Release for Cliff Davies & Don O´Boyle | 72/2006 | 24.05.2006 | 05.09.2016 | 55,0% | 10 yo | Bourbon Barrel |
| 14 yo Bourbon Matured Single Cask for MS Society, 2021 Whisky Fest | 78/2006 | 24.05.2006 | 15.03.2021 | 53,6% | 14 yo | Bourbon Barrel |
| Private Single Cask Release | 81/2006 | 31.05.2006 | 25.01.2010 | 61,7% | 3 yo | Bourbon Barrel |
| Private Single Cask Release for Ferran | 84/2006 | 31.05.2006 | 15.07.2016 | 57,3% | 10 yo | Bourbon Barrel |
| Private Single Cask Release for The Stillman´s Switzerland | 87/2006 | 31.05.2006 | 14.12.2015 | 57,1% | 9 yo | Bourbon Barrel |
| Bourbon Single Cask (Uniquely Islay Series – An t-Earrach 2020 #8/9) | 88/2006 | 31.05.2006 | 01.05.2020 | 55,4% | 13 yo | Refill Bourbon Barrel |
| Private Single Cask Release for La Table de Urs Hauri | 90/2006 | 07.06.2006 | 14.12.2015 | 55,2% | 9 yo | Refill Bourbon Barrel |
| Private Single Cask Release for the Rockside Adventure | 93/2006 | 07.06.2006 | 28.07.2016 | 56,4% | 10 yo | Bourbon Barrel |
| First 5 yo Single Cask for Whisky Import Nederland | 99/2006 | 07.06.2006 | 07.10.2011 | 60,9% | 5 yo | Refill Bourbon Barrel |
| Private Single Cask for Alfred Diessbacher | 104/2006 | 14.06.2006 | 07.07.2019 | 53,4% | 13 yo | Fresh Bourbon Barrel |
| Private Single Cask Release for Best Dram 2006 | 107/2006 | 14.06.2006 | 19.07.2017 | 53,8% | 11 yo | Bourbon Barrel |
| Private Single Cask for Clauso & Friends | 112/2006 | 14.06.2006 | 20.06.2016 | 57,9% | 10 yo | Bourbon Barrel |
| Single Cask Release for Islay Cask Company: Daphne | 118/2006 | 28.06.2006 | 02.07.2018 | 55,2% | 12 yo | Fresh Bourbon Barrel |
| Single Cask Release for Sun Favorite, Taiwan | 119/2006 | 23.04.2006 | 11.07.2011 | 60,2% | 5 yo | Fresh Bourbon Barrel |
| Private Single Cask for Stephan Penke & Friends | 120/2006 | 28.06.2006 | 30.06.2016 | 60,0% | 10 yo | Bourbon Barrel |
| Private Single Cask for Stephan Penke & Friends | 121/2006 | 28.06.2006 | 30.06.2016 | 59,0% | 10 yo | Bourbon Barrel |
| Fresh [Bourbon] Barrel for Beathas Vänner [The Swedish Whisky Society] | 127/2006 | 28.06.2006 | 11.07.2016 | 52,6% | 10 yo | Fresh Bourbon Barrel |
| Private Single Cask Release | 129/2006 | 28.06.2006 | 20.12.2016 | 52,9% | 10 yo | Bourbon Barrel |
| Single Bourbon Cask for The Distillery Shop | 131/2006 | 12.07.2006 | 08.11.2017 | 51,2% | 11 yo | Bourbon Barrel |
| Private Single Cask for Rolf Martin Nygaard | 132/2006 | 12.07.2006 | 20.12.2016 | 51,2% | 10 yo | Bourbon Barrel |
| Private Single Cask Release | 134/2006 | 12.07.2006 | 17.08.2015 | 51,4% | 9 yo | Fresh Bourbon Barrel |
| Private Single Cask for Private Cask Owner (Norway) | 135/2006 | 12.07.2006 | 02.02.2018 | 50,0% | 11 yo | Fresh Bourbon Barrel |
| Private Single Cask for Private Cask Owner (Norway) | 136/2006 | 12.07.2006 | 02.02.2018 | 51,2% | 11 yo | Fresh Bourbon Barrel |
| Private Single Cask Release | 139/2006 | 12.07.2006 | 23.09.2016 | 52,0% | 10 yo | Bourbon Barrel |
| Private Single Bourbon Cask for Johan Hofvander & Tapani Kuusela | 141/2006 | 12.07.2006 | 22.02.2019 | 48,2% | 12 yo | Fresh Bourbon Barrel |
| [Part of] Private Cask Vatting for Johan Hofvander & Tapani Kuusela | 141/2006 | 12.07.2006 | 22.02.2019 | 53,0% | 12 yo | Fresh Bourbon Barrel |
| Private Single Cask Release for Stuart Wilson | 142/2006 | 12.07.2006 | 24.07.2016 | 52,1% | 10 yo | Bourbon Barrel |
| Single Cask Release for JBPS 80th Anniversary | 143/2006 | 12.07.2006 | Dec 2014 | 51,1% | 8 yo | Bourbon Barrel |
| Private Single Cask Release for 12 Barrels (12 Barrels Selection Vintage #6) | 145/2006 | 12.07.2006 | 04.07.2019 | 50,8% | 12 yo | Fresh Bourbon Barrel |
| Single Cask Release for Kilchoman Distillery Shop | 155/2006 | 19.07.2006 | 14.09.2011 | 61,1% | 5 yo | Bourbon Barrel |
| Private Single Cask Release | 160/2006 | 26.07.2006 | 28.08.2020 | 52,7% | 14 yo | Bourbon Barrel |
| Private Single Cask Release | 161/2006 | 26.07.2006 | 10.12.2010 | 59,9% | 4 yo | Bourbon Barrel |
| Single Cask Release (No.) 7 for Denmark | 162/2006 | 26.07.2006 | 08.10.2012 | 59,4% | 6 yo | Fresh Bourbon Barrel |
| Single Cask Release for FC Whisky Denmark (No.) 11 | 165/2006 | 26.07.2006 | 05.02.2015 | 55,9% | 8 yo | Bourbon Barrel |
| Private Single Cask for Private Cask Owner (Norway) | 169/2006 | 26.07.2006 | 02.02.2018 | 55,7% | 11 yo | Refill Bourbon Barrel |
| Kilchoman New Spirit | 174/2006 | 09.08.2006 | 12.08.2008 | 62,2% | 2 yo | Fresh Bourbon Barrel |
| 13 yo Bourbon Matured Single Cask for Whisk-e´s 20th Anniversary | 175/2006 | 09.08.2006 | 30.07.2020 | 54,1% | 13 yo | Bourbon Barrel |
| Single Cask Release for Kolding Whiskylaug | 185/2006 | 16.08.2006 | 12.09.2011 | 60,4% | 5 yo | Bourbon Barrel |
| Private Single Cask Release, "Cask 188" | 188/2006 | 16.08.2006 | 21.08.2017 | 53,2% | 11 yo | Bourbon Barrel |
| Private Single Cask Release | 190/2006 | 16.08.2006 | 20.12.2016 | 55,6% | 10 yo | Bourbon Barrel |
| Private Single Cask Release for Part Nan Suaineach | 196/2006 | 16.08.2006 | 27.06.2016 | 56,8% | 9 yo | Bourbon Barrel |
| Private Single Cask Release for Islay Tour 2006 | 218/2006 | 30.08.2006 | 02.11.2018 | 46,0% | 12 yo | Bourbon Barrel |
| Private Single Cask Release | 222/2006 | 06.09.2006 | 17.09.2010 | 59,0% | 4 yo | Fresh Bourbon Barrel |
| Single Cask for Binny´s Beverage Depot (USA) | 225/2006 | 06.09.2006 | 07.10.2011 | 58,9% | 5 yo | Bourbon Barrel |
| The 1st 5yo Single Cask for Japan for Kawachiya Syuhan | 226/2006 | 06.09.2006 | 08.09.2011 | 59,3% | 5 yo | Bourbon Barrel |
| [Part of] Small Batch Release for The Kilchoman Club, 5th Edition | 227/2006 | 06.09.2006 | 03.11.2016 | 57,0% | 10 yo | Fresh Bourbon Barrel |
| Single Cask Release for The Nectar Belgium 10th Anniversary | 228/2006 | 06.09.2006 | 06.09.2016 | 56,8% | 10 yo | Bourbon Barrel |
| Single Cask Release for LMDW | 232/2006 | 06.09.2006 | 15.09.2009 | 61,1% | 3 yo | Fresh Bourbon Barrel |
| Single Cask Release for LMDW | 244/2006 | 20.09.2006 | 07.09.2011 | 60,5% | 4 yo | Fresh Bourbon Barrel |
| Single Cask Release for Hanse Spirit Hamburg | 249/2006 | 20.09.2006 | 10.03.2011 | 60,4% | 4 yo | Fresh Bourbon Barrel |
| The 3rd Single Cask Release for Whisky Import Nederland | 252/2006 | 20.09.2006 | 10.03.2011 | 60,0% | 4 yo | Bourbon Barrel |
| Single Cask Release for Ginza NBA | 279/2006 | 2006 |  | 60,9% | 5 yo | Bourbon Barrel |
| Private Single Cask Release for Private Owners | 280/2006 | 11.10.2006 | 24.05.2017 | 52,1% | 10 yo | Bourbon Barrel |
| Single Cask Release for Weinquelle Lühmann 100th Anniversary | 281/2006 | 11.10.2006 | 20.02.2019 | 54,8% | 12 yo | Fresh Bourbon Barrel |
| [Part of] Small Batch Release for The Kilchoman Club, 8th Edition | 283/2006 | 11.10.2006 | 27.11.2019 | 54,3% | 13 yo | Fresh Bourbon Barrel |
| Single Cask Release for Viking Line | 286/2006 | 11.10.2006 | 07.12.2011 | 59,6% | 5 yo | Bourbon Barrel |
| New Spirit Over 2 Years Anticipation | 302/2006 | 23.10.2006 | 28.11.2008 | 61,7% | 2 yo | Bourbon Barrel |
| New Spirit Over 2 Years Anticipation | 303/2006 | 23.10.2006 | 28.11.2008 | 62,0% | 2 yo | Bourbon Barrel |
| New Spirit Over 2 Years Anticipation | 304/2006 | 23.10.2006 | 06.02.2009 | 61,3% | 2 yo | Bourbon Barrel |
| [Part of] Small Batch Release for The Kilchoman Club, 5th Edition | 308/2006 | 01.11.2006 | 03.11.2016 | 57,0% | 10 yo | Fresh Oloroso Sherry Butt |
| [Part of] Small Batch Release for The Kilchoman Club, 7th Edition | 309/2006 | 01.11.2006 | 07.11.2018 | 55,2% | 10 yo | Fresh Oloroso Sherry Butt |
| [Part of] Small Batch Release for The Kilchoman Club, 7th Edition | 310/2006 | 01.11.2006 | 07.11.2018 | 55,2% | 10 yo | Fresh Oloroso Sherry Butt |
| Single Cask Release for FC Whisky Denmark (No.) 6 | 314/2006 | 08.11.2006 | 10.02.2012 | 60,7% | 5 yo | Oloroso Sherry Butt |
| Single Cask for Martin Scott Wines | 315/2006 | 08.11.2006 | 08.12.2011 | 59,6% | 5 yo | Oloroso Sherry Butt |
| Single Cask for FC Whisky Denmark (No.) 3 | 316/2006 | 08.11.2006 | 10.11.2010 | 59,9% | 4 yo | Fresh Oloroso Sherry Butt |
| Single Cask for 11th Whisky Live! (Japan) | 316/2006 | 08.11.2006 | 10.11.2010 | 59,9% | 4 yo | Fresh Oloroso Sherry Butt |
| Single Sherry Cask for Whisky Import Nederland | 317/2006 | 08.11.2006 | 10.10.2011 | 60,5% | 4 yo | Refill Oloroso Sherry Butt |
| Single Cask for Dramfest 2011/12 | 317/2006 | 08.11.2006 | 22.11.2011 | 60,5% | 5 yo | Refill Oloroso Sherry Butt |
| 14 yo Oloroso Hogshead Single Cask – French Exclusive | 318/2006 | 08.11.2006 | 16.08.2021 | 54,5% | 14 yo | Fresh Oloroso Sherry Hogshead |
| Single Cask for the German Tasting Tour 2011 | 322/2006 | 15.11.2006 | 26.09.2011 | 60,0% | 4 yo | Fresh Oloroso Sherry Butt |
| Single Cask for Kensington Wine Market | 322/2006 | 15.11.2006 | 13.09.2011 | 60,0% | 4 yo | Fresh Oloroso Sherry Butt |
| Single Cask for LMDW | 323/2006 | 15.11.2006 | 06.09.2011 | 60,3% | 4 yo | Fresh Oloroso Sherry Butt |
| New Spirit | 324/2006 | 15.11.2006 |  | 58,0% |  | Oloroso Sherry Hogshead |
| Private Sherry Cask for Islay Cask Company: Hypnum | 324/2006 | 15.11.2006 | 22.02.2019 | 56,1% | 12 yo | Oloroso Sherry Hogshead |
| Private Cask Release for Nation of Scots | 329/2006 | 22.11.2006 | 24.02.2017 | 54,3% | 10 yo | Bourbon Barrel |
| Private Single Sherry Cask for Stephan Penke & Friends | 330/2006 | 22.11.2006 | 20.06.2016 | 56,6% | 9 yo | Oloroso Sherry Hogshead |
| Single Sherry Cask for Ginza NBA | 331/2006 | (22.11.2006) |  | 60,5% | 5 yo | Oloroso Sherry Butt |
| Single Cask for the German Tasting Tour 2010 | 332/2006 | 22.11.2006 | 16.08.2010 | 61,0% | 3 yo | Fresh Oloroso Sherry Butt |
| Single Cask for Whisky Live Paris 2010 | 332/2006 | 22.11.2006 | 16.08.2010 | 61,9% | 3 yo | Fresh Oloroso Sherry Butt |
| Private Single Sherry Cask for Jeroen Koetsier, Johan Hofvander & Tapani Kuusela | 335/2006 | 29.11.2006 | 22.02.2019 | 55,3% | 12 yo | Oloroso Sherry Hogshead |
| [Part of] Private Cask Vatting for Johan Hofvander & Tapani Kuusela | 335/2006 | 29.11.2006 | 22.02.2019 | 53,0% | 12 yo | Oloroso Sherry Hogshead |
| Private Single Cask Release for Malts of Scotland | 347/2006 | 13.12.2006 | 27.06.2016 | 54,0% | 9 yo | Bourbon Barrel |
| Single Cask for 10th Whisky Live! (Japan) | 348/2006 | 03.12.2006 | 08.12.2009 | 61,5% | 3 yo | Bourbon Barrel |
| Private Single Cask Release for Douglas Fox | 349/2006 | 13.12.2006 | 13.04.2017 | 46,0% | 10 yo | Bourbon Barrel |
| New Spirit Over 2 Years Anticipation | 357/2006 | 13.12.2006 | 27.04.2009 | 61,9% | 2 yo | Bourbon Barrel |
| New Spirit Over 2 Years Anticipation | 358/2006 | 13.12.2006 | 27.04.2009 | 61,9% | 2 yo | Bourbon Barrel |
| New Spirit Over 2 Years Anticipation for Alba Import Germany | 360/2006 | 12.12.2006 | 06.06.2009 | 61,3% | 2 yo | Bourbon Barrel |
| New Spirit Over 2 Years Anticipation | 361/2006 | 12.12.2006 | 28.06.2009 | 61,9% | 2 yo | Bourbon Barrel |
| Single Cask for ISETAN | 362/2006 | 23.11.2006 | 25.11.2009 | 61,6% | 3 yo | Bourbon Barrel |
| Single Cask for Germany | 363/2006 | 20.12.2006 | 29.03.2010 | 60,3% | 3 yo | Fresh Bourbon Barrel |
| Single Sherry Cask for Sun Favorite Ltd Taipei, Taiwan | 368/2006 | 01.11.2006 | 31.07.2012 | 59,5% | 5 yo | Oloroso Sherry Cask |
| Single Sherry Cask for Royal Mile Whiskies | 369/2006 | 08.11.2006 | 24.07.2012 | 59,6% | 5 yo | Oloroso Sherry Hogshead |
| Single Cask for Whisky Herbst | 370/2006 | 08.11.2006 | 17.08.2012 | 59,6% | 5 yo | Oloroso Sherry Hogshead |
| Single Sherry Cask for K & L Wine Merchants | 371/2006 | 01.11.2006 | 16.07.2012 | 59,4% | 5 yo | Oloroso Sherry Cask |
| Single Sherry Cask for World of Whisky Switzerland | 372/2006 | 08.11.2006 | 28.01.2013 | 59,2% | 6 yo | Oloroso Sherry Cask |
| Single Sherry Cask for Kilchoman Distillery Shop | 373/2006 | 08.11.2006 | 16.08.2012 | 59,5% | 5 yo | Oloroso Sherry Cask |
|  |  |  |  |  |  |  |
| New Spirit Over 2 Years (UK) | 05/2007 | 10.01.2007 | 21.03.2009 | 62,6% | 2 yo | Bourbon Barrel |
| New Spirit Over 2 Years (UK) | 06/2007 | 10.01.2007 | 21.03.2009 | 62,6% | 2 yo | Bourbon Barrel |
| New Spirit Over 2 Years (Alba Import) | 07/2007 | 10.01.2007 | 21.03.2009 | 62,6% | 2 yo | Bourbon Barrel |
| Private Cask Release for Friends of Kilchoman | 12/2007 | 17.01.2007 | 09.08.2018 | 54,7% | 11 yo | Bourbon Barrel |
| Single Cask 10 yo for The Distillery Shop | 12/2007 | 17.01.2007 | 09.08.2018 | 54,7% | 11 yo | Bourbon Barrel |
| Private Cask Release for Anam na h-Alba | 15/2007 | 17.01.2007 | 25.01.2019 | 54,8% | 12 yo | Fresh Bourbon Barrel |
| [Part of] Fèis Ìle 2018 Release | 34/2007 | Febr. 2007 | May 2018 | 55,5% | 11 yo | Bourbon Barrel |
| Single Bourbon Cask for House of Malt & The Chase Collection | 38/2007 | 21.02.2007 | 28.02.2020 | 53,3% | 13 yo | Fresh Bourbon Barrel |
| Single Bourbon Cask for Bresser & Timmer – NL | 42/2007 | 21.02.2007 | 20.06.2016 | 56,2% | 9 yo | Fresh Bourbon Barrel |
| Private Single Cask for Scotch Single Malt Circle | 48/2007 | 21.02.2007 | 10.07.2017 | 55,4% | 10 yo | Bourbon Barrel |
| Private Single Cask for Singöfjärdens Whisky Club | 49/2007 | 21.02.2007 | 20.01.2016 | 56,8% | 8 yo | Bourbon Barrel |
| Private Single Cask for A Few Chosen Swedes | 50/2007 | 28.02.2007 | 21.07.2017 | 56,9% | 10 yo | Fresh Bourbon Barrel |
| Private Single Cask for A Rainy Day | 51/2007 | 28.02.2007 | 21.08.2017 | 56,6% | 10 yo | Bourbon Barrel |
| Private Single Cask for Christian and Friends | 57/2007 | 28.02.2007 | 07.07.2017 | 58,1% | 10 yo | Bourbon Barrel |
| 14 yo Fresh Bourbon Barrel French Exclusive | 61/2007 | 28.02.2007 | 26.04.2021 | 53,9% | 14 yo | Fresh Bourbon Barrel |
| New Spirit | 63/2007 | 18.07.2007 | 16.12.2008 | 62,0% | 1 yo | Bourbon Barrel |
| [Part of] Fèis Ìle 2018 Release | 65/2007 | March 2007 | May 2018 | 55,5% | 11 yo | Bourbon Barrel |
| Private Cask Release for The Road Monk Share; J. Ronald Vehorn Exclusive | 68/2007 | 07.03.2007 | 18.03.2019 | 56,0% | 12 yo | Bourbon Barrel |
| Private Single Cask Release for Max & Julia | 69/2007 | 07.03.2007 | 25.09.2020 | 55,5% | 13 yo | Fresh Bourbon Barrel |
| Single Bourbon Cask for Sweden | 70/2007 | 07.03.2007 | 25.08.2015 | 60,8% | 8 yo | Bourbon Barrel |
| Private Single Cask for Private Owner | 71/2007 | 07.03.2007 | 15.06.2018 | 57,8% | 11 yo | Fresh Bourbon Barrel |
| Private Single Cask for Erich & Tomi | 78/2007 | 14.03.2007 | 10.07.2017 | 56,2% | 10 yo | Bourbon Barrel |
| Private Single Cask for A Few Chosen Swedes | 81/2007 | 14.03.2007 | 21.07.2017 | 57,8% | 10 yo | Refill Bourbon Barrel |
| [Part of] Fèis Ìle 2018 Release | 82/2007 | 14.03.2007 | May 2018 | 55,5% | 11 yo | Bourbon Barrel |
| [Part of] Fèis Ìle 2018 Release | 83/2007 | 14.03.2007 | May 2018 | 55,5% | 11 yo | Bourbon Barrel |
| Private Cask Release for Innvortes bruk | 83/2007 | 14.03.2007 | 07.07.2017 | 55,8% | 10 yo | Bourbon Barrel |
| Private Single Cask Release | 93/2007 | 16.05.2007 | 20.06.2012 | 58,8% | 5 yo | Bourbon Barrel |
| Private Cask Release for Private Cask Owner | 98/2007 | 16.05.2007 | 01.02.2018 | 54,3% | 10 yo | Bourbon Barrel |
| Private Single First Fill Bourbon Cask for Kolding Whiskylaug Af 1999 | 102/2007 | 16.05.2007 | 25.08.2017 | 55,1% | 10 yo | Fresh Bourbon Barrel |
| Single Bourbon Cask for Royal Mile Whiskies | 106/2007 | 22.05.2007 | 04.06.2010 | 61,7% | 3 yo | Bourbon Barrel |
| Fèis Ìle 2010 Release | 113/2007 | 22.05.2007 | 22.05.2010 | 62,2% | 3 yo | Fresh Bourbon Barrel |
| Single Cask for LMDW | 114/2007 | 22.05.2007 | 21.06.2010 | 62,2% | 3 yo | Fresh Bourbon Barrel |
| Single Cask for Whisk-e Ltd, Japan | 115/2007 | 22.05.2007 | 22.05.2010 | 61,7% | 3 yo | Bourbon Barrel |
| Single Cask for the Swedish Whisky Society | 117/2007 | 30.05.2007 | 21.07.2010 | 61,8% | 3 yo | Bourbon Barrel |
| Single Cask for FC Whisky Denmark (No.) 1 | 118/2007 | 30.05.2007 | 21.07.2010 | 62,4% | 3 yo | Fresh Bourbon Barrel |
| Single Cask for Kensington Wine Market | 119/2007 | 30.05.2007 | 21.07.2010 | 61,9% | 3 yo | Bourbon Barrel |
| Single Cask for Whisky Import Nederland | 120/2007 | 30.05.2007 | 04.06.2010 | 61,8% | 3 yo | Fresh Bourbon Barrel |
| Private Single Bourbon Cask for Skøtt | 123/2007 | 30.05.2007 | 10.07.2017 | 56,4% | 10 yo | Fresh Bourbon Barrel |
| [Part of] Small Batch Release for The Kilchoman Club, 8th Edition | 123/2007 | 30.05.2007 | 27.11.2019 | 54,3% | 12 yo | Fresh Bourbon Barrel |
| Private Single Cask Release for Die Deichgrafen von Tating | 125/2007 | 06.06.2007 | 29.07.2019 | 55,3% | 12 yo | Bourbon Barrel |
| Private Cask Release for Friends of Kilchoman | 128/2007 | 06.06.2007 | 20.08.2018 | 56,4% | 11 yo | Bourbon Barrel |
| Private Single Refill Bourbon Cask for Kolding Whiskylaug Af 1999 | 130/2007 | 06.06.2007 | 25.08.2017 | 55,0% | 10 yo | Refill Bourbon Barrel |
| Private Single Cask for Kilchoman Shareholders LaSt, MaQ, JaVi – Whiskyimporten | 140/2007 | 13.06.2007 | 03.07.2017 | 46,0% | 10 yo | Fresh Bourbon Barrel |
| [Part of] Fèis Ìle 2019 Release | 141/2007 | 13.06.2007 | 20.05.2019 | 54,4% | 11 yo | Fresh Bourbon Barrel |
| Single Cask for Whisky in Leiden | 142/2007 | 13.06.2007 | 21.02.2014 | 60,4% | 6 yo | Fresh Bourbon Barrel |
| Private Single Cask Release for Friends of Islay | 143/2007 | 13.06.2007 | 14.07.2017 | 56,2% | 10 yo | Bourbon Barrel |
| Private Single Cask Release for Patrick B. | 145/2007 | 13.06.2007 | 28.06.2019 | 54,6% | 12 yo | Fresh Bourbon Barrel |
| [Part of] Comraich Batch No. 1 | 146/2007 | 13.06.2007 | 14.10.2017 | 55,5% | 10 yo | Bourbon Barrel |
| Private Single Cask for Christian and Friends | 147/2007 | 20.06.2007 | 07.07.2017 | 56,4% | 10 yo | Bourbon Barrel |
| Private Single Cask Release for Hannmann´s (Paderborn) | 148/2007 | 20.06.2007 | 19.02.2018 | 55,5% | 10 yo | Bourbon Barrel |
| Private Single Cask Release for The Whisky Shop (UK) | 150/2007 | 20.07.2007 | 11.06.2018 | 56,5% | 10 yo | Bourbon Barrel |
| Private Single Cask Release for Malts of Scotland | 151/2007 | 13.07.2007 | 22.02.2019 | 55,6% | 11 yo | Fresh Bourbon Barrel |
| Private Single Cask for Malts of Scotland Warehouse Shop, Germany | 152/2007 | 20.06.2007 | 27.06.2016 | 57,5% | 9 yo | Bourbon Barrel |
| Single Cask for Potstill Vienna | 153/2007 | 20.06.2007 | 05.09.2011 | 60,8% | 4 yo | Bourbon Barrel |
| Single Cask for The Whisky Show 2010 | 154/2007 | 20.06.2007 | 17.09.2010 | 61,4% | 3 yo | Fresh Bourbon Barrel |
| Single Cask for FC Whisky Denmark (No.) 2 | 156/2007 | 20.06.2007 | 17.09.2010 | 60,5% | 3 yo | Fresh Bourbon Barrel |
| "Camas Gorm" Private Cask Bottling | 166/2007 | 26.06.2007 | 30.06.2014 | 57,5% | 7 yo | Fresh Bourbon Barrel |
| Single Cask Release for Sun Favorite Co Ltd., Taiwan | 171/2007 | 04.07.2007 | 26.08.2010 | 58,3% | 3 yo | Fresh Bourbon Barrel |
| Single Cask for Binny´s Beverage Depot (USA) | 182/2007 | 04.07.2007 | 26.08.2010 | 61,1% | 3 yo | Bourbon Barrel |
| Single Cask for 20th Anniversary of whisky.fr | 196/2007 | 18.07.2007 | 22.08.2017 | 56,0% | 10 yo | Bourbon Barrel |
| Bourbon Matured Single Cask for The Whisky Exchange | 197/2007 | 18.07.2007 | 25.02.2021 | 53,9% | 13 yo | Bourbon Barrel |
| Single Cask for The Whisky Shop (USA) | 204/2007 | 18.07.2007 | 26.08.2010 | 60,9% | 3 yo | Bourbon Barrel |
| Single Cask for The Glencairn GbR | 210/2007 | 25.07.2007 | 20.08.2018 | 50,0% | 11 yo | Bourbon Barrel |
| The 2nd Single Cask for Whisky Import Nederland | 211/2007 | 25.07.2007 | 04.11.2010 | 61,8% | 3 yo | Fresh Bourbon Barrel |
| New Spirit 2 Years | 212/2007 | 25.07.2007 | 2009 | 63,5% | 2 yo | Bourbon Barrel |
| Private Single Cask for Our Share 10 years old | 213/2007 | 25.07.2007 | 14.08.2017 | 56,4% | 10 yo | Bourbon Barrel |
| Single Bourbon Cask for The Basel Six | 214/2007 | 25.07.2007 | 30.09.2014 | 59,8% | 7 yo | Bourbon Barrel |
| Private Cask Release for Sweden | 215/2007 | 25.07.2007 | 26.07.2019 | 56,8% | 12 yo | Fresh Bourbon Barrel |
| Private Cask Release | 229/2007 | 2007 | 2019 | 56,0% | 11 yo | Bourbon Barrel |
| Private Cask Release for Caraidean Bho Oxelösund | 234/2007 | 08.08.2007 | 10.01.2018 | 56,3% | 10 yo | Bourbon Barrel |
| Single Cask for 1st Tokyo International Bar Show | 239/2007 | 15.08.2007 | 08.02.2012 | 60,3% | 4 yo | Fresh Bourbon Barrel |
| Single Bourbon Cask for Milano Whisky Festival 2012 | 245/2007 | 15.08.2007 | 01.10.2012 | 59,5% | 5 yo | Refill Bourbon Barrel |
| Single Bourbon Cask for Potstill Austria | 246/2007 | 15.08.2007 | 08.10.2012 | 59,7% | 5 yo | Fresh Bourbon Barrel |
| [Part of] Small Batch Bottling for Germany, Bourbon | 247/2007 | 15.08.2007 | 10.10.2012 | 59,3% | 5 yo | Fresh Bourbon Barrel |
| [Part of] Small Batch Bottling for Germany, Bourbon | 248/2007 | 15.08.2007 | 10.10.2012 | 59,3% | 5 yo | Fresh Bourbon Barrel |
| [Part of] Small Batch Bottling for Germany, Bourbon | 249/2007 | 15.08.2007 | 10.10.2012 | 59,3% | 5 yo | Fresh Bourbon Barrel |
| Single Cask for Kensington Wine Market | 255/2007 | 22.08.2007 | 28.08.2017 | 56,6% | 10 yo | Bourbon Barrel |
| [Part of] Comraich Batch No. 1 | 265/2007 | 29.08.2007 | 14.10.2017 | 55,5% | 10 yo | Bourbon Barrel |
| Private Single Cask Release for Derek & Ian´s Friends of Artisan | 265/2007 | 29.08.2007 | 09.01.2019 | 55,9% | 11 yo | Fresh Bourbon Barrel |
| Founders Cask Release (#2: George Wills): Bourbon Single Cask | 269/2007 | 29.08.2007 | 03.09.2019 | 54,7% | 12 yo | Bourbon Barrel |
| Single Cask for LMDW | 292/2007 | 12.09.2007 | 14.09.2012 | 60,6% | 5 yo | Bourbon Barrel |
| Single Cask for Red Dog Wine and Spirits (Tennessee) | 293/2007 | 08.11.2007 | 15.09.2012 | 60,3% | 5 yo | Bourbon Barrel |
| Single Cask ImpEx Cask Evolution 01/2019 – 11 year old Bourbon Barrel | 302/2007 | 19.09.2007 | 01.03.2019 | 56,4% | 11 yo | Bourbon Barrel |
| Bourbon Matured Single Cask 12 yo (for Isetan, Japan) | 303/2007 | 19.09.2007 | 28.02.2020 | 54,8% | 12 yo | Fresh Bourbon Barrel |
| Single Bourbon Cask 11 yo for The Whisky Exchange 20th Anniversary | 307/2007 | 19.09.2007 | 12.06.2019 | 56,5% | 11 yo | Fresh Bourbon Barrel |
| Single Cask for LMDW | 327/2007 | 03.10.2007 | 23.03.2011 | 61,8% | 3 yo | Bourbon Barrel |
| Single Bourbon Cask for Kilchoman Distillery Shop | 328/2007 | 03.10.2007 | 03.05.2012 | 61,7% | 4 yo | Fresh Bourbon Barrel |
| Single Cask Release for Belgium | 334/2007 | 10.10.2007 | 14.10.2010 | 62,4% | 3 yo | Fresh Bourbon Barrel |
| Single Cask for World of Whisky – Whiskyschiff 2010 | 336/2007 | 10.10.2007 | 14.10.2010 | 62,1% | 3 yo | Fresh Bourbon Barrel |
| Single Cask for Ginza NBA (Nippon Bartenders Association) | 348/2007 | 2007 | 2010 | 60,2% | 3 yo | Fresh Bourbon Barrel |
| Single Cask Release for USA | 360/2007 | 18.10.2007 | 07.11.2012 | 59,9% | 5 yo | Bourbon Barrel |
| 13 yo Bourbon Barrel Single Cask – French Exclusive | 362/2007 | 25.10.2007 | 16.08.2021 | 54,4% | 13 yo | Fresh Bourbon Barrel |
| [Part of] Small Batch Release for The Kilchoman Club, 8th Edition | 376/2007 | 01.11.2007 | 27.11.2019 | 54,3% | 12 yo | Fresh Bourbon Barrel |
| Single Cask for Binny´s Beverage Depot (USA) | 377/2007 | 01.11.2007 | 15.09.2012 | 60,6% | 4 yo | Bourbon Barrel |
| Single Cask for OW Italy | 379/2007 | 01.11.2007 | 28.08.2012 | 60,6% | 4 yo | Bourbon Barrel |
| Single Bourbon Cask for Bar Campbelltoun Loch (Tokyo, Japan) 20th Anniversary | 380/2007 | 01.11.2007 | 01.07.2019 | 55,7% | 11 yo | Fresh Bourbon Barrel |
| [Part of] Small Batch Release for The Kilchoman Club, 6th Edition | 383/2007 | 01.11.2007 | 20.11.2017 | 57,4% | 10 yo | Fresh Bourbon Barrel |
| [Part of] Small Batch Release for The Kilchoman Club, 6th Edition | 384/2007 | 01.11.2007 | 20.11.2017 | 57,4% | 10 yo | Fresh Bourbon Barrel |
| [Part of] Small Batch Release for The Kilchoman Club, 6th Edition | 385/2007 | 01.11.2007 | 20.11.2017 | 57,4% | 10 yo | Fresh Bourbon Barrel |
| [Part of] Small Batch Release for The Kilchoman Club, 6th Edition | 387/2007 | 01.11.2007 | 20.11.2017 | 57,4% | 10 yo | Fresh Bourbon Barrel |
| [Part of] Small Batch Release for The Kilchoman Club, 6th Edition | 388/2007 | 01.11.2007 | 20.11.2017 | 57,4% | 10 yo | Fresh Bourbon Barrel |
| Single Cask for Whisky Import Nederland | 389/2007 | 08.11.2007 | 03.04.2012 | 61,1% | 4 yo | Bourbon Barrel |
| Single Bourbon Cask Release for The Nectar, Belgium | 390/2007 | 08.11.2007 | 30.03.2012 | 60,9% | 4 yo | Fresh Bourbon Barrel |
| 10 yo Sherry Single Cask for The Whisky Exchange | 401/2007 | 14.11.2007 | 24.11.2017 | 58,5% | 10 yo | Oloroso Sherry Butt |
| Single Sherry Butt for LMDW | 417/2007 | 30.11.2007 | 22.08.2017 | 59,3% | 9 yo | Oloroso Sherry Butt |
| [Part of] Comraich Batch No. 1 | 419/2007 | 04.12.2007 | 14.10.2017 | 55,5% | 9 yo | Oloroso Sherry Butt |
| Representative Sample Loch Gorm 2019 | 421/2007 | 04.12.2007 | 2019 |  | 11 yo | Fresh Oloroso Sherry Butt |
| 11 yo Sherry Single Cask Distillery Shop Exclusive | 423/2007 | 04.12.2007 | 30.10.2019 | 54,0% | 11 yo | Oloroso Sherry Butt |
| [Part of] Small Batch Release for The Kilchoman Club, 8th Edition | 425/2007 | 13.12.2007 | 27.11.2019 | 54,3% | 11 yo | Oloroso Sherry Butt |
| Single Cask ImpEx Cask Evolution 02/2018 – 10 year old Sherry Butt | 426/2007 | 13.12.2007 | 27.08.2018 | 55,6% | 10 yo | Oloroso Sherry Butt |
| Fèis Ìle 2016 Release | 429/2007 | 13.12.2007 | 20.05.2016 | 56,6% | 8 yo | Oloroso Sherry Butt |
| Private Single Cask for The Throttle to Bottle Whisky Club | 431/2007 | 13.12.2007 | 26.01.2018 | 57,2% | 10 yo | Fresh Bourbon Barrel |
| Private Single Cask for Private Owners | 431/2007 | 13.12.2007 | 26.01.2018 | 57,2% | 10 yo | Fresh Bourbon Barrel |
| Single Cask for Park Avenue Liquor (Shop, New York City) | 433/2007 | 13.12.2007 | 24.01.2011 | 62,3% | 3 yo | Fresh Bourbon Barrel |
| Single Cask for SLL Liquors (USA) | 434/2007 | 13.12.2007 | 08.02.2011 | 62,0% | 3 yo | Bourbon Barrel |
| Single Cask for The Nectar Belgium | 435/2007 | 13.12.2007 | 10.10.2011 | 62,1% | 3 yo | Fresh Bourbon Barrel |
| Single Cask for Tokyo International Bar Show | 445/2007 | 08.11.2007 | 08.01.2013 | 57,3% | 5 yo | Oloroso Sherry Cask |
| Single Sherry Cask for Whisk-e Ltd, Japan | 446/2007 | 08.11.2007 | 28.09.2012 | 58,3% | 4 yo | Oloroso Sherry Cask |
| Single Cask for World of Whisky Switzerland | 447/2007 | 08.11.2007 | 15.11.2012 | 59,3% | 5 yo | Oloroso Sherry Cask |
| Single Sherry Cask for Spiriteca Hong Kong | 447/2007 | 08.11.2007 | 22.02.2013 | 59,5% | 5 yo | Oloroso Sherry Cask |
| Single Sherry Cask Release for The Distillery Shop | 447/2007 | 08.11.2007 | 22.02.2013 | 59,5% | 5 yo | Oloroso Sherry Cask |
| Kilchoman New Spirit | 446-447/2007 | 20.12.2007 | 07.02.2008 | 63,5% |  | Fresh Bourbon Barrel |
| Single Sherry Cask Release for The Distillery Shop | 448/2007 | 08.11.2007 | 01.10.2012 | 59,8% | 4 yo | Oloroso Sherry Cask |
| Single Sherry Cask Release for SMCC | 450/2007 | 08.11.2007 | 07.12.2012 | 59,0% | 5 yo | Oloroso Sherry Cask |
| Single Sherry Cask Release for Kilchoman Club, 1st Edition | 451/2007 | 15.08.2007 | 12.10.2012 | 59,2% | 5 yo | Oloroso Sherry Cask |
| Single Sherry Cask Release for Viking Line | 452/2007 | 15.08.2007 | 11.10.2012 | 59,3% | 5 yo | Oloroso Sherry Cask |
| Single Sherry Cask Release for Beija-Flor | 453/2007 | 08.11.2007 | 29.01.2013 | 58,0% | 5 yo | Oloroso Sherry Cask |
| Single Sherry Cask for Co-op Wine, Spirits, Beer (Calgary) | 454/2007 | 08.11.2007 | 12.11.2012 | 59,2% | 5 yo | Oloroso Sherry Cask |
| Single Sherry Cask for The Nectar Belgium | 455/2007 | 08.11.2007 | 12.10.2012 | 59,3% | 4 yo | Oloroso Sherry Cask |
| Single Cask for Whisky Import Nederland | 456/2007 | 08.11.2007 | 16.11.2012 | 58,4% | 5 yo | Oloroso Sherry Cask |
| Single Sherry Cask Release for The Distillery Shop | 3009/2007 | 14.11.2007 | 24.05.2013 | 59,1% | 5 yo | Oloroso Sherry Butt |
| Single Sherry Cask Release for Fountainhead (USA) | 3010/2007 | 14.11.2007 | 24.05.2013 | 57,4% | 5 yo | Oloroso Sherry Butt |
|  |  |  |  |  |  |  |
| Single Bourbon Cask for Paul Ullrich AG Switzerland | 61/2008 | 22.02.2008 | 10.10.2019 | 54,4% | 11 yo | Bourbon Barrel |
| Single Bourbon Cask for Whisk-e Ltd, Japan | 64/2008 | 22.02.2008 | 05.05.2016 | 56,6% | 8 yo | Bourbon Barrel |
| Single Bourbon Cask for The Distillery Shop | 72/2008 | 22.02.2008 | 25.04.2018 | 52,7% | 10 yo | Fresh Bourbon Barrel |
| Bourbon Matured Single Cask for 10th Anniversary of Québec Whisky | 72/2008 | 22.02.2008 | 25.04.2018 | 52,7% | 10 yo | Fresh Bourbon Barrel |
| Single Cask for K&L Wines | 74/2008 | 22.02.2008 | 16.12.2013 | 58,4% | 5 yo | Bourbon Barrel |
| 13 yo Bourbon Matured Single Cask for Tasttoe & Drankenshop Broekmans and the Dram Collector | 75/2008 | 22.02.2008 | 22.11.2021 | 52,4% | 13 yo | Bourbon Barrel |
| Single Cask ImpEx Cask Evolution 01/2018 – 10 year old Bourbon Barrel | 76/2008 | 22.02.2008 | 09.04.2018 | 54,1% | 10 yo | Bourbon Barrel |
| [Part of] Feis Ile 2019 Release | 80/2008 | 28.02.2008 | 20.05.2019 | 54,4% | 11 yo | Oloroso Sherry Butt |
| Single Cask for LMDW (50th Anniversary 20 Rue D´Anjou) | 83/2008 | 28.02.2008 | 22.05.2018 | 59,3% | 10 yo | Bourbon Barrel |
| 100% Islay Single Cask for Loch Fyne Whiskies | 84/2008 | 06.03.2008 | 19.03.2018 | 53,2% | 10 yo | Fresh Bourbon Barrel |
| (100% Islay) Private Cask Release for Heikki and Ilkka | 87/2008 | 06.03.2008 | 26.01.2018 | 55,6% | 9 yo | Bourbon Barrel |
| 100% Islay Single Cask for Whisk-e Ltd, Japan | 96/2008 | 06.03.2008 | 30.11.2011 | 60,2% | 3 yo | Bourbon Barrel |
| 100% Islay Single Cask for LMDW | 98/2008 | 06.03.2008 | 03.10.2011 | 60,2% | 3 yo | Bourbon Barrel |
| 100% Islay Inaugural Release Cask Strength | 100-103/2008 | 2008 | 2011 | 61,3% | 3 yo | Fresh Bourbon Barrel |
| Fèis Ìle 2012 Release | 100-103/2008 | 23.04.2008 | 24.05.2012 | 58,5% | 4 yo | Fresh Bourbon Barrel, Oloroso Sherry Finish |
| Bourbon Single Cask (Uniquely Islay Series – An Samhradh 2021 #9/9) | 124/2008 | 20.03.2008 | 17.06.2021 | 53,7% | 13 yo | Fresh Bourbon Barrel |
| Single Bourbon Cask for Ullrich Selection (Switzerland) | 125/2008 | 20.03.2008 | 09.04.2018 | 55,8% | 10 yo | Bourbon Barrel |
| Single Bourbon Cask for Milano Whisky Festival 2013 & Laida Weg Experience Hotel | 126/2008 | 20.03.2008 | 20.06.2013 | 60,2% | 5 yo | Fresh Bourbon Barrel |
| Master of Malt Single Cask Series 5 yo | 127/2008 | 20.03.2008 | 21.11.2013 | 59,6% | 5 yo | Fresh Bourbon Barrel |
| Single Bourbon Cask 10 yo The Boss for Belgium | 128/2008 | 20.03.2008 | 15.10.2018 | 56,2% | 10 yo | Fresh Bourbon Barrel |
| Single Bourbon Cask for SMCC | 138/2008 | 27.03.2008 | 22.04.2019 | 56,2% | 11 yo | Bourbon Barrel |
| Single Bourbon Cask for Beija-Flor | 140/2008 | 27.03.2008 | 04.10.2019 | 55,2% | 11 yo | Fresh Bourbon Barrel |
| Single Bourbon Cask for World of Single Malt | 146/2008 | 27.03.2008 | 18.06.2013 | 60,7% | 5 yo | Fresh Bourbon Barrel |
| Single Bourbon Cask for The Whisky Trail | 147/2008 | 27.03.2008 | 29.07.2013 | 60,8% | 5 yo | Fresh Bourbon Barrel |
| Single Bourbon Cask for Milano Whisky Festival 2013 | 154/2008 | 27.03.2008 | 14.10.2013 | 60,8% | 5 yo | Fresh Bourbon Barrel |
| Single Bourbon Cask for GEFI (Gestione Fiere S.p.A., Milano) | 154/2008 | 27.03.2008 | 14.10.2013 | 60,8% | 5 yo | Fresh Bourbon Barrel |
| Single Cask for Isetan Department Store | 163/2008 | 02.04.2008 | 21.01.2013 | 59,1% | 4 yo | Bourbon Barrel |
| Single Bourbon Cask for The Nectar Belgium | 167/2008 | 02.04.2008 | 02.10.2013 | 59,8% | 5 yo | Fresh Bourbon Barrel |
| Single Cask for Whisky Import Nederland (9th Release) | 169/2008 | 02.04.2008 | 23.09.2013 | 59,8% | 5 yo | Fresh Bourbon Barrel |
| Single Cask for K&L Wines | 172/2008 | 11.04.2008 | 16.12.2013 | 60,2% | 5 yo | Fresh Bourbon Barrel |
| [Part of] Small Batch Release for Germany, Sherry | 185/2008 | 24.04.2008 | 22.02.2017 | 56,6% | 8 yo | Oloroso Sherry Butt |
| [Part of] Small Batch Release for Germany, Sherry | 186/2008 | 24.04.2008 | 22.02.2017 | 56,6% | 8 yo | Oloroso Sherry Butt |
| Single Cask for Whisky Import Nederland | 192/2008 | 24.04.2008 | 29.04.2013 | 61,7% | 5 yo | Bourbon Barrel |
| 100% Islay New Spirit Single Cask for Whisk-e Ltd, Japan | 195/2008 | 21.04.2008 | 12.01.2011 | 61,0% | 2 yo | Bourbon Barrel |
| Single Cask for UK | 244/2008 | 22.05.2008 | 02.04.2013 | 59,6% | 4 yo | Bourbon Barrel |
| Fèis Ìle 2015 Release | 245, 449 & 450/2008 | 22.05.2008 | 22.05.2015 | 58,2% | 6 yo | Fresh Bourbon Barrel |
| Fèis Ìle 2013 Release | 246, 247/2008 | 22.05.2008 | 22.05.2013 | 60,1% | 5 yo | Fresh Bourbon Barrel |
| Single Cask for Straight from the Cask | 248/2008 | 22.05.2008 | 08.07.2013 | 60,4% | 5 yo | Fresh Bourbon Barrel |
| Single Cask for Plumpjack Wine & Spirits | 248/2008 | 22.05.2008 | 08.08.2013 | 60,4% | 5 yo | Fresh Bourbon Barrel |
| Single Bourbon Cask for M&P Poland | 257/2008 | 22.05.2008 | 25.07.2013 | 59,9% | 5 yo | Fresh Bourbon Barrel |
| Oloroso Sherry Finish Single Cask 10 yo for Whisky.de | 264/2008 | 31.05.2008 | 03.10.2018 | 55,8% | 10 yo | Fresh Bourbon Barrel, Oloroso Sherry Finish |
| 11 yo Bourbon Barrel [for Cinderella Whisky Fair 2020] | 265/2008 | 31.05.2008 | 16.12.2019 | 55,3% | 11 yo | Bourbon Barrel |
| Single Bourbon Cask for Japan | 266/2008 | 31.05.2008 | 06.06.2018 | 56,5% | 10 yo | Bourbon Barrel |
| 13 yo Bourbon Single Cask for Spec´s | 278/2008 | 31.05.2008 | 08.06.2021 | 56,1% | 13 yo | Bourbon Barrel |
| Single Bourbon Cask for Ermuri Detmold, Germany | 279/2008 | 31.05.2008 | 03.11.2016 | 58,1% | 8 yo | Bourbon Barrel |
| Single Bourbon Cask for LMDW | 288/2008 | 11.06.2008 | 11.08.2013 | 60,5% | 5 yo | Fresh Bourbon Barrel |
| Single Bourbon Cask for LMDW | 291/2008 | 11.06.2008 | 01.11.2013 | 60,9% | 5 yo | Bourbon Barrel |
| 100% Islay Single Cask Release for The Distillery Shop | 319/2008 | 03.07.2008 | 11.11.2013 | 60,9% | 5 yo | Fresh Bourbon Barrel |
| 100% Islay Single Cask for K&L Wines | 321/2008 | 03.07.2008 | 03.09.2012 | 61,6% | 4 yo | Bourbon Barrel, Oloroso Sherry Finish |
| [Part of] Fèis Ìle 2017 Release | 324/2008 | 03.07.2008 | 01.06.2017 | 58,0% | 8 yo | Bourbon Barrel |
| 10 yo Bourbon Single Cask Release for The Distillery Shop | 325/2008 | 03.07.2008 | 24.09.2018 | 56,4% | 10 yo | Bourbon Barrel |
| Single Cask for Kensington Wine Market | 326/2008 | 17.07.2008 | 10.09.2013 | 60,1% | 5 yo | Fresh Bourbon Barrel |
| Single Cask Release "Be a bottler" & "For The Distillery Shop" | 327/2008 | 10.07.2008 | 24.05.2019 | 55,4% | 10 yo | Fresh Bourbon Barrel |
| 11 yo Bourbon Single Cask for SMCC | 330/2008 | 10.07.2008 | 04.12.2019 | 54,2% | 11 yo | Bourbon Barrel |
| 12 yo Bourbon Barrel for Kensington Wine Market | 338/2008 | 10.07.2008 | 03.08.2020 | 53,0% | 12 yo | Fresh Bourbon Barrel |
| Single Bourbon Cask for Spec´s | 348/2008 | 17.07.2008 | 08.07.2013 | 60,5% | 4 yo | Fresh Bourbon Barrel |
| Single Bourbon Cask for Astor Wines & Spirits | 357/2008 | 24.07.2008 | 27.08.2013 | 60,7% | 5 yo | Fresh Bourbon Barrel |
| Single Cask for Spec´s | 367/2008 | 24.07.2008 | 05.05.2014 | 60,0% | 5 yo | Fresh Bourbon Barrel |
| Single Bourbon Cask for Wyoming | 370/2008 | 31.07.2008 | 04.07.2014 | 59,8% | 5 yo | Fresh Bourbon Barrel |
| Single Bourbon Cask for Artigiano in Fiera 2013 | 379/2008 | 31.07.2008 | 15.11.2013 | 60,4% | 5 yo | Fresh Bourbon Barrel |
| Single Bourbon Cask Release for Sun Favorite Ltd Taipei, Taiwan | 382/2008 | 31.07.2008 | 04.02.2013 | 61,2% | 4 yo | Fresh Bourbon Barrel |
| Single Bourbon Cask for The Nectar Belgium | 390/2008 | 07.08.2008 | 05.10.2012 | 60,5% | 4 yo | Fresh Bourbon Barrel |
| [Part of] Small Batch for Germany, Sherry Finish | 392/2008 | 07.08.2008 | 07.10.2013 | 59,4% | 5 yo | Fresh Bourbon Barrel, Oloroso Sherry Finish |
| [Part of] Small Batch for Germany, Sherry Finish | 393/2008 | 07.08.2008 | 07.10.2013 | 59,4% | 5 yo | Fresh Bourbon Barrel, Oloroso Sherry Finish |
| [Part of] Small Batch for Germany, Sherry Finish | 394/2008 | 07.08.2008 | 07.10.2013 | 59,4% | 5 yo | Fresh Bourbon Barrel, Oloroso Sherry Finish |
| Single Bourbon Cask for The Distillery Shop | 397/2008 | 07.08.2008 | 20.02.2014 | 60,4% | 5 yo | Fresh Bourbon Barrel |
| Single Cask Release for Sun Favorite Ltd. Taipei, Taiwan | 398/2008 | 07.08.2008 | 05.02.2013 | 60,3% | 4 yo | Fresh Bourbon Barrel |
| 100% Islay Single Cask for FC Whisky Denmark (No.) 5 | 400/2008 | 14.08.2008 | 03.10.2011 | 61,0% | 3 yo | Bourbon Barrel |
| 100% Islay Single Cask for Lavinia | 401/2008 | 14.08.2008 | 12.10.2011 | 61,4% | 3 yo | Bourbon Barrel |
| 100% Islay Single Cask for Whisk-e Ltd, Japan | 402/2008 | 14.08.2008 | 02.09.2013 | 61,0% | 5 yo | Bourbon Barrel |
| 100% Islay Single Cask for Kensington Wine Market | 413/2008 | 21.08.2008 | 21.08.2018 | 56,6% | 10 yo | Bourbon Barrel |
| Single Cask for Whisk-e Ltd, Japan | 452/2008 | 12.09.2008 | 10.05.2013 | 60,4% | 4 yo | Bourbon Barrel |
| Single Bourbon Cask for Royal Mile Whiskies | 453/2008 | 12.09.2008 | 25.06.2013 | 60,4% | 4 yo | Fresh Bourbon Barrel |
| Single Cask for Whisky Magazine Selection | 454/2008 | 12.09.2008 | 17.06.2013 | 61,0% | 4 yo | Bourbon Barrel |
| Single Cask for Master of Malt | 455/2008 | 12.09.2008 | 12.11.2013 | 60,5% | 5 yo | Bourbon Barrel |
| Single Cask Release for The Distillery Shop | 456/2008 | 04.04.2008 | 22.04.2013 | 60,8% |  | Bourbon Barrel |
| Single Cask for FC Whisky Denmark (No.) 8 | 460/2008 | 12.09.2008 | 16.09.2013 | 60,2% | 5 yo | Fresh Bourbon Barrel, Oloroso Sherry Finish |
| Single Cask for Islay Pipe Band | 461/2008 | 12.09.2008 | 10.05.2013 | 60,4% | 4 yo | Fresh Bourbon Barrel |
| Single Cask for The Whisky Show 2013 | 473/2008 | 25.09.2008 | 16.09.2013 | 61,0% | 4 yo | Fresh Bourbon Barrel |
| Single Cask for Oslo Whiskyfestival 10th Anniversary | 476/2008 | 25.09.2008 | 25.09.2013 | 59,3% | 5 yo | Fresh Bourbon Barrel |
| Single Cask for The Whisky Shop | 484/2008 | 02.10.2008 | 04.05.2013 | 61,0% | 4 yo | Bourbon Barrel |
| Small Batch Release for The Kilchoman Club, 2nd Edition | 485-490, 567, 568 | Oct 2008 | 04.11.2013 | 58,2% | 5 yo | Fresh Bourbon Barrel, Oloroso Sherry Finish |
| Single Cask for Susan´s Fine Wine & Spirits, Santa Fe | 491/2008 | 02.10.2008 | 26.11.2013 | 60,4% | 5 yo | Fresh Bourbon Barrel |
| Single Cask for ImpEx Beverages | 494/2008 | 02.10.2008 | 29.01.2014 | 59,6% | 5 yo | Fresh Bourbon Barrel, Oloroso Sherry Finish |
| Single Bourbon Cask – 2nd Release for M&P Poland | 496/2008 | 02.10.2008 | 18.11.2013 | 60,4% | 5 yo | Fresh Bourbon Barrel |
| 100% Islay Cask Vatting for The Distillery Shop | 517&538/2008 | 16.10.2008 | 25.05.2017 | 56,8% | 8 yo | Fresh Bourbon Barrel |
| 100 % Islay Single Cask for FC Whisky Denmark (No.) 9 | 518/2008 | 16.10.2008 | 10.03.2014 | 59,5% | 5 yo | Fresh Bourbon Barrel |
| 9 yo 100% Islay Single Cask for K&L Wine Merchants | 549/2008 | 23.10.2008 | 27.06.2018 | 54,8% | 9 yo | Bourbon Barrel |
| Sherry Finish Single Cask for Whisk-e Ltd, Japan | 574/2008 | 06.11.2008 | 04.03.2014 | 54,4% | 5 yo | Bourbon Barrel, Oloroso Sherry Finish |
| Single Cask for Whisky.fr | 575/2008 | 06.11.2008 | 28.04.2014 | 55,1% | 5 yo | Fresh Bourbon Barrel, PX Finish |
| Single Cask for Tasttoe & Drankenshop Broekmans, Belgium | 576/2008 | 06.11.2008 | 29.09.2014 | 55,0% | 6 yo | Bourbon Barrel, PX Finish |
| Single Cask for Whisky Import Nederland, 10th Release | 577/2008 | 06.11.2008 | 02.04.2014 | 54,9% | 5 yo | Bourbon Barrel, PX Finish |
| Single Cask Release for The Distillery Shop | 584/2008 | 06.11.2008 | 21.08.2013 | 60,3% | 4 yo | Bourbon Barrel |
| Founder Cask Release (#1: Kathy Wills): Sherry Single Cask for Pol Roger Portfolio | 642/2008 | 04.12.2008 | 11.01.2018 | 54,4% | 9 yo | Oloroso Sherry Butt |
|  |  |  |  |  |  |  |
| Single Cask celebrating 10 years of Kilchoman Single Malt in Germany | 10/2009 | 15.01.2009 | 23.09.2019 | 54,3% | 10 yo | Refill Bourbon Barrel |
| Single Cask for Loch Fyne Whiskies | 23/2009 | 29.01.2009 | 21.03.2014 | 54,8% | 5 yo | Fresh Bourbon Barrel, PX Finish |
| Single Cask for World of Whisky Switzerland | 24/2009 | 29.01.2009 | 18.03.2014 | 54,9% | 5 yo | Bourbon Barrel, PX Finish |
| Bourbon Matured Single Cask for Bar Tsurukame | 27/2009 | 29.01.2009 | 15.01.2021 | 53,6% | 11 yo | Bourbon Barrel |
| Single Sherry Cask for ?? | 35/2009 | 12.05.2009 | 16.09.2014 | 59,0% | 5 yo | Oloroso Sherry Cask |
| Single Sherry Cask for Sun Favorite Ltd., Taiwan | 82/2009 | 26.01.2009 | 12.05.2015 | 57,4% | 6 yo | Oloroso Sherry Cask |
| Single Sherry Cask Release for The Distillery Shop | 85/2009 | 26.01.2009 | 28.07.2014 | 57,9% | 5 yo | Oloroso Sherry Butt |
| Oloroso Sherry Single Cask for Whisky Import Nederland (11) | 85/2009 | 26.01.2009 | 28.07.2014 | 57,9% | 5 yo | Oloroso Sherry Butt |
| Single Sherry Cask for ImpEx Beverages Inc. | 85/2009 | 26.01.2009 | 12.07.2014 | 57,9% | 5 yo | Oloroso Sherry Butt |
| Single Cask for Whisk-e Ltd, Japan | 102/2009 | 19.03.2009 | 10.04.2015 | 59,2% | 6 yo | Oloroso Sherry Cask |
| Single Cask for FC Whisky Denmark 10, PX-Finish | 165/2009 | 16.04.2009 | 16.09.2014 | 58,1% | 5 yo | Bourbon Barrel, PX Finish |
| Single Cask 1st Release for Whisky.dk | 170/2009 | 16.04.2009 | 03.10.2014 | 59,1% | 5 yo | Fresh Bourbon Barrel |
| Single Cask for Whisk-e Ltd, Japan | 172/2009 | 16.04.2009 | 03.03.2014 | 59,7% | 4 yo | Bourbon Barrel |
| Single Cask for Whisk-e Ltd, Japan | 174/2009 | 16.04.2009 | 10.11.2014 | 57,9% | 5 yo | Bourbon Barrel |
| Single Cask for Sun Favorite Ltd., Taiwan | 178/2009 | 16.04.2009 | 16.05.2014 | 59,3% | 5 yo | Bourbon Barrel |
| Single Cask for Sun Favorite Ltd., Taiwan, PX-Finish | 261/2009 | 29.05.2009 | 19.05.2014 | 56,2% | 4 yo | Bourbon Barrel, PX Finish |
| Single Cask for De Tongerse Whiskyvrienden and Whiskyclub Luxembourg, 100% Islay, PX-Finish | 262/2009 | 29.05.2009 | 29.09.2014 | 55,2% | 5 yo | Fresh Bourbon Barrel, PX Finish |
| Single Bourbon Cask for Whisk-e Ltd, Japan | 266/2009 | 29.05.2009 | 01.07.2015 | 58,7% | 6 yo | Bourbon Barrel |
| PX Finish Single Cask | 269/2009 | 29.05.2009 | 20.10.2014 | 58,7% | 5 yo | Bourbon Barrel, PX Finish |
| Single Cask for ImpEx Beverages Inc., PX Finish | 270/2009 | 29.05.2009 | 29.09.2014 | 58,9% | 5 yo | Fresh Bourbon Barrel, PX Finish |
| Single Cask for Abbey Whisky, PX Finish | 285/2009 | 11.06.2009 | 17.07.2014 | 58,3% | 5 yo | Bourbon Barrel, PX Finish |
| Red Wine Matured Single Cask for SMCC | 313/2009 | 25.06.2009 | 07.03.2020 | 55,8% | 10 yo | Red Wine Cask |
| Sherry Single Cask Finish for Shamrock´s 12th anniversary | 314/2009 | 25.06.2009 | 12.08.2021 | 54,3% | 12 yo | Red Wine Cask, Oloroso Sherry Finish |
| Fèis Ìle 2014 Release, Fino Finish | 328&329/2009 | 01.07.2009 | 20.05.2014 | 58,7% | 5 yo | Bourbon Barrel, Fino Sherry Finish |
| Single Bourbon Cask for The Whisky Library, Hong Kong | 331/2009 | 01.07.2009 | 27.08.2014 | 59,7% | 5 yo | Bourbon Barrel |
| Single Bourbon Cask for Whiskyclub.it | 343/2009 | 23.07.2009 | 05.08.2014 | 60,8% | 5 yo | Fresh Bourbon Barrel |
| 100 % Islay Single Cask for K&L Wines | 344/2009 | 23.07.2009 | 02.06.2014 | 60,9% | 4 yo | Fresh Bourbon Barrel |
| 100 % Islay Single Cask for K&L Wines | 345/2009 | 23.07.2009 | 02.06.2014 | 60,8% | 4 yo | Fresh Bourbon Barrel |
| [Part of] 100 % Islay Small Batch for Germany | 358/2009 | 30.07.2009 | 27.08.2014 | 60,7% | 5 yo | Fresh Bourbon Barrel |
| [Part of] 100 % Islay Small Batch for Germany | 359/2009 | 30.07.2009 | 27.08.2014 | 60,7% | 5 yo | Fresh Bourbon Barrel |
| [Part of] 100 % Islay Small Batch for Germany | 360/2009 | 30.07.2009 | 27.08.2014 | 60,7% | 5 yo | Fresh Bourbon Barrel |
| Single Cask for Whisky Import Nederland, PX Finish | 378/2009 | 05.08.2009 | 20.10.2014 | 59,2% | 5 yo | Bourbon Barrel, PX Finish |
| Single Cask for Pot Still Austria, PX Finish | 379/2009 | 05.08.2009 | 05.08.2014 | 59,3% | 5 yo | Bourbon Barrel, PX Finish |
| Single Cask for Whisky Circle Pinzgau, PX Finish | 379/2009 | 05.08.2009 | 05.08.2014 | 59,3% | 5 yo | Bourbon Barrel, PX Finish |
| Single Cask for The Whisky Library, Hong Kong, PX Finish | 393/2009 | 20.08.2009 | 27.08.2014 | 57,9% | 5 yo | Bourbon Barrel, PX Finish |
| Single Cask for ImpEx Beverages Inc. | 394/2009 | 29.05.2009 | 12.07.2014 | 59,2% | 5 yo | Fresh Bourbon Barrel, PX Finish |
| Single Cask for German Roadshow 2014 | 395/2009 | 20.08.2009 | 27.08.2014 | 56,6% | 5 yo | Bourbon Barrel, PX Finish |
| Single Cask for LMDW | 396/2009 | 20.08.2009 | 10.09.2014 | 56,0% | 5 yo | Bourbon Barrel, PX Finish |
| Single Cask for Salon de SHIMAJI Pen & Shinanoya | 407/2009 | 27.09.2009 | 29.06.2015 | 59,9% | 5 yo | Oloroso Sherry Butt |
| Single Sherry Cask for SMCC | 416/2009 | 03.09.2009 | 18.10.2014 | 59,8% | 5 yo | Oloroso Sherry Butt |
| Single Sherry Cask for Taiwan | 423/2009 | 10.09.2009 | 20.10.2014 | 59,5% | 5 yo | Oloroso Sherry Butt |
| Oloroso Sherry Cask for The Distillery Shop | 424/2009 | 10.09.2009 | 29.09.2014 | 59,3% | 5 yo | Oloroso Sherry Butt |
| Single Sherry Butt for ImpEx Beverages Inc. | 424/2009 | 10.09.2009 | 29.09.2014 | 59,3% | 5 yo | Oloroso Sherry Butt |
| Single Sherry Cask for Taiwan | 425/2009 | 10.09.2009 | 20.10.2014 | 59,8% | 5 yo | Oloroso Sherry Butt |
| Single Cask for The Nectar Belgium | 429/2009 | 17.09.2009 | 29.09.2014 | 59,4% | 5 yo | Oloroso Sherry Butt |
| Single Sherry Cask for Whisky Live! Tokyo 2015 | 431/2009 | 08.10.2009 | 30.06.2015 | 59,5% | 5 yo | Oloroso Sherry Butt |
| [Part of] Fèis Ìle 2017 Release | 433/2009 | 08.10.2009 | 01.06.2017 | 58,0% | 7 yo | Oloroso Sherry Butt |
| Single Sherry Cask for Sun Favorite Ltd, Taiwan | 451/2009 | 03.09.2009 | 20.05.2014 | 60,0% | 4 yo | Oloroso Sherry Butt |
| Single Sherry Cask for D&M Liquors Aficionados Club | 451/2009 | 03.09.2009 | 20.05.2014 | 60,0% | 4 yo | Oloroso Sherry Butt |
| Single Bourbon Cask for Milano Whisky Festival 2015 | 463/2009 | 11.05.2009 | 12.03.2015 | 59,1% | 5 yo | Fresh Bourbon Barrel |
| Single Bourbon Cask for Whisk-e Ltd, Japan | 476/2009 | 12.11.2009 | 15.01.2016 | 59,3% | 6 yo | Bourbon Barrel |
| Single Sherry Cask for The Country Vintner | 510/2009 | 26.11.2009 | 15.07.2015 | 61,0% | 5 yo | Oloroso Sherry Butt |
| Single Bourbon Cask for Whisk-e Ltd, Japan | 515/2009 | 03.12.2009 | 13.11.2015 | 58,5% | 5 yo | Fresh Bourbon Barrel |
| Single Bourbon Cask for ?? | 535/2009 | 10.12.2009 | 20.10.2014 | 58,7% | 4 yo | Bourbon Barrel |
| Single Cask for The Whisky Hoop, Japan | 539/2009 | 10.12.2009 | 13.11.2015 | 58,3% | 5 yo | Bourbon Barrel |
| Bourbon Single Cask (Uniquely Islay Series – An t-Earrach 2020 #9/9) | 553/2009 | 17.12.2009 | 30.04.2020 | 55,7% | 10 yo | Refill Bourbon Barrel |
|  |  |  |  |  |  |  |
| Small Batch Release for the Kilchoman Club, 3rd Edition | 65 & 66/2010 | 11.02.2010 | 24.11.2014 | 58,4% | 4 yo | Madeira Cask |
| Madeira Matured Single Cask for SMCC | 67/2010 | 11.02.2010 | 22.04.2019 | 56,8% | 9 yo | Madeira Cask |
| Single Madeira Cask for The Distillery Shop | 69/2010 | 11.02.2010 | 01.03.2018 | 56,2% | 8 yo | Madeira Cask |
| Madeira Matured Single Cask for Bar Top Note | 70/2010 | 11.02.2010 | 29.07.2019 | 55,2% | 9 yo | Madeira Cask |
| Single Bourbon Barrel for Whisk-e Ltd, Japan | 154/2010 | 18.03.2010 | 01.04.2017 | 55,1% | 7 yo | Bourbon Barrel |
| Single Cask for LMDW – The Trilogy (Part 2) – Sherry Cask | 199/2010 | 08.04.2010 | 31.08.2015 | 60,6% | 5 yo | Oloroso Sherry Butt |
| Private Single Cask for Box Distillery Founders Group | 222/2010 | 22.04.2010 | 31.08.2016 | 59,5% | 6 yo | Bourbon Barrel |
| 11 yo Bourbon Cask Matured [Distillery Shop Exclusive] | 222/2010 | 22.04.2010 | 02.08.2021 | 55,3% | 11 yo | Bourbon Barrel |
| Single Sherry Cask for Taiwan | 254/2010 | 06.05.2010 | 05.10.2015 | 59,2% | 5 yo | Oloroso Sherry Butt |
| Single Sherry Butt for Silver Seal Whisky Company (Italy) | 256/2010 | 06.05.2010 | 10.03.2015 | 60,1% | 4 yo | Oloroso Sherry Butt |
| Single Cask for LMDW – The Trilogy (Part 1) – Bourbon Cask | 260/2010 | 06.05.2010 | 31.08.2015 | 60,5% | 5 yo | Bourbon Barrel |
| 10 yo Single Bourbon Cask for Whisky Show 2020 Budapest | 261/2010 | 06.05.2010 | 08.07.2020 | 56,8% | 10 yo | Bourbon Barrel |
| Private Refill Sherry Cask for Arno´s 2nd | 262/2010 | 13.05.2010 | 25.02.2019 | 49,2% | 8 yo | Refill Sherry Quarter Cask |
| Kilchoman Single Farm Single Malt Sherry Butt 9 yo for The Distillery Shop | 278/2010 | 28.05.2010 | 28.05.2019 | 57,8% | 9 yo | Oloroso Sherry Butt |
| 10 yo 100% Islay Bourbon Single Cask (The Wills Family Cask Collection: Kathy Wills) | 281/2010 | 28.05.2010 | 28.08.2020 | 54,2% | 10 yo | Bourbon Barrel |
| Single Bourbon Cask for Whisk-e Ltd, Japan | 283/2010 | 02.06.2010 | 26.05.2015 | 59,4% | 4 yo | Bourbon Barrel |
| Bourbon Barrel Single Cask for Astor Wines & Spirits | 316/2010 | 29.06.2010 | 01.03.2020 | 59,6% | 9 yo | Fresh Bourbon Barrel |
| Single Bourbon Cask for New York | 317/2010 | 29.06.2010 | 16.05.2016 | 63,2% | 5 yo | Fresh Bourbon Barrel |
| Single Bourbon Cask for Binny´s Beverage Depot | 318/2010 | 29.06.2010 | 29.07.2015 | 64,4% | 5 yo | Bourbon Barrel |
| 10 yo Single Cask for M&P Cask Collection Club | 320/2010 | 29.06.2010 | 20.04.2021 | 59,1% | 10 yo | Bourbon Barrel |
| Single Bourbon Cask for Bresser & Timmer – NL | 323/2010 | 29.06.2010 | 12.08.2015 | 63,7% | 5 yo | Fresh Bourbon Barrel |
| Single Bourbon Cask for Spec´s | 324/2010 | 29.06.2010 | 18.08.2015 | 64,0% | 5 yo | Bourbon Barrel |
| Single Bourbon Barrel for the PLOWED Society, USA | 351/2010 | 22.07.2010 | 24.11.2015 | 60,0% | 5 yo | Fresh Bourbon Barrel |
| 100 % Islay Single Bourbon Cask for Shinanoya [Tokyo] | 352/2010 | 22.07.2010 | 21.06.2016 | 59,3% | 5 yo | Fresh Bourbon Barrel |
| Single Bourbon Barrel for the PLOWED Society, USA | 364/2010 | 22.07.2010 | 24.11.2015 | 60,1% | 5 yo | Fresh Bourbon Barrel |
| Single Cask for Viking Line, PX Finish | 373/2010 | 29.07.2010 | 06.11.2014 | 55,5% | 4 yo | Bourbon Barrel, PX Finish |
| Single Cask for LMDW – The Trilogy (Part 3) – PX Finish | 374/2010 | 19.07.2010 | 31.08.2015 | 58,4% | 5 yo | Bourbon Barrel, PX Finish |
| Single Cask for World of Whisky, Switzerland | 375/2010 | 27.07.2010 | 03.11.2014 | 57,2% | 4 yo | Bourbon Barrel, PX Finish |
| Single Cask for ImpEx Beverages Inc., PX Finish | 376/2010 | 05.08.2010 | 26.02.2015 | 58,6% | 4 yo | Refill Bourbon Barrel, PX Finish |
| Bourbon Single Cask (Uniquely Islay Series – An Geamhradh 2020 #7/7) | 425/2010 | 19.08.2010 | 05.11.2020 | 56,5% | 10 yo | Fresh Bourbon Barrel |
| Bourbon Single Cask (Uniquely Islay Series – An Geamhradh 2020 #4/7) | 426/2010 | 19.08.2010 | 05.11.2020 | 56,0% | 10 yo | Fresh Bourbon Barrel |
| Bourbon Matured Single Cask for Bulgaria | 430/2010 | 19.08.2010 | 09.10.2020 | 56,3% | 10 yo | Fresh Bourbon Barrel |
| Single Bourbon Cask for The Country Vintner | 432/2010 | 19.08.2010 | 15.07.2015 | 60,4% | 4 yo | Fresh Bourbon Barrel |
| Single Bourbon Cask for Whisky Brother, Johannesburg | 435/2010 | 26.08.2010 | 11.05.2015 | 60,0% | 4 yo | Bourbon Barrel |
| Single Bourbon Cask for The Whisk(e)y Library, USA | 436/2010 | 26.08.2010 | 12.10.2016 | 59,2% | 6 yo | Bourbon Barrel |
| Single Cask for Kensington Wine Market, Canada | 440/2010 | 26.08.2010 | 10.07.2015 | 60,4% | 4 yo | Bourbon Barrel |
| 11 yo Bourbon Single Cask [for Slovakia] | 465/2010 | 02.09.2010 | 10.01.2022 | 55,2% | 11 yo | Bourbon Barrel |
| Single Octave Cask for Drinks by the Dram | 566/2010 | 07.10.2010 | 10.10.2016 | 58,0% | 5 yo | Octave (Quarter) Cask |
| Sherry Cask Finished Octave for Milroy´s of Soho | 568/2010 | 07.10.2010 | 25.10.2016 | 55,3% | 6 yo | Octave (Quarter) Cask, Sherry Finish |
| Single Octave Cask for Islay Pipe Band | 581/2010 | 07.10.2010 | 22.05.2014 | 60,5% | 3 yo | Octave (Quarter) Cask |
| Single Quarter Cask for Master of Malt | 582/2010 | 07.10.2010 | 05.09.2015 | 59,2% | 4 yo | Quarter Cask |
| 9 yo Single Cask for Roco Wine & Spirits, Sacramento | 1004/2010 | 20.10.2010 | 01.10.2020 | 55,2% | 9 yo | Quarter Cask, Bourbon Barrel |
| Single Bourbon Cask for ISETAN, Japan | 651/2010 | 20.10.2010 | 04.05.2016 | 59,6% | 5 yo | Bourbon Barrel |
| Single Bourbon Cask for Viking Line | 652/2010 | 20.10.2010 | 15.12.2015 | 59,8% | 5 yo | Bourbon Barrel |
| 10 yo Bourbon Single Cask for Spec´s | 653/2010 | 22.10.2010 | 08.06.2021 | 55,3% | 10 yo | Bourbon Barrel |
| Single Cask for Bresser & Timmer – NL, PX Finish | 678/2010 | 29.10.2010 | 30.06.2015 | 57,0% | 4 yo | Fresh Bourbon Barrel, PX Finish |
| Single Cask for The Whisky Exchange, PX Finish | 679/2010 | 29.10.2010 | 04.09.2015 | 58,3% | 4 yo | Bourbon Barrel, PX Finish |
| Single Cask for ImpEx Beverages Inc., PX Finish | 680/2010 | 29.10.2010 | 14.07.2015 | 60,3% | 4 yo | Bourbon Barrel, PX Finish |
| Single Cask for Islay Pipe Band, PX Finish | 681/2010 | 28.10.2010 | 15.05.2015 | 58,8% | 4 yo | Fresh Bourbon Barrel, PX Finish |
| Single Cask for The Nectar Belgium, PX Finish | 682/2010 | 29.10.2010 | 01.10.2015 | 56,9% | 4 yo | Fresh Bourbon Barrel, PX Finish |
| Single Bourbon Cask for Beija Flor | 687/2010 | 04.11.2010 | 12.11.2015 | 59,7% | 5 yo | Bourbon Barrel |
| Single Cask – Two Isles – for Franks & Marsovin, Malta | 688/2010 | 04.11.2010 | 07.10.2015 | 60,3% | 4 yo | Marsovin Guze Passito Cask Finish |
| Single Cask PX Finish (for South Africa) | 692/2010 | 04.11.2010 | 03.12.2015 | 58,1% | 5 yo | Bourbon Barrel, PX Finish |
| Single Cask for The Whisky Hoop, Japan | 693/2010 | 04.11.2010 | 16.11.2015 | 57,4% | 5 yo | Bourbon Barrel, PX Finish |
| Single Cask for Potstill Austria, PX Finish | 694/2010 | 04.11.2010 | 12.10.2015 | 59,3% | 4 yo | Bourbon Barrel, PX Finish |
| Single Cask for World of Whisky, Switzerland | 695/2010 | 04.11.2010 | 12.10.2015 | 57,7% | 4 yo | Bourbon Barrel, PX Finish |
| [Part of] Small Batch for Germany PX Finish/Oloroso Casks | 696/2010 | 04.11.2010 | 28.01.2016 | 58,2% | 5 yo | Bourbon Barrel, PX Finish |
| [Part of] Small Batch for Germany PX Finish/Oloroso Casks | 697/2010 | 04.11.2010 | 28.01.2016 | 58,2% | 5 yo | Bourbon Barrel, PX Finish |
| PX Sherry Cask Finish Single Cask for Spec´s | 698/2010 | 04.11.2010 | 25.08.2015 | 58,6% | 4 yo | Bourbon Barrel, PX Finish |
| Single Cask for Winetime Gastro & Wine Market, Ukraine, PX-Finish | 699/2010 | 04.11.2010 | 08.06.2015 | 60,3% | 4 yo | Refill Bourbon Barrel, PX Finish |
| Sauternes Single Cask for The Distillery Shop | 739/2010 | 17.11.2010 | 19.07.2017 | 59,3% | 6 yo | Sauternes Cask |
| [Part of] Small Batch Release for The Kilchoman Club, 4th Edition | 740/2010 | 17.11.2010 | 09.11.2015 | 60,0% | 4 yo | Sauternes Cask |
| Single Bourbon Cask to commemorate WW100 Islay in May 2018 | 742/2010 | May 2010 | April 2018 | 58,0% | 7 yo | Fresh Bourbon Barrel |
| Single Bourbon Cask for Taiwan | 751/2010 | 26.11.2010 | 17.04.2017 | 59,0% | 6 yo | Fresh Bourbon Barrel |
| Single Bourbon Cask for Taiwan | 752/2010 | 26.11.2010 | 17.04.2017 | 58,8% | 6 yo | Fresh Bourbon Barrel |
| Single Bourbon Cask for Taiwan | 753/2010 | 26.11.2010 | 18.04.2017 | 58,9% | 6 yo | Fresh Bourbon Barrel |
| Bourbon Matured Single Cask 10 yo [for The Distillery Shop] | 784/2010 | 02.12.2010 | 14.12.2020 | 54,9% | 10 yo | Fresh Bourbon Barrel |
| Single Cask for The Distillery Shop | 785/2010 | 02.12.2010 | 20.05.2016 | 57,7% | 5 yo | Bourbon Barrel, PX Finish |
| Single Cask for Paul Ullrich AG, Switzerland | 786/2010 | 02.12.2010 | 25.02.2016 | 58,7% | 5 yo | Bourbon Barrel, PX Finish |
| [Part of] Small Batch Release for The Kilchoman Club, 4th Edition | 790/2010 | 08.12.2010 | 09.11.2015 | 60,0% | 4 yo | Sauternes Cask |
| Private Sauternes Cask Release for Kilchoman Invest | 792/2010 | 08.12.2010 | 23.02.2018 | 58,2% | 7 yo | Sauternes Cask |
|  |  |  |  |  |  |  |
| Single Sauternes Cask for Delilah´s & Jack Rose | 26/2011 | 26.01.2011 | 05.09.2016 | 59,8% | 5 yo | Sauternes Cask |
| [Part of] Small Batch Release for The Kilchoman Club, 4th Edition | 28/2011 | 26.01.2011 | 09.11.2015 | 60,0% | 4 yo | Sauternes Cask |
| 9 yo Sherry Cask (The Wills Family Cask Collection: George Wills) | 35/2011 | 26.01.2011 | 28.08.2020 | 56,5% | 9 yo | Oloroso Sherry Hogshead |
| Single Sherry Cask for Whisk-e Ltd, Japan | 79/2011 | 17.02.2011 | 05.05.2016 | 59,4% | 5 yo | Oloroso Sherry Cask |
| Single Bourbon Cask for Whisk-e Ltd, Japan | 120/2011 | 10.03.2011 | 27.07.2017 | 58,7% | 6 yo | Fresh Bourbon Barrel |
| Single Bourbon Barrel for M&P Whisky & Friends Festival Poland | 121/2011 | 10.03.2011 | 10.02.2017 | 59,0% | 5 yo | Fresh Bourbon Barrel |
| Single Cask for La Socíeté des Alcools du Quebec | 122/2011 | 10.03.2011 | 27.03.2017 | 58,7% | 6 yo | Fresh Bourbon Barrel |
| Single Bourbon Cask for Milroy´s of Soho | 128/2011 | 17.03.2011 | 01.10.2017 | 57,7% | 6 yo | Fresh Bourbon Barrel |
| Rum Finish Single Cask for Whisk-e Ltd, Japan | 140/2011 | 17.03.2011 | 11.04.2019 | 55,2% | 8 yo | Bourbon Barrel, Jamaica Rum Finish |
| Single Cask Rum Finish for Pot Still Austria | 141/2011 | 17.03.2011 | 21.01.2019 | 56,3% | 7 yo | Bourbon Barrel, Barbados Rum Finish |
| [Part of] Small Batch Rum Finish – Local Dealer Edition for Germany | 142/2011 | 17.03.2011 | 03.10.2018 | 56,2% | 7 yo | Bourbon Barrel, Jamaica Rum Finish |
| [Part of] Small Batch Rum Finish – Local Dealer Edition for Germany | 143/2011 | 17.03.2011 | 03.10.2018 | 56,2% | 7 yo | Bourbon Barrel, Jamaica Rum Finish |
| 10 yo 100% Islay Oloroso Butt Single Cask – French Exclusive | 144/2011 | 24.03.2011 | 16.08.2021 | 57,3% | 10 yo | Oloroso Sherry Butt |
| Single Sherry Butt for Whisk-e Ltd, Japan | 152/2011 | 24.03.2011 | 21.06.2016 | 58,8% | 5 yo | Oloroso Sherry Butt |
| Single Sherry Cask for SMCC | 161/2011 | 31.03.2011 | 06.10.2017 | 58,2% | 6 yo | Oloroso Sherry Butt |
| Single Cask for Tokyo International Bar Show 2016 | 162/2011 | 31.03.2011 | 11.03.2016 | 58,2% | 4 yo | Oloroso Sherry Butt |
| Rum Finish Single Cask for Australia | 163/2011 | 07.04.2011 | 20.02.2019 | 56,2% | 7 yo | Bourbon Barrel, Jamaica Rum Finish |
| Rum Finish Single Cask for Taiwan | 164/2011 | 07.04.2011 | 03.05.2019 | 53,3% | 8 yo | Bourbon Barrel, Rum Finish |
| Rum (Finish) Single Cask (Uniquely Islay Series – An t-Earrach 2020 #3/9) | 167/2011 | 07.04.2011 | 01.05.2020 | 54,0% | 9 yo | Refill Bourbon Barrel, Rum Finish |
| 10 yo STR Finish Single Cask for Craft Cellars (Calgary, Canada) | 168/2011 | 07.04.2011 | 07.04.2021 | 54,5% | 10 yo | Bourbon Barrel, STR Cask Finish |
| Red Wine Finish Single Cask for Whisk-e Ltd, Japan | 170/2011 | 07.04.2011 | 19.12.2018 | 56,8% | 7 yo | Bourbon Barrel, Red Wine Cask Finish |
| Single Red Wine Finish Cask for The Nectar Belgium | 171/2011 | 11.04.2011 | 03.08.2018 | 56,7% | 7 yo | Bourbon Barrel, Red Wine Cask Finish |
| Single Red Wine Finish Cask for M&P Poland | 173/2011 | 07.04.2011 | 28.09.2018 | 55,7% | 7 yo | Bourbon Barrel, Red Wine Cask Finish |
| 8 yo Bourbon Barrel – Sweden Exclusive Volume 1 | 175/2011 | 07.04.2011 | 04.09.2019 | 56,5% | 8 yo | Bourbon Barrel |
| Single Cask 100% Islay for Binny´s Beverage Depot (USA) | 194/2011 | 14.04.2011 | 15.08.2016 | 58,3% | 5 yo | Bourbon Barrel |
| 10 yo Bourbon Single Cask [Online Shop Exclusive] | 203/2011 | 21.04.2011 | 10.07.2021 | 53,1% | 10 yo | Fresh Bourbon Barrel |
| [Part of] Comraich Batch No. 4 | 205/2011 | 21.04.2011 | 08.02.2021 | 55,0% | 9 yo | Fresh Bourbon Barrel |
| [Part of] Comraich Batch No. 2 | 206/2011 | 21.04.2011 | 11.03.2019 | 55,3% | 7 yo | Fresh Bourbon Barrel |
| [Part of] Comraich Batch No. 2 | 207/2011 | 21.04.2011 | 11.03.2019 | 55,3% | 7 yo | Fresh Bourbon Barrel |
| [Part of] Comraich Batch No. 2 | 208/2011 | 21.04.2011 | 11.03.2019 | 55,3% | 7 yo | Fresh Bourbon Barrel |
| Single Sherry Butt for Taiwan | 214/2011 | 05.05.2011 | 09.05.2016 | 59,0% | 5 yo | Oloroso Sherry Butt |
| Single Sherry Cask for Royal Mile Whiskies & Drinkmonger | 218/2011 | 05.05.2011 | 14.08.2017 | 57,2% | 6 yo | Oloroso Sherry Butt |
| 9 yo STR Finish Single Cask – Sweden Exclusive Volume 2 | 224/2011 | 12.05.2011 | 20.04.2021 | 53,7% | 9 yo | Bourbon Barrel, STR Cask Finish |
| STR Finish Single Cask [Online Shop Exclusive] | 225/2011 | 12.05.2011 | 10.07.2020 | 54,2% | 9 yo | Fresh Bourbon Barrel, STR Cask Finish |
| STR Finish Single Cask for Taiwan | 226/2011 | 12.05.2011 | 24.05.2021 | 53,8 % | 10 yo | Bourbon Barrel, STR Cask Finish |
| STR Finish Single Cask for Drammers Club, Pick #43 | 227/2011 | 12.05.2011 | 15.03.2021 | 53,4% | 9 yo | Bourbon Barrel, STR Cask Finish |
| STR Single Cask Finish Marius Peat Edition | 228/2011 | 12.05.2011 | 16.01.2021 | 54,7% | 9 yo | Fresh Bourbon Barrel, STR Cask Finish |
| STR (Finish) Single Cask (Uniquely Islay Series – An t-Earrach 2020 #5/9) | 229/2011 | 12.05.2011 | 01.05.2020 | 53,5% | 8 yo | Fresh Bourbon Barrel, STR Cask Finish |
| STR Single Cask Finish for Whisk-e Ltd, Japan | 230/2011 | 12.05.2011 | 01.04.2021 | 52,5% | 9 yo | Fresh Bourbon Barrel, STR Cask Finish |
| STR Finish Single Cask for the Danish Market | 231/2011 | 12.05.2011 | 02.11.2020 | 52,6% | 9 yo | Bourbon Barrel, STR Cask Finish |
| 10 yo STR Single Cask Finish [Online Shop Exclusive] | 232/2011 | 12.05.2011 | 12.05.2021 | 54,0% | 10 yo | Fresh Bourbon Barrel, STR Cask Finish |
| STR Finish Single Cask for Gold Medal Marketing Inc. Alberta, Canada | 233/2011 | 12.05.2011 | 12.05.2020 | 53,0% | 9 yo | Bourbon Barrel, STR Cask Finish |
| STR Finish Single Cask for SMCC | 234/2011 | 12.05.2011 | 07.03.2020 | 52,8% | 8 yo | Fresh Bourbon Barrel, STR Cask Finish |
| PX Finished Single Cask for British Columbia, Canada | 253/2011 | 27.05.2011 | 08.08.2016 | 56,2% | 5 yo | Bourbon Barrel, PX Finish |
| PX Finished Single Cask for Whisky & Friends M&P Festival | 254/2011 | 27.05.2011 | 11.04.2016 | 58,0% | 4 yo | Bourbon Barrel, PX Finish |
| Single Cask ImpEx Cask Evolution 03/2016 – PX Finish | 256/2011 | 27.05.2011 | 08.07.2016 | 56,8% | 5 yo | Bourbon Barrel, PX Finish |
| Single Bourbon Cask for The Nectar Belgium | 274/2011 | 27.05.2011 | 02.04.2018 | 58,8% | 6 yo | Bourbon Barrel |
| 11yo Bourbon Single Cask for The Distillery Shop | 280/2011 | 02.06.2011 | 03.06.2022 | 55,3% | 11 yo | Fresh Bourbon Barrel |
| Single Bourbon Cask for Bar Bundaberg The 6th Anniversary | 281/2011 | 02.06.2011 | 20.11.2017 | 57,7% | 6 yo | Bourbon Barrel |
| 100% Islay ["unpeated"] Bourbon Matured Single Cask for Whisk-e Ltd, Japan | 304/2011 | 08.06.2011 | 07.01.2021 | 50,7% | 9 yo | Bourbon Barrel |
| 100% Islay "unpeated" Bourbon Cask for Berry Bros. & Rudd | 306/2011 | 08.06.2011 | 12.08.2020 | 56,5% | 9 yo | Bourbon Barrel |
| PX Finish Single Cask for Co-op Wine, Spirits, Beer (Calgary) | 320/2011 | 17.06.2011 | 25.07.2016 | 57,6% | 5 yo | Bourbon Barrel, PX Finish |
| PX Finish Single Cask for SMCC | 322/2011 | 17.06.2011 | 05/2016 | 57,0% | 4 yo | Bourbon Barrel, PX Finish |
| PX Finish Single Cask for La Société des Alcools du Québec | 324/2011 | 17.06.2011 | 27.03.2017 | 57,0% | 5 yo | Bourbon Barrel, PX Finish |
| PX Finish Single Cask for the Nectar Belgium | 325/2011 | 17.06.2011 | 01.05.2017 | 56,9% | 5 yo | Fresh Bourbon Barrel, PX Finish |
| Single Bourbon Cask for Whisk-e Ltd, Japan | 327/2011 | 17.06.2011 | 08.04.2016 | 59,7% | 4 yo | Bourbon Barrel |
| Bourbon Single Cask (Uniquely Islay Series – An t-Earrach 2022 #5/10) | 333/2011 | 23.06.2011 | 01.03.2022 | 53,4% | 10 yo | Bourbon Barrel |
| Single Bourbon Cask for Whisk-e Ltd, Japan | 358/2011 | 30.06.2011 | 02.07.2019 | 56,1% | 8 yo | Fresh Bourbon Barrel |
| Single Bourbon Cask for Ullrich Selection (Switzerland) | 443/2011 | 28.07.2011 | 21.08.2018 | 57,3% | 7 yo | Bourbon Barrel |
| Single Cask Volume 1: 6 week Madeira Finish (Viking Cinderella Whiskyfair 2019) | 445/2011 | 28.07.2011 | 27.08.2018 | 56,4% | 7 yo | Fresh Bourbon Barrel, Madeira Finish |
| Single Cask Volume 2: 6 month Madeira Finish (Viking Cinderella Whiskyfair 2019) | 445/2011 | 28.07.2011 | 16.01.2019 | 55,8% | 7 yo | Fresh Bourbon Barrel, Madeira Finish |
| Single Cask for Kensington Wine Market | 446/2011 | 28.07.2011 | 25.07.2016 | 57,5% | 4 yo | Bourbon Barrel, PX Finish |
| Single Cask for Viking Line, PX Finish | 448/2011 | 28.08.2011 | 09.01.2017 | 56,8% | 5 yo | Bourbon Barrel, PX Finish |
| Single Cask PX Finish for Paul Ullrich AG Switzerland | 449/2011 | 04.08.2011 | 17.05.2017 | 56,6% | 5 yo | Bourbon Barrel, PX Finish |
| PX Finish Single Cask for Sweden | 450/2011 | 04.08.2011 | 15.08.2016 | 57,2% | 5 yo | Bourbon Barrel, PX Finish |
| PX Finish Single Cask for Ets. Antoine Massoud, Lebanon | 451/2011 | 04.08.2011 | 08.08.2016 | 56,9% | 5 yo | Bourbon Barrel, PX Finish |
| PX Finish Single Cask for Argentina Whisky Museum | 452/2011 | 04.08.2011 | 22.03.2017 | 52,9% | 5 yo | Bourbon Barrel, PX Finish |
| PX Finish Single Cask for Taiwan | 453/2011 | 04.08.2011 | 13.04.2017 | 56,9% | 5 yo | Bourbon Barrel, PX Finish |
| PX Finish Single Cask for Bresser & Timmer – NL | 454/2011 | 04.08.2011 | 01.11.2017 | 55,8% | 6 yo | Bourbon Barrel, PX Finish |
| PX Finish Single Cask for Taiwan | 455/2011 | 04.08.2011 | 14.09.2017 | 56,0% | 6 yo | Bourbon Barrel, PX Finish |
| Bourbon Matured Single Casks for Y´s Cask, Toko – Tokyo | 466/2011 | 04.08.2011 | 27.01.2020 | 55,5% | 8 yo | Bourbon Barrel |
| [Part of] Comraich Batch No. 4 | 467/2011 | 04.08.2011 | 08.02.2021 | 55,0% | 9 yo | Fresh Bourbon Barrel |
| Bourbon Matured Single Cask [Online Shop Exclusive] | 468/2011 | 04.08.2011 | 26.10.2020 | 56,5% | 9 yo | Fresh Bourbon Barrel |
| Single Bourbon Cask for Natural Lawson, Japan | 469/2011 | 11.08.2011 | 14.09.2017 | 58,8% | 6 yo | Fresh Bourbon Barrel |
| Single Cask ImpEx Cask Evolution 02/2016 – Bourbon Barrel | 470/2011 | 11.08.2011 | 16.05.2016 | 60,1% | 4 yo | Fresh Bourbon Barrel |
| Single Bourbon Cask for Roma Whisky Festival 2018 | 471/2011 | 11.08.2011 | 05.02.2018 | 58,6% | 6 yo | Fresh Bourbon Barrel |
| Single Bourbon Cask for Norway | 472/2011 | 11.08.2011 | 08.11.2017 | 58,4% | 6 yo | Bourbon Barrel |
| Bourbon Matured Single Cask for Shikoku Whisky Session | 474/2011 | 11.08.2011 | 10.09.2018 | 58,6% | 7 yo | Bourbon Barrel |
| Bourbon Matured Single Cask for Kimchoman (Liquor Land Kimura) | 476/2011 | 11.08.2011 | 05.07.2018 | 58,9% | 6 yo | Bourbon Barrel |
| Single Bourbon Cask for Scotch Malt Selection, Japan | 477/2011 | 11.08.2011 | 05.03.2018 | 58,0% | 6 yo | Bourbon Barrel |
| 100% Islay Single Cask for Tasttoe, Belgium | 486/2011 | 22.08.2011 | 01.05.2017 | 59,4% | 5 yo | Bourbon Barrel |
| 100% Islay Unpeated Barley Bourbon Cask for Royal Mile Whiskies | 490/2011 | 28.08.2011 | 12.06.2020 | 56,4% | 8 yo | Fresh Bourbon Barrel |
| Slightly Peated Bourbon Barrel for Jack Rose Dining Saloon | 491/2011 | 22.08.2011 | 20.05.2020 | 56,5% | 8 yo | Bourbon Barrel |
| [Part of] Small Batch for Germany PX Finish/Oloroso Casks | 520/2011 | 01.09.2011 | 28.01.2016 | 58,2% | 4 yo | Oloroso Sherry Cask |
| Madeira Finish Single Cask for The Distillery Shop | 521/2011 | 01.09.2011 | 10.04.2019 | 56,9% | 7 yo | Fresh Bourbon Barrel, Madeira Finish |
| Single Bourbon Cask for Beija-Flor | 522/2011 | 01.09.2011 | 04.09.2017 | 59,0% | 6 yo | Fresh Bourbon Barrel |
| Madeira Finish Single Cask for La Société des Alcools du Québec | 523/2011 | 01.09.2011 | 20.02.2019 | 56,4% | 7 yo | Bourbon Barrel, Madeira Finish |
| Single Bourbon Cask for Drinks by the Dram | 524/2011 | 01.09.2011 | 01.08.2017 | 58,3% | 5 yo | Fresh Bourbon Barrel |
| Single Bourbon Cask for Pot Still Austria | 525/2011 | 01.09.2011 | 15.06.2017 | 58,9% | 5 yo | Fresh Bourbon Barrel |
| Madeira Finish Single Cask for Whisk-e Ltd, Japan | 526/2011 | 01.09.2011 | 25.10.2019 | 55,8% | 8 yo | Bourbon Barrel, Madeira Finish |
| [Part of] Twin Cask Release Madeira Finish for Prima Vinum | 528/2011 | 01.09.2011 | 03.06.2019 | 56,2% | 7 yo | Bourbon Barrel, Madeira Finish |
| Madeira Finish Single Cask for 2019 Taoyuan Whisky Taste | 529/2011 | 01.09.2011 | 04.05.2019 | 56,4% | 7 yo | Bourbon Barrel, Madeira Finish |
| Two Isles – Single Cask Primus Wine Cask Finish for Franks & Marsovin (Dominic & Prince), Malta | 530/2011 | 01.09.2011 | 20.10.2016 | 57,3% | 5 yo | Bourbon Barrel, Marsovin Primus Wine Cask Finish |
| 100% Islay Caroni Cask Finish for 60th Anniversary of LDMW | 531/2011 | 01.09.2011 | 05.08.2016 | 59,4% |  | Fresh Bourbon Barrel, Caroni Rum Cask Finish |
| Single Cask ImpEx Cask Evolution 01/2016 – Sherry Hogshead | 532/2011 | 01.09.2011 | 20.01.2016 | 58,7% | 4 yo | Oloroso Sherry Hogshead |
| Single Sherry Cask for Whiskyclub.it | 556/2011 | 15.09.2011 | 10.10.2016 | 58,6% | 5 yo | Oloroso Sherry Hogshead |
| Single Sherry Cask for Bresser & Timmer – NL | 559/2011 | 22.09.2011 | 14.11.2016 | 58,2% | 5 yo | Oloroso Sherry Hogshead |
| Single Sherry Cask for Independent Shops of Massachusetts | 561/2011 | 22.09.2011 | 18.10.2016 | 57,8% | 5 yo | Oloroso Sherry Hogshead |
| Single Cask for Pot Still Austria | 570/2011 | 22.09.2011 | 22.02.2016 | 58,9% | 4 yo | Oloroso Sherry Hogshead |
| Single Sherry Cask for Whisk-e Ltd, Japan | 571/2011 | 22.09.2011 | 22.06.2016 | 58,3% | 4 yo | Oloroso Sherry Hogshead |
| Single Cask for Paul Ullrich AG Switzerland | 572/2011 | 22.09.2011 | 25.02.2016 | 58,9% | 4 yo | Oloroso Sherry Hogshead |
| Single Sherry Cask for HNWS Taiwan | 573/2011 | 22.09.2011 | 09.05.2016 | 58,9% | 4 yo | Oloroso Sherry Hogshead |
| Single Cask for (Whisky Research Institute ?), Taiwan | 600/2011 | 26.10.2011 | 23.09.2016 | 57,7% | 4 yo | Oloroso Sherry Hogshead |
| Single Sherry Cask for Taiwan | 601/2011 | 26.10.2011 | 22.09.2016 | 57,6% | 4 yo | Oloroso Sherry Hogshead |
| Single Sherry Cask for The Whisky Library, Hong Kong | 603/2011 | 06.10.2011 | 23.05.2016 | 57,1% | 4 yo | Oloroso Sherry Hogshead |
| Single Sherry Hogshead for M&P Whisky & Friends Festival Poland | 615/2011 | 13.10.2011 | 10.02.2017 | 57,0% | 5 yo | Oloroso Sherry Hogshead |
| Oloroso Sherry Single Cask (Uniquely Islay Series – An t-Earrach 2022 #3/10) | 616/2011 | 13.10.2011 | 01.03.2022 | 54,4% | 10 yo | Oloroso Sherry Hogshead |
| 100% Islay Single Sherry Cask for HNWS Taiwan | 617/2011 | 13.10.2011 | 14.09.2017 | 56,9% | 5 yo | Oloroso Sherry Hogshead |
| Single Oloroso Sherry Cask for LMDW | 621/2011 | 13.10.2011 | 01.05.2019 | 56,3% | 7 yo | Oloroso Sherry Hogshead |
| Single Cask ImpEx Cask Evolution 02/2019 – 100% Islay Sherry Cask | 622/2011 | 13.10.2011 | 20.05.2019 | 56,1% | 7 yo | Oloroso Sherry Hogshead |
| 100% Islay Single Sherry Cask for Taiwan | 623/2011 | 13.10.2011 | 14.09.2017 | 57,0% | 5 yo | Oloroso Sherry Hogshead |
| [100% Islay] Oloroso Sherry Hogshead (Founders Cask #4: James Wills) | 625/2011 | 13.10.2011 | 07.12.2021 | 54,4% | 10 yo | Oloroso Sherry Hogshead |
| 100% Islay Oloroso Sherry Cask selected by Kathy Wills (The Wills Family Cask Collection [SMCC]) | 626/2011 | 13.10.2011 | 21.07.2021 | 54,6% | 9 yo | Oloroso Sherry Hogshead |
| Single Sherry Cask for Bresser & Timmer – NL | 666/2011 | 03.11.2011 | 21.03.2016 | 57,8% | 4 yo | Oloroso Sherry Hogshead |
| Single Bourbon Cask for Cask, USA | 686/2011 | 11.11.2011 | 25.04.2018 | 58,3% | 6 yo | Bourbon Barrel |
| Single Cask for Islay Pipe Band | 689/2011 | 11.11.2011 | 11.05.2016 | 59,5% | 4 yo | Bourbon Barrel |
| PX Finish Single Cask for Australia | 691/2011 | 11.11.2011 | 25.05.2017 | 57,5% | 5 yo | Bourbon Barrel, PX Finish |
| PX Finish Single Cask for Silver Seal Whisky Company (Italy) | 693/2011 | 11.11.2011 | 22.01.2018 | 57,0% | 6 yo | Bourbon Barrel, PX Finish |
| PX Finish Single Cask for M&P Whisky & Friends Festival | 694/2011 | 11.11.2011 | 10.02.2017 | 56,9% | 5 yo | Bourbon Barrel, PX Finish |
| PX Finish Single Cask for Islay Cask Company: Allium | 695/2011 | 11.11.2011 | 15.06.2017 | 57,9% | 5 yo | Fresh Bourbon Barrel, PX Finish |
| PX Finish Single Cask for whiskybase.com | 696/2011 | 11.11.2011 | 15.08.2017 | 56,5% | 5 yo | Fresh Bourbon Barrel, PX Finish |
| PX Finish Single Cask for Taiwan | 697/2011 | 11.11.2011 | 14.04.2017 | 57,5% | 5 yo | Fresh Bourbon Barrel, PX Finish |
| PX Finish Single Cask for Islay Pipe Band | 699/2011 | 11.11.2011 | 10.05.2017 | 57,6% | 5 yo | Fresh Bourbon Barrel, PX Finish |
| 100% Islay Single Bourbon Cask for Whisk-e Ltd, Japan | 713/2011 | 17.11.2011 | 17.11.2017 | 58,4% | 6 yo | Bourbon Barrel |
| Oloroso Sherry Single Cask Finish for Taiwan | 714/2011 | 17.11.2011 | 05.03.2018 | 56,4% | 6 yo | Bourbon Barrel, Oloroso Sherry Finish |
| 7 yo Single Farm Single Malt Sherry Finish Distillery Shop Exclusive | 715/2011 | 17.11.2011 | 18.09.2019 | 54,4% | 7 yo | Fresh Bourbon Barrel, Oloroso Sherry Finish |
| 100% Islay Oloroso Sherry Single Cask Finish for Australia | 716/2011 | 17.11.2011 | 05.03.2018 | 56,4% | 6 yo | Bourbon Barrel, Oloroso Sherry Finish |
| 100% Islay Cask Vatting Sherry Hogshead Finish for The Distillery Shop | 717,718 & 719/2011 | 17.11.2011 | 12.09.2016 | 57,1% | 4 yo | Bourbon Barrel, Oloroso Sherry Finish |
| 100% Islay Sherry Hogshead Finish for The Distillery Shop | 720/2011 | 17.11.2011 | 10.09.2018 | 56,4% | 6 yo | Bourbon Barrel, Oloroso Sherry Finish |
| Single Cask ImpEx Cask Evolution 01/2017 – 100% Islay Sherry Finish | 721/2011 | 17.11.2011 | 20.03.2017 | 58,0% | 5 yo | Bourbon Barrel, Oloroso Sherry Finish |
| 100% Islay Caroni Cask Finish for 60th Anniversary of LDMW | 754/2011 | 01.12.2011 | 05.08.2016 | 59,5% |  | Bourbon Barrel, Caroni Rum Cask Finish |
| Madeira Finish Single Cask for Spec´s | 763/2011 | 09.12.2011 | 07.04.2019 | 56,8% | 7 yo | Bourbon Barrel, Madeira Hogshead Finish |
| [Part of] Twin Cask Release Madeira Finish for Prima Vinum | 764/2011 | 09.12.2011 | 03.06.2019 | 56,2% | 7 yo | Bourbon Barrel, Madeira Hogshead Finish |
| Madeira Finish Single Cask | 765/2011 | 09.12.2011 | 03.04.2020 | 55,0% | 8 yo | Fresh Bourbon Barrel, Madeira Hogshead Finish |
| Madeira Cask Finish Single Cask for Gold Medal Marketing Inc. Alberta, Canada | 766/2011 | 09.12.2011 | 12.08.2019 | 56,2% | 7 yo | Fresh Bourbon Barrel, Madeira Hogshead Finish |
| Madeira Finish Single Cask for Minzunara, Hong Kong | 767/2011 | 09.12.2011 | 01.10.2019 | 56,3% | 7 yo | Fresh Bourbon Barrel, Madeira Hogshead Finish |
| Madeira Finish Single Cask for WHIZITA | 768/2011 | 09.12.2011 | 05.11.2020 | 54,5% | 8 yo | Bourbon Barrel, Madeira Hogshead Finish |
| Single Bourbon Cask for Kensington Wine Market | 770/2011 | 09.12.2011 | 12.08.2019 | 56,8% | 7 yo | Bourbon Barrel |
| [Part of] Comraich Batch No. 4 | 775/2011 | 09.12.2011 | 08.02.2021 | 55,0% | 9 yo | Fresh Bourbon Barrel |
| Single Cask for Ramseyer´s Whisky Connection, Schweiz | 776/2011 | 09.12.2011 | 03.02.2017 | 60,2% | 5 yo | Fresh Bourbon Barrel |
|  |  |  |  |  |  |  |
| 9 yo 100% Islay Bourbon Barrel Single Cask – French Exclusive | 17/2012 | 26.01.2012 | 16.08.2021 | 55,3% | 9 yo | Fresh Bourbon Barrel |
| 9 yo 100% Islay Bourbon Barrel for Wine Route (Israel) | 22/2012 | 26.01.2012 | 25.06.2021 | 55,6% | 9 yo | Fresh Bourbon Barrel |
| 100% Islay Bourbon Matured Single Cask for Team Glen Muscle (Japan) | 29/2012 | 26.01.2012 | 20.03.2020 | 55,9% | 8 yo | Fresh Bourbon Barrel |
| 100% Islay Bourbon Single Cask for Taiwan | 32/2012 | 26.01.2012 | 14.09.2017 | 57,9% | 5 yo | Bourbon Barrel |
| Single Cask PX-Finish for The Liquor Control Board of Ontario | 37/2012 | 02.02.2012 | 21.01.2018 | 57,0% | 5 yo | Bourbon Barrel, PX Finish |
| Single Cask PX-Finish for Y´s Cask, Toko – Tokyo | 39/2012 | 02.02.2012 | 05.03.2018 | 56,4% | 6 yo | Bourbon Barrel, PX Finish |
| PX Sherry Finish Single Cask for The Malt Vault – 1st Anniversary | 41/2012 | 02.02.2012 | 06.02.2018 | 57,0% | 6 yo | Fresh Bourbon Barrel, PX Finish |
| PX-Finish Single Cask for Beija-Flor | 42/2012 | 02.02.2012 | 02.10.2017 | 57,0% | 5 yo | Fresh Bourbon Barrel, PX Finish |
| [Part of] Small Batch Release Bourbon and PX Sherry Finish | 76/2012 | 01.03.2012 | 23.04.2018 | 57,8% | 6 yo | Fresh Bourbon Barrel |
| Bourbon Matured Single Cask for Taiwan | 77/2012 | 01.03.2012 | 05.03.2018 | 58,3% | 6 yo | Bourbon Barrel |
| Madeira Single Cask [Finish] (Uniquely Islay Series – An Samhradh 2021 #2/9) | 79/2012 | 01.03.2012 | 17.06.2021 | 55,2% | 9 yo | Fresh Bourbon Barrel, Madeira Cask Finish |
| Single Bourbon Cask for Whisk-e Ltd, Japan | 80/2012 | 01.03.2012 | 10.12.2017 | 57,7% | 5 yo | Bourbon Barrel |
| Madeira Finish Single Cask for Bresser & Timmer | 81/2012 | 01.03.2012 | 22.04.2019 | 56,3% | 7 yo | Bourbon Barrel, Madeira Cask Finish |
| Bourbon Matured Single Cask for Taiwan | 82/2012 | 01.03.2012 | 11.10.2019 | 57,0% | 7 yo | Bourbon Barrel |
| Madeira Finish 8 yo Single Cask for Warehouse Liquors (Chicago) | 83/2012 | 01.03.2012 | 01.03.2020 | 55,2% | 8 yo | Bourbon Barrel, Madeira Cask Finish |
| Private Cask for a Private Owner (Mark Unsworth, Islay Studios) | 95/2012 | 01.03.2012 | 13.05.2022 | 54,9% | 10 yo | 2nd Fill Oloroso Sherry Hogshead |
| 100% Islay Madeira Matured Single Cask for Taiwan | 116/2012 | 15.03.2012 | 03.05.2019 | 58,2% | 7 yo | Madeira Cask |
| 100% Islay Madeira Matured Single Cask for Y´s Cask, Toko – Tokyo | 117/2012 | 15.03.2012 | 29.07.2019 | 58,0% | 7 yo | Madeira Cask |
| Bourbon Barrel Single Cask for sinDicate [Single Malt Society, Calgary] | 148/2012 | 22.03.2012 | 12.08.2019 | 56,7% | 7 yo | Bourbon Barrel |
| STR Finish Single Cask for Whisky Lovers Hong Kong | 151/2012 | 22.03.2012 | 27.01.2020 | 56,1% | 7 yo | Bourbon Barrel, STR Cask Finish |
| 9 yo STR Finish selected by Sundsvalls Whisky Club, 30 years – Sweden Exclusive Volume 3 | 152/2012 | 22.03.2012 | 08.06.2021 | 55,1% | 9 yo | Bourbon Barrel, STR Cask Finish |
| 9 yo STR Finish Single Cask for Binny´s | 153/2012 | 22.03.2012 | 27.05.2021 | 55,5% | 9 yo | Bourbon Barrel, STR Cask Finish |
| STR Cask Matured [Finish] – Japan Ambassador´s Cask | 154/2012 | 22.03.2012 | 07.12.2020 | 55,7% | 8 yo | Bourbon Barrel, STR Cask Finish |
| STR Finish Single Cask pour La Société des Alcools du Québec | 155/2012 | 22.03.2012 | 17.01.2022 | 54,7% | 9 yo | Bourbon Barrel, STR Cask Finish |
| Madeira Finish Single Cask for Tiger´s Finest Selection | 178/2012 | 12.04.2012 | 2019 | 56,3% |  | Bourbon Barrel, Madeira Finish |
| Madeira Finish Single Cask 7 yo for The Distillery Shop | 179/2012 | 12.04.2012 | 19.08.2019 | 56,4% | 7 yo | Fresh Bourbon Barrel, Madeira Finish |
| Madeira Finish Single Cask for Holy Dram Israel | 180/2012 | 12.04.2012 | 14.02.2019 | 56,3% | 6 yo | Bourbon Barrel, Madeira Finish |
| Madeira (Finish) Single Cask (Uniquely Islay Series – An t-Earrach 2020 #1/9) | 181/2012 | 12.04.2012 | 30.04.2020 | 54,1% | 8 yo | Refill Bourbon Barrel, Madeira Finish |
| Madeira Finish Single Cask for Bulgaria | 182/2012 | 12.04.2012 | 24.01.2020 | 54,4% | 7 yo | Bourbon Barrel, Madeira Finish |
| Madeira Finish Single Cask for Greek Whisky Association | 183/2012 | 12.04.2012 | 17.06.2019 | 55,6% | 7 yo | Bourbon Barrel, Madeira Finish |
| Madeira Finish Single Cask for Cask Norway | 184/2012 | 12.04.2012 | 12.04.2020 | 54,7% | 8 yo | Fresh Bourbon Barrel, Madeira Finish |
| Madeira (Finish) Single Cask (Uniquely Islay Series – An t-Earrach 2020 #2/9) | 185/2012 | 12.04.2012 | 30.04.2020 | 54,2% | 8 yo | Refill Bourbon Barrel, Madeira Finish |
| Bourbon Matured Single Cask for Whisk-e Ltd, Japan | 186/2012 | 12.04.2012 | 20.04.2020 | 55,6% | 8 yo | Fresh Bourbon Barrel |
| STR Finish Single Cask for Co-op Wine, Spirits, Beer (Calgary) | 188/2012 | 12.04.2012 | 01.07.2020 | 54,4% | 8 yo | Bourbon Barrel, STR Cask Finish |
| STR Finish Single Cask for Taiwan | 189/2012 | 12.04.2012 | 27.01.2020 | 54,5% | 7 yo | Bourbon Barrel, STR Cask Finish |
| STR (Finish) Single Cask (Uniquely Islay Series – An t-Earrach 2020 #4/9) | 198/2012 | 19.04.2012 | 01.05.2020 | 53,8% | 8 yo | Fresh Bourbon Barrel, STR Cask Finish |
| STR (Finish) Single Cask (Uniquely Islay Series – An Geamhradh 2020 #3/7) | 199/2012 | 19.04.2012 | 05.11.2020 | 53,5% | 8 yo | Bourbon Barrel, STR Cask Finish |
| Sherry Hogshead Single Cask for Warehouse Liquors (Chicago) | 204/2012 | 19.04.2012 | 19.07.2019 | 58,5% | 7 yo | Oloroso Sherry Hogshead |
| Sauternes Finish Single Cask Release for The Distillery Shop | 209/2012 | 24.04.2012 | 29.09.2017 | 58,0% | 5 yo | Bourbon Barrel, Sauternes Finish |
| Rum Finish Single Cask for The Distillery Shop | 210/2012 | 17.11.2012 | 28.08.2017 | 59,1% | 4 yo | Fresh Bourbon Barrel, Jamaica Rum Finish |
| Sauternes Wine Cask (Finish) for Whisk-e Ltd, Japan | 211/2012 | 26.04.2012 | 15.01.2018 | 57,5% | 5 yo | Bourbon Barrel, Sauternes Finish |
| Sauternes Single Cask Finish for Bresser & Timmer, 25th Anniversary | 212/2012 | 26.04.2012 | 15.06.2018 | 58,3% | 6 yo | Fresh Bourbon Barrel, Sauternes Finish |
| Rum Finish Single Cask for Spec´s | 213/2012 | 26.04.2012 | 07.04.2019 | 57,7% | 7 yo | Bourbon Barrel, Barbados Rum Finish |
| [Part of] Small Batch Release Bourbon and PX Sherry Finish | 214/2012 | 26.04.2012 | 23.04.2018 | 57,8% | 5 yo | Fresh Bourbon Barrel |
| Pedro Ximénez Sherry Cask Finish for The W Club | 237/2012 | 03.05.2012 | 26.02.2021 | 56,0% | 8 yo | Fresh Bourbon Barrel, PX Finish |
| Ruby Port Finish Single Cask for Y´s Cask, Toko – Tokyo | 238/2012 | 03.05.2012 | 15.03.2021 | 55,1% | 8 yo | Bourbon Barrel, Ruby Port Cask Finish |
| Calvados Finish Single Cask for Genuss am Gaumen 10th Anniversary Edition | 242/2012 | 03.05.2012 | 10.07.2020 | 55,2% | 8 yo | Bourbon Barrel, Calvados Cask Finish |
| 8 yo Calvados Finish Single Cask for Whisk-e´s 20th Anniversary | 243/2012 | 03.05.2012 | 30.07.2020 | 55,9% | 8 yo | Bourbon Barrel, Calvados Cask Finish |
| 8 yo Ruby Port Cask Finish for Westmoreland Liquor | 245/2012 | 03.05.2012 | 01.02.2021 | 56,0% | 8 yo | Bourbon Barrel, Ruby Port Cask Finish |
| 8 yo Port Cask [Quarter Cask Finish] for Sierra Springs Liquor (Airdrie, Alberta, Canada) | 2460/2012 | 03.05.2012 | 10.07.2020 | 55,6% | 8 yo | Bourbon Barrel, Ruby Port Quarter Cask Finish |
| Port Finish Single Cask for Whiskzone.de | 247/2012 | 03.05.2012 | 05.11.2020 | 56,8% | 8 yo | Fresh Bourbon Barrel, Ruby Port Cask Finish |
| Ruby Port Single Cask Finish for SMCC | 248/2012 | 03.05.2012 | 30.03.2021 | 55,4% | | Bourbon Barrel, Ruby Port Cask Finish |
| 8 yo Ruby Port Quarter Cask [Finish] for Wine Exchange (Santa Ana, CA, USA) | 2490/2012 | 03.05.2012 | 20.07.2020 | 55,9% | 8 yo | Bourbon Barrel, Ruby Port Quarter Cask Finish |
| Ruby Port Single [Quarter] Cask Finish [for The Distillery Shop] | 2491/2012 | 03.05.2012 | 17.03.2021 | 55,1% | 8 yo | Fresh Bourbon Barrel, Ruby Port Quarter Cask Finish |
| 8 yo Ruby Port Quarter Cask [Finish] for The Southern California Whiskey Club | 2500/2012 | 03.05.2012 | 03.07.2020 | 55,8% | 8 yo | Bourbon Barrel, Ruby Port Quarter Cask Finish |
| 9 yo Port Finish Single Cask for WhiskyNet, Hungary | 2501/2012 | 03.05.2012 | 01.06.2021 | 54,4% | 9 yo | Bourbon Barrel, Ruby Port Quarter Cask Finish |
| Port Quarter Cask Finish for Kenny Hsu´s Selection | 2510/2012 | 03.05.2012 | 14.09.2020 | 55,4% | 8 yo | Bourbon Barrel, Ruby Port Quarter Cask Finish |
| Port Quarter Cask Finish for Hong Fu Whisky | 2511/2012 | 03.05.2012 | 14.09.2020 | 55,5% | 8 yo | Bourbon Barrel, Ruby Port Quarter Cask Finish |
| STR Finish Single Cask for Taiwan | 264/2012 | 17.05.2012 | 24.05.2021 | 56,0% | 9 yo | Bourbon Barrel, STR Cask Finish |
| Red Wine Finish Single Cask (Founders Cask Release #3: Peter Wills) | 265/2012 | 17.05.2012 | 27.11.2020 | 56,4% | 8 yo | Bourbon Barrel, Red Wine Finish |
| Bourbon Barrel pour La Société des Alcools du Québec | 266/2012 | 17.05.2012 | 15.06.2020 | 57,1% | 8 yo | Fresh Bourbon Barrel |
| PX Sherry Finish selected by George Wills (The Wills Family Cask Collection [SMCC]) | 267/2012 | 17.05.2012 | 21.07.2021 | 54,3% | 9 yo | Bourbon Barrel, PX Finish |
| PX Finish Single Cask pour La Société des Alcools du Québec | 268/2012 | 17.05.2012 | 15.06.2020 | 56,1% | 8 yo | Bourbon Barrel, PX Finish |
| 9 yo Bourbon Barrel selected by Malter Magasin – Sweden Exclusive Volume 4 | 269/2012 | 17.05.2012 | 04.08.2021 | 55,5% | 9 yo | Bourbon Barrel |
| Pedro Ximénez Single Cask Finish for Taiwan | 273/2012 | 17.05.2012 | 24.05.2021 | 56,2% | 9 yo | Bourbon Barrel, PX Finish |
| Ruby Port Finish Single Cask for Whisk-e Ltd, Japan | 274/2012 | 17.05.2012 | 17.11.2020 | 56,2% | 8 yo | Bourbon Barrel, Ruby Port Hogshead Finish |
| Ruby Port Finish Single Cask for DrankDozijn "Lava" | 275/2012 | 17.05.2012 | 01.04.2021 | 55,5% | 8 yo | Fresh Bourbon Barrel, Ruby Port Hogshead Finish |
| Calvados Finish Single Cask for Australia | 276/2012 | 17.05.2012 | 09.12.2020 | 56,4% | 8 yo | Fresh Bourbon Barrel, Calvados Cask Finish |
| 8 yo Calvados Finish Single Cask (ImpEx Cask Evolution 03/2020) | 277/2012 | 17.05.2012 | 25.09.2020 | 56,6% | 8 yo | Bourbon Barrel, Calvados Cask Finish |
| [Part of] Small Batch Rum Finish – Local Dealer Edition for Germany | 403/2012 | 05.07.2012 | 03.10.2018 | 56,2% | 6 yo | Bourbon Barrel, Jamaica Rum Finish |
| Red Wine Finish Single Cask for Ullrich Selection 2018 (Switzerland) | 404/2012 | 05.07.2012 | 28.10.2018 | 55,8% | 6 yo | Fresh Bourbon Barrel, Red Wine Finish |
| Red Wine Finish Single Cask for Drinks by the Dram | 405/2012 | 05.07.2012 | 08.08.2018 | 56,9% | 6 yo | Bourbon Barrel, Red Wine Finish |
| Rum Finish Single Cask for Shinanoya, Tokyo | 406/2012 | 05.07.2012 | 11.04.2019 | 56,9% | 6 yo | Bourbon Barrel, Jamaica Rum Finish |
| STR Single Cask Finish for Int. Whisky Festival Den Haag | 407/2012 | 05.07.2012 | 13.09.2021 | 55,3% | 9 yo | Fresh Bourbon Barrel, STR Cask Finish |
| Red Wine Finish Single Cask for Gold Medal Marketing Inc. Canada | 408/2012 | 05.07.2012 | 21.08.2018 | 58,0% | 6 yo | Fresh Bourbon Barrel, Red Wine Finish |
| [Part of] Small Batch Rum Finish – Local Dealer Edition for Germany | 410/2012 | 05.07.2012 | 03.10.2018 | 56,2% | 6 yo | Bourbon Barrel, Jamaica Rum Finish |
| Rum Finish Single Cask for SMCC | 412/2012 | 05.07.2012 | 04.12.2019 | 56,4% | 7 yo | Fresh Bourbon Barrel, Rum Finish |
| Single Cask for The Nectar Belgium Rum Finish | 413/2012 | 05.07.2012 | 09.10.2019 | 55,8% | 7 yo | Bourbon Barrel, Barbados Rum Finish |
| Single Cask for The Nectar Belgium Rum Finish | 414/2012 | 05.07.2012 | 01.03.2019 | 57,6% | 6 yo | Fresh Bourbon Barrel, Barbados Rum Finish |
| Single Cask for SMCC Rum Finish | 415/2012 | 05.07.2012 | 15.10.2018 | 57,3% | 6 yo | Bourbon Barrel, Rum Finish |
| Rum Finish Single Cask for British Columbia, Canada | 416/2012 | 05.07.2012 | 30.10.2018 | 57,1% | 6 yo | Bourbon Barrel, Rum Finish |
| Single Cask for Bresser & Timmer Rum Finish | 417/2012 | 05.07.2012 | 24.01.2019 | 56,6% | 6 yo | Bourbon Barrel, Rum Finish |
| 100% Islay Bourbon Single Cask for Beija-Flor | 433/2012 | 12.07.2012 | 03.09.2018 | 58,1% | 6 yo | Fresh Bourbon Barrel |
| 100% Islay Bourbon Single Cask for SMCC | 438/2012 | 12.07.2012 | 15.11.2018 | 58,3% | 6 yo | Bourbon Barrel |
| Single Red Wine Cask for K&L Wines | 470/2012 | 26.07.2012 | 20.01.2017 | 60,3% | 4 yo | Red Wine Cask |
| Single Red Wine Cask "Be a bottler" & "For The Distillery Shop" | 497/2012 | 02.08.2012 | 31.05.2018 | 58,7% | 5 yo | Red Wine Cask |
| 100% Islay ["Unpeated"] Oloroso Single Cask (Uniquely Islay Series – An Geamhradh 2020 #5/7) | 552/2012 | 23.08.2012 | 05.11.2020 | 56,6% | 8 yo | Oloroso Sherry Hogshead |
| "Unpeated" Sherry Hogshead for Berry Bros. & Rudd | 553/2012 | 23.08.2012 | 13.12.2019 | 56,5% | 7 yo | Oloroso Sherry Hogshead |
| "Unpeated" Sherry Hogshead [for Cinderella Whisky Fair 2020] | 554/2012 | 23.08.2012 | 16.12.2019 | 56,3% | 7 yo | Oloroso Sherry Hogshead |
| Slightly Peated Sherry Hogshead for Jack Rose Dining Saloon | 555/2012 | 23.08.2012 | 20.05.2020 | 56,2% | 7 yo | Oloroso Sherry Hogshead |
| 100% Islay ["unpeated"] Oloroso Sherry Single Cask for Lee & Greg | 556/2012 | 23.08.2012 | 24.09.2021 | 56,2% | 9 yo | Oloroso Sherry Hogshead |
| 100% Islay ["unpeated"] Oloroso Sherry Cask for The Mid Atlantic | 557/2012 | 23.08.2012 | 23.09.2021 | 55,8% | 9 yo | Oloroso Sherry Hogshead |
| Marsala Finish Single Cask for The Distillery Shop | 587/2012 | 20.09.2012 | 24.03.2022 | 54,8% | 9 yo | Bourbon Barrel, Marsala Cask Finish |
| Marsala Single Cask Finish for SMCC (Camping Series, #2) | 588/2012 | 20.09.2012 | 09.03.2022 | 54,6% | 9 yo | Bourbon Barrel, Marsala Cask Finish |
| [Part of] Small Batch Release Bourbon and PX Sherry Finish | 622/2012 | 27.09.2012 | 23.04.2018 | 57,8% | 5 yo | Fresh Bourbon Barrel |
| Single Cask PX Finish for HNWS Taiwan | 626/2012 | 04.10.2012 | 04.10.2018 | 55,6% | 6 yo | Bourbon Barrel, PX Finish |
| [Part of] Small Batch Release Bourbon and PX Sherry Finish | 627/2012 | 04.10.2012 | 23.04.2018 | 57,8% | 5 yo | Bourbon Barrel, PX Finish |
| STR Finish Single Cask for Bresser & Timmer | 628/2012 | 04.10.2012 | 23.01.2020 | 56,2% | 7 yo | Fresh Bourbon Barrel, STR Cask Finish |
| 100% Islay Bourbon Barrel for the UK (The Comparison Series, Batch No. 1) | 719/2012 | 01.11.2012 | 25.02.2021 | 55,7% | 8 yo | Fresh Bourbon Barrel |
| Bourbon Matured Single Cask for the UK (The Comparison Series, Batch No. 1) | 726/2012 | 08.11.2012 | 25.02.2021 | 55,4% | 8 yo | Fresh Bourbon Barrel |
| Tequila Finish Single Cask for The Whisky Exchange | 824/2012 | 11.12.2012 | 15.11.2021 | 53,4% | 8 yo | Bourbon Barrel, Tequila Cask Finish |
| 8 yo Tequila Finish Single Cask [Distillery Shop Exclusive] | 825/2012 | 11.12.2012 | 01.06.2021 | 54,8% | 8 yo | Bourbon Barrel, Tequila Cask Finish |
| Tequila Single Cask Finish Celebrating LMDW Singapores 15th Anniversary | 826/2012 | 11.12.2012 | 09.08.2021 | 52,8% | 8 yo | Fresh Bourbon Barrel, Tequila Cask Finish |
| Mezcal Finish Single Cask [Distillery Shop Exclusive] | 827/2012 | 11.12.2012 | 14.08.2021 | 54,5% | 8 yo | Bourbon Barrel, Mezcal Cask Finish |
| Mezcal Finish Single Cask for The Whisky Exchange | 828/2012 | 11.12.2012 | 15.11.2021 | 52,8% | 8 yo | Bourbon Barrel, Mezcal Cask Finish |
| Mezcal Single Cask Finish for Int. Whisky Festival den Haag | 829/2012 | 11.12.2012 | 13.09.2021 | 54,0% | 8 yo | Bourbon Barrel, Mezcal Cask Finish |
| Tequila Finish Single Cask for DrankDozijn "Añejo" | 830/2012 | 11.12.2012 | 20.07.2021 | 53,2% | 8 yo | Fresh Bourbon Barrel, Tequila Cask Finish |
| Mezcal Single Cask Finish for The Distillery Shop | 832/2012 | 11.12.2012 | 27.05.2022 | 53,0% | 8 yo | Bourbon Barrel, Mezcal Cask Finish |
| | | | | | | |
| 8 yo 100% Islay Bourbon Barrel for Gold Medal Marketing Inc. Alberta, Canada | 15/2013 | 24.01.2013 | 26.02.2021 | 57,1% | 8 yo | Bourbon Barrel |
| 100% Islay Bourbon Barrel selected by Peter Wills (The Wills Family Cask Collection [SMCC]) | 22/2013 | 24.01.2013 | 21.07.2021 | 56,8% | 8 yo | Bourbon Barrel |
| Marsala Single Cask Finish for The Distillery Shop | 46/2013 | 31.01.2013 | 22.08.2022 | 52,5% | 9 yo | Bourbon Barrel, Marsala Cask Finish |
| 8 yo Fresh Oloroso Hogshead French Exclusive | 51/2013 | 31.01.2013 | 26.04.2013 | 58,0% | 8 yo | Fresh Oloroso Hogshead |
| 8 yo Pedro Ximénez Finish for Greece | 60/2013 | 15.02.2013 | 15.02.2021 | 54,7% | 8 yo | Bourbon Barrel, PX Finish |
| PX Sherry Finish Single Cask for Mizunara Hong Kong | 129/2013 | 07.03.2013 | 26.11.2020 | 56,6% | 7 yo | Fresh Bourbon Barrel, PX Finish |
| 7 yo Ruby Port [Quarter Cask] Finish for Craft Cellars (Calgary) | 1970/2013 | 04.04.2013 | 15.09.2020 | 56,3% | 7 yo | Fresh Bourbon Barrel, Ruby Port Quarter Cask Finish |
| Port Matured Single [Quarter] Cask Finish for Whisky.de | 1971/2013 | 04.04.2013 | 20.11.2020 | 56,0% | 7 yo | Fresh Bourbon Barrel, Ruby Port Quarter Cask Finish |
| Ruby Port Single [Quarter] Cask Finish for The Whisky Crew | 1980/2013 | 04.04.2013 | 26.02.2021 | 56,1% | 7 yo | Fresh Bourbon Barrel, Ruby Port Quarter Cask Finish |
| 7 yo PX Sherry Finish Single Cask for Gold Medal Marketing Inc. Alberta | 201/2013 | 04.04.2013 | 07.09.2020 | 56,7% | 7 yo | Bourbon Barrel, PX Finish |
| PX Finish Single Cask for 2021 Taipei Whisky Taste | 202/2013 | 04.04.2013 | 16.01.2021 | 56,4% | 7 yo | Bourbon Barrel, PX Finish |
| 8 yo Ruby Port Finish Single Cask – ImpEx Cask Evolution 02/2021 | 203/2013 | 04.04.2013 | 08.06.2021 | 55,9% | 8 yo | Bourbon Barrel, Ruby Port Cask Finish |
| Calvados Single Cask Finish for Kimchoman2 | 204/2013 | 04.04.2013 | 04.04.2021 | 57,0% | 8 yo | Bourbon Barrel, Calvados Cask Finish |
| Calvados (Finish) Single Cask (Uniquely Islay Series – An Geamhradh 2020 #6/7) | 205/2013 | 04.04.2013 | 05.11.2020 | 56,7% | 7 yo | Fresh Bourbon Barrel, Calvados Cask Finish |
| PX Single Cask Finish for 2021 Taoyuan Whisky Taste | 206/2013 | 04.04.2013 | 24.05.2021 | 55,6% | 8 yo | Fresh Bourbon Barrel, PX Finish |
| PX Sherry Finish Single Cask for DrankDozijn "Auburn" | 207/2013 | 04.04.2013 | 25.11.2020 | 56,0% | 7 yo | Fresh Bourbon Barrel, PX Finish |
| PX Finish Single Cask for Whisk-e Inc, Japan | 208/2013 | 04.04.2013 | 28.01.2021 | 57,2% | 7 yo | Fresh Bourbon Barrel, PX Finish |
| Pedro Ximénez Single Cask Finish for Taiwan | 209/2013 | 04.04.2013 | 15.01.2021 | 57,0% | 7 yo | Fresh Bourbon Barrel, PX Finish |
| Port Quarter Single Cask [Finish] (Uniquely Islay Series – An Geamhradh 2020 #2/7) | 2110/2013 | 04.04.2013 | 05.11.2020 | 55,6% | 7 yo | Fresh Bourbon Barrel, Ruby Port Quarter Cask Finish |
| Port Quarter Cask Finish for Korea | 2111/2013 | 04.04.2013 | 05.11.2020 | 55,4% | 7 yo | Fresh Bourbon Barrel, Ruby Port Quarter Cask Finish |
| PX (Finish) Single Cask (Uniquely Islay Series – An Geamhradh 2020 #6/7) | 212/2013 | 04.04.2013 | 05.11.2020 | 56,3% | 7 yo | Fresh Bourbon Barrel, PX Finish |
| Ruby Port Finish Single Cask for Hermitage (Israel) | 213/2013 | 04.04.2013 | 05.11.2020 | 55,8% | 7 yo | Bourbon Barrel, Ruby Port Finish |
| Calvados Finish Single Cask for SMCC | 214/2013 | 04.04.2013 | 03.12.2020 | 55,6% | 7 yo | Fresh Bourbon Barrel, Calvados Finish |
| Port [Quarter] Cask Finish Single Cask for the UK | 2150/2013 | 04.04.2013 | 10.09.2020 | 56,3% | 7 yo | Fresh Bourbon Barrel, Ruby Port Quarter Cask Finish |
| Ruby Port Finish [Quarter] Single Cask for Bresser & Timmer | 2151/2013 | 04.04.2013 | 25.11.2020 | 56,1% | 7 yo | Fresh Bourbon Barrel, Ruby Port Quarter Cask Finish |
| PX Single Cask Finish for Whisky.de | 216/2013 | 04.04.2013 | 23.11.2020 | 55,0% | 7 yo | Fresh Bourbon Barrel, PX Finish |
| Ta Puach Calvados Finish Single Cask for The Omef (Israel) | 217/2013 | 14.08.2013 | 28.09.2020 | 55,8% | 7 yo | Fresh Bourbon Barrel, Calvados Cask Finish |
| Single Bourbon Cask for Memories of Scotland (Japan) | 322/2013 | 23.05.2013 | 01.03.2019 | 57,5% | 5 yo | Bourbon Barrel |
| Bourbon Single Cask (Uniquely Islay Series – An t-Earrach 2020 #6/9) | 334/2013 | 23.05.2013 | 01.05.2020 | 57,2% | 6 yo | Fresh Bourbon Barrel |
| PX Finish Single Cask for Taipei Whisky Live 2018 | 337/2013 | 23.05.2013 | 23.08.2018 | 58,8% | 5 yo | Bourbon Barrel, PX Finish |
| PX Finish Single Cask for Sweden | 338/2013 | 23.05.2013 | 28.09.2018 | 58,7% | 5 yo | Bourbon Barrel, PX Finish |
| PX Finish Single Cask for The Distillery Shop | 339/2013 | 23.05.2013 | 23.04.2018 | 59,0% | 4 yo | Bourbon Barrel, PX Finish |
| PX Finish Single Cask for La Société des Alcools du Québec | 340/2013 | 23.05.2013 | 23.04.2018 | 58,7% | 4 yo | Bourbon Barrel, PX Finish |
| PX Finish Single Cask for SMCC | 341/2013 | 23.05.2013 | 15.10.2018 | 58,8% | 5 yo | Bourbon Barrel, PX Finish |
| Pedro Ximénez Finish pour La Société des Alcools du Québec | 342/2013 | 23.05.2013 | 25.05.2021 | 55,6% | 8 yo | Bourbon Barrel, PX Finish |
| PX Sherry Finish Single Cask for Taiwan | 343/2013 | 23.05.2013 | 03.10.2018 | 58,5% | 5 yo | Bourbon Barrel, PX Finish |
| 100% Islay Bourbon Single Cask for Chichibu Whisk(e)y Matsuri | 423/2013 | 20.06.2013 | 24.10.2019 | 58,0% | 6 yo | Fresh Bourbon Barrel |
| [Part of:] KilchArd | 424/2013 | 20.06.2013 | 2020 | 50,0% | 6 yo | Fresh Bourbon Barrel |
| 100% Islay Bourbon Single Cask | 425/2013 | 20.06.2013 | 10.06.2020 | 57,2% | 6 yo | Fresh Bourbon Barrel |
| 100% Islay Bourbon Barrel for The Nectar | 426/2013 | 20.06.2013 | 01.09.2020 | 53,0% | 7 yo | Bourbon Barrel |
| 100% Islay Bourbon Single Cask (Uniquely Islay Series – An t-Earrach 2020 #7/9) | 427/2013 | 20.06.2013 | 01.05.2020 | 57,6% | 6 yo | Fresh Bourbon Barrel |
| 100% Islay Bourbon Matured Single Cask for Shinanoya [Tokyo] | 429/2013 | 20.06.2013 | 03.05.2021 | 57,0% | 7 yo | Bourbon Barrel |
| 100% Islay Single Bourbon Cask for Whisk-e´s 20th Anniversary | 430/2013 | 20.06.2013 | 30.07.2020 | 56,9% | 7 yo | Bourbon Barrel |
| Pedro Ximénez Single Cask Finish [for The Distillery Shop] | 457/2013 | 04.07.2013 | 03.12.2020 | 55,4% | 7 yo | Fresh Bourbon Barrel, PX Finish |
| Tequila Single Cask [Finish] (Uniquely Islay Series – An Samhradh 2021 #6/9) | 483/2013 | 11.07.2013 | 17.06.2021 | 54,5% | 7 yo | Fresh Bourbon Barrel, Tequila Cask Finish |
| Port Quarter Cask Finish for Slijterij Vonk, Zaandam | 488B/2013 | 11.07.2013 | 20.07.2021 | 55,8% | 7 yo | Fresh Bourbon Barrel, Port Quarter Cask Finish |
| Bourbon Matured Single Cask for Drankdozijn "Blond" | 490/2013 | 11.07.2013 | 24.08.2020 | 56,9% | 7 yo | Fresh Bourbon Barrel |
| Port Quarter Cask Finish – The Whisky Trinity Exclusive | 491B/2013 | 11.07.2013 | 20.07.2021 | 55,2% | 7 yo | Fresh Bourbon Barrel, Port Quarter Cask Finish |
| 8 yo 100% Islay Bourbon Cask for Barrel & Bottle | 535/2013 | 25.07.2013 | 25.07.2021 | 57,3% | 8 yo | Bourbon Barrel |
| Bourbon Matured Single Cask for Harry´s Takaoka | 623/2013 | 29.08.2013 | 09.04.2021 | 57,1% | 7 yo | Fresh Bourbon Barrel |
| Port Quarter Cask Finish for Dramtime.nl | 632A/2013 | 29.08.2013 | 04.08.2021 | 55,7% | 7 yo | Bourbon Barrel, Port Quarter Cask Finish |
| Bourbon Matured Single Cask for Whisk-e Ltd. Japan | 634/2013 | 29.08.2013 | 28.02.2020 | 57,6% | 6 yo | Fresh Bourbon Barrel |
| 8 yo Tequila Finish Single Cask – ImpEx Cask Evolution 03/2021 | 636/2013 | 29.08.2013 | 30.08.2021 | 55,7% | 8 yo | Bourbon Barrel, Tequila Cask Finish |
| Tequila Finish Single Cask [Online Shop Exclusive] | 638/2013 | 29.08.2013 | 14.04.2021 | 55,1% | 7 yo | Fresh Bourbon Barrel, Tequila Cask Finish |
| Bourbon Single Cask pour La Société des Alcools du Québec | 645/2013 | 05.09.2013 | 25.05.2021 | 56,6% | 7 yo | Bourbon Barrel |
| Mezcal Finish Single Cask – ImpEx Cask Evolution 01/2021 | 670/2013 | 12.09.2013 | 24.02.2021 | 55,3% | 7 yo | Bourbon Barrel, Mezcal Cask Finish |
| Mezcal Finish Single Cask for Royal Mile Whiskies | 671/2013 | 12.09.2013 | 20.04.2021 | 55,5% | 7 yo | Fresh Bourbon Barrel, Mezcal Cask Finish |
| Bourbon Matured Single Cask for Whisk-e Ltd, Japan | 672/2013 | 12.09.2013 | 26.04.2021 | 56,2% | 7 yo | Fresh Bourbon Barrel |
| Bourbon Matured Single Cask for Taiwan | 673/2013 | 12.09.2013 | 24.05.2021 | 56,1% | 7 yo | Bourbon Barrel |
| Mezcal Single Cask Finish for SMCC (Camping Series, #3) | 674/2013 | 12.09.2013 | 09.03.2022 | 54,0% | 8 yo | Bourbon Barrel, Mezcal Cask Finish |
| Mezcal Single Cask [Finish] (Uniquely Islay Series – An t-Earrach 2022 #2/10) | 723/2013 | 14.10.2013 | 01.03.2022 | 54,8% | 8 yo | Bourbon Barrel, Mezcal Cask Finish |
| Mezcal Single Cask Finish for M&P Cask Collection Club | 725/2013 | 14.10.2013 | 26.08.2021 | 53,5% | 7 yo | Bourbon Barrel, Mezcal Cask Finish |
| Mezcal Single Cask [Finish] (Uniquely Islay Series – An Samhradh 2021 #5/9) | 726/2013 | 14.10.2013 | 17.06.2021 | 52,1% | 7 yo | Fresh Bourbon Barrel, Mezcal Cask Finish |
| STR Red Wine Finish selected by James Wills (The Wills Family Cask Collection [SMCC]) | 727/2013 | 14.10.2013 | 21.07.2021 | 54,8% | 7 yo | Bourbon Barrel, STR Cask Finish |
| Mezcal Single Cask Finish for AWAS | 728/2013 | 14.10.2013 | 01.12.2021 | 54,0% | 8 yo | Bourbon Barrel, Mezcal Cask Finish |
| Sauternes Single Cask [Finish] (Uniquely Islay Series – An t-Earrach 2022 #1/10) | 730/2013 | 14.10.2013 | 01.03.2022 | 54,0% | 8 yo | Bourbon Barrel, Sauternes Wine Cask Finish |
| Sauternes Finish Single Cask pour La Société des Alcools du Québec | 731/2013 | 14.10.2013 | 03.08.2021 | 54,2% | 7 yo | Bourbon Barrel, Sauternes Wine Cask Finish |
| Sauternes Single Cask Finish for Taiwan | 732/2013 | 14.10.2013 | 09.08.2021 | 54,6% | 7 yo | Bourbon Barrel, Sauternes Wine Cask Finish |
| Tequila Finish Single Cask for Ewan McIlwraith (Robertsons of Pitlochry) | 734/2013 | 17.10.2013 | 10.01.2022 | 54,0% | 8 yo | Refill Bourbon Barrel, Tequila Cask Finish |
| Tequila Finish Single Cask for The Nectar 15th anniversary | 736/2013 | 17.10.2013 | 03.08.2021 | 55,7% | 7 yo | Bourbon Barrel, Tequila Cask Finish |
| Sauternes Single Cask [Finish] (Uniquely Islay Series – An Samhradh 2021 #3/9) | 738/2013 | 17.10.2013 | 17.06.2021 | 55,8% | 7 yo | Fresh Bourbon Barrel, Sauternes Wine Cask Finish |
| Mezcal Finish Single Cask pour La Société des Alcools du Québec | 739/2019 | 17.10.2013 | 03.08.2021 | 55,8% | 7 yo | Bourbon Barrel, Mezcal Cask Finish |
| Mezcal Single Cask Finish for Paul Ullrich AG | 740/2013 | 17.10.2013 | 18.10.2021 | 55,9% | 8 yo | Bourbon Barrel, Mezcal Cask Finish |
| Mezcal Finish Single Cask for Beija-Flor | 741/2013 | 17.10.2013 | 02.03.2022 | 54,8% | 8 yo | Bourbon Barrel, Mezcal Cask Finish |
| Mezcal Single Cask Finish for Kensington Wine Market | 742/2013 | 18.10.2013 | 13.08.2021 | 55,2% | 7 yo | Bourbon Barrel, Mezcal Cask Finish |
| STR Single Cask Finish for Al. Capone | 743/2013 | 18.10.2013 | 22.11.2021 | 55,0% | 8 yo | Bourbon Barrel, STR Cask Finish |
| STR Single Cask [Finish] (Uniquely Islay Series – An t-Earrach 2022 #7/10) | 744/2013 | 18.10.2013 | 01.03.2022 | 55,1% | 8 yo | Bourbon Barrel, STR Cask Finish |
| Tequila Finish Single Cask pour La Société des Alcools du Québec | 749/2013 | 18.10.2013 | 03.08.2021 | 55,2% | 7 yo | Bourbon Barrel, Tequila Cask Finish |
| Tequila Single Cask [Finish] (Uniquely Islay Series – An t-Earrach 2022 #10/10) | 752/2013 | 18.10.2013 | 01.03.2022 | 52,3% | 8 yo | Bourbon Barrel, Tequila Cask Finish |
| Port STR Single Cask Finish for SMCC | 832/2013 | 11/2013 | 03.12.2021 | 55,1% | 8 yo | Bourbon Barrel, Port STR Cask Finish |
| Pinot Noir Finish Small Batch for Drankdozijn | 850 & 851/2013 | 04.12.2013 | 04.10.2021 | 56,6% | 7 yo | Fresh Bourbon Barrels, Pinot Noir Cask Finish |
| Bourbon Matured Single Cask for Taiwan | 852/2013 | 04.12.2013 | 24.05.2021 | 58,0% | 7 yo | Bourbon Barrel |
| | | | | | | |
| 100% Islay Bourbon Single Cask (Uniquely Islay Series – An t-Earrach 2022 #8/10) | 302/2014 | 30.04.2014 | 01.03.2022 | 57,3% | 7 yo | Bourbon Barrel |
| 100% Islay Calvados Single Cask [Finish] (Uniquely Islay Series – An t-Earrach 2022 #9/10) | 322/2014 | 30.04.2014 | 01.03.2022 | 55,3% | 7 yo | Bourbon Barrel, Calvados Cask Finish |
| Calvados Finish Single Cask for La Société des Alcools du Québec | 323/2014 | 30.04.2014 | 17.01.2022 | 56,4% | 7 yo | Bourbon Barrel, Calvados Cask Finish |
| Calvados Single Cask [Finish] (Uniquely Islay Series – An Samhradh 2021 #7/9) | 353/2014 | 08.05.2014 | 18.06.2021 | 57,5% | 7 yo | Fresh Bourbon Barrel, Calvados Cask Finish |
| Armagnac Double Cask Finish for Taiwan | 351 & 384/2014 | 08.05.2014 & 20.05.2014 | 10.08.2021 | 57,2% | 7 yo | Bourbon Barrels, Armagnac Cask Finish |
| Armagnac Double Cask Finish [for Slovakia] | 386 & 387/2014 | 20.05.2014 | 10.01.2022 | 56,3% | 7 yo | Bourbon Barrels, Armagnac Cask Finish |
| Armagnac Double Cask [Finish] (Uniquely Islay Series – An Samhradh 2021 #4/9) | 388 & 389/2014 | 20.05.2014 | 17.06.2021 | 57,5% | 7yo | Fresh Bourbon Barrels, Armagnac Cask Finish |
| Port Matured Single Cask for Taiwan Boulevard | 444/2014 | 18.06.2014 | 27.01.2020 | 58,0% | 5 yo | Fresh Port Hogshead |
| Port Matured Single Cask for Taiwan | 456/2014 | 24.06.2014 | 27.01.2020 | 58,5% | 5 yo | Fresh Port Hogshead |
| [Part of:] Comraich Batch No. 5 | 460/2014 | 27.06.2014 | 09.02.2022 | 55,5% | 7 yo | Fresh Port Hogshead |
| Port Matured Single Cask for SMCC | 467/2014 | 27.06.2014 | 07.03.2020 | 58,0% | 5 yo | Fresh Port Hogshead |
| Port Matured Single Cask for Bresser & Timmer | 470/2014 | 27.06.2014 | 20.09.2019 | 58,5% | 5 yo | Fresh Port Hogshead |
| Port Matured Single Cask for The Distillery Shop | 471/2014 | 27.06.2014 | 02.10.2019 | 57,8% | 5 yo | Fresh Port Hogshead |
| Port Matured Single Cask for Whisk-e Ltd. Japan | 472/2014 | 27.06.2014 | 13.01.2020 | 58,7% | 5 yo | Fresh Port Hogshead |
| [Part of:] Comraich Batch No. 5 | 479/2014 | 27.06.2014 | 09.02.2022 | 55,5% | 7 yo | Fresh Port Hogshead |
| [Part of:] Comraich Batch No. 5 | 480/2014 | 27.06.2014 | 09.02.2022 | 55,5% | 7 yo | Fresh Port Hogshead |
| 6 yo Ruby Port Cask (The Wills Family Cask Collection: Peter Wills) | 483/2014 | 27.06.2014 | 28.08.2020 | 55,6% | 6 yo | Fresh Ruby Port Hogshead |
| Ruby Port Matured Single Cask [Croatia Importer Exclusive] | [483/2014] | 27.06.2014 | 28.08.2020 | 55,6% | 6 yo | Fresh Ruby Port Hogshead |
| [Part of:] Comraich Batch No. 5 | 484/2014 | 27.06.2014 | 09.02.2022 | 55,5% | 7 yo | Fresh Port Hogshead |
| Sauternes Single Cask Finish for Gall & Gall The Netherlands | 704/2014 | 24.09.2014 | 24.09.2021 | 55,5% | 7 yo | Fresh Bourbon Barrel, Sauternes Cask Finish |
| Sauternes Finish Single Cask | 706/2014 | 24.09.2014 | 01.07.2021 | 56,0% | 6 yo | Bourbon Barrel, Sauternes Cask Finish |
| Sauternes Finish Single Cask | 707/2014 | 24.09.2014 | 10.01.2022 | 55,2% | 7 yo | Bourbon Barrel, Sauternes Cask Finish |
| 7 yo Sauternes Single Cask Finish – ImpEx Cask Evolution 04/2021 | 708/2014 | 24.09.2014 | 25.09.2021 | 55,1% | 7 yo | Bourbon Barrel, Sauternes Cask Finish |
| Sauternes Single Cask Finish for AWAS | 710/2014 | 24.09.2014 | 01.12.2021 | 55,4% | 7 yo | Bourbon Barrel, Sauternes Cask Finish |
| Sauternes Single Cask Finish for Taiwan | 711/2014 | 24.09.2014 | 09.08.2021 | 55,0% | 6 yo | Bourbon Barrel, Sauternes Cask Finish |
| Sauternes Single Cask Finish for SMCC (Camping Series, #4) | 712/2014 | 24.09.2014 | 09.03.2022 | 55,0% | 7 yo | Bourbon Barrel, Sauternes Cask Finish |
| Sauternes Single Cask Finish – Wedding Cask for Łukasz Gołębiewski | 716/2014 | 24.09.2014 | 22.11.2021 | 55,7% | 7 yo | Bourbon Barrel, Sauternes Cask Finish |
| Oloroso Sherry Single Cask Finish for SMCC (Camping Series, #1) | 975/2014 | 09.12.2014 | 09.03.2022 | 58,3% | 7 yo | Bourbon Barrel, Oloroso Sherry Cask Finish |
| Oloroso Sherry Single Cask [Finish] (Uniquely Islay Series – An t-Earrach 2022 #4/10) | 977/2014 | 09.12.2014 | 01.03.2022 | 57,3% | 7 yo | Bourbon Barrel, Oloroso Sherry Cask Finish |
| Cognac Finish Single Cask | 980/2014 | 10.12.2014 | 04.05.2020 | 58,1% | 5 yo | Fresh Bourbon Barrel, Cognac Finish |
| Marsala Cask Finish for The Whisky Trail | 1011/2014 | 18.12.2014 | 30.04.2022 | 56,2% | 7 yo | Bourbon Barrel, Marsala Cask Finish |
| | | | | | | |
| PX Sherry Single Cask (Uniquely Islay Series – An t-Earrach 2022 #6/10) | 310/2015 | 20.05.2015 | 01.03.2022 | 57,2% | 6 yo | PX Sherry Hogshead |
| 100% Islay PX Matured Single Cask for Aberdeen Whisky Shop | 316/2015 | 27.05.2015 | 25.06.2021 | 58,0% | 6 yo | PX Sherry Hogshead |
| 5 yo 100% Islay PX Sherry Cask (The Wills Family Cask Collection: James Wills) | 317/2015 | 27.05.2015 | 28.08.2020 | 58,7% | 5 yo | PX Sherry Hogshead |
| 100% Islay PX Sherry Cask for The Nectar | 318/2015 | 26.05.2015 | 01.09.2020 | 58,8% | 5 yo | PX Sherry Hogshead |
| 100% Islay PX Matured Single Cask for Whisky & Friends – M&P Festival Poland | 319/2015 | 27.05.2015 | 27.05.2020 | 59,0% | 5 yo | PX Sherry Hogshead |
| 100% Islay PX Matured Single Cask for Taiwan Twin Lions and Or Sileis | 320/2015 | 27.05.2015 | 04.06.2020 | 58,6% | 5 yo | PX Sherry Hogshead |
| 100% Islay PX Matured Single Cask for 2020 Taoyuan Whisky Taste | 321/2015 | 27.05.2015 | 04.06.2020 | 58,1% | 5 yo | PX Sherry Hogshead |
| 100% Islay PX Cask for Craft Cellars (Calgary) | 322/2015 | 27.05.2015 | 10.07.2020 | 58,6% | 5 yo | PX Sherry Hogshead |
| 100% Islay Pedro Ximénez Cask for The MS Society, 2021 Whisky Fest | 323/2015 | 27.05.2015 | 25.02.2021 | 58,6% | 5 yo | PX Sherry Hogshead |
| 100% Islay PX Matured Single Cask for 25th anniversary of Heiner´s Duty Free Shop | 324/2015 | 27.05.2015 | 30.03.2020 | 58,3% | 4 yo | PX Sherry Hogshead |
| 100% Islay PX Sherry Single Cask for Warehouse Liquors | 325/2015 | 27.05.2015 | 27.05.2021 | 57,4% | 6 yo | PX Sherry Hogshead |
| 100% Islay PX Sherry Single Cask for Bar Selene – The 30th Anniversary | 326/2015 | 27.05.2015 | 30.08.2021 | 57,5% | 6 yo | PX Sherry Hogshead |
| 100% Islay PX Matured Single Cask for Sobeys Liquor, Canada | 327/2015 | 27.05.2015 | 09.10.2020 | 58,2% | 5 yo | PX Sherry Hogshead |
| 100% Islay PX Sherry Single Cask for Exec´s Whiskey Club and El Cerrito Liquor | 329/2015 | 27.05.2015 | 21.07.2021 | 58,0% | 6 yo | PX Sherry Hogshead |
| PX Sherry Single Cask Finish for SMCC (Camping Series, #5) | 684/2015 | 15.09.2015 | 09.03.2022 | 57,0% | 6 yo | Bourbon Barrel, PX Finish |
| Bourbon Single Cask (Uniquely Islay Series – An Samhradh 2021 #8/9) | 685/2015 | 15.09.2015 | 18.06.2021 | 58,0% | 5 yo | Fresh Bourbon Barrel |
| PX Sherry Single Cask Finish for SMCC | 689/2015 | 15.09.2015 | 09.03.2022 | 58,1% | 6 yo | Bourbon Barrel, PX Finish |
| 100% Islay PX Single Cask (Uniquely Islay Series – An Samhradh 2021 #1/9) | 772/2015 | 07.10.2015 | 17.06.2021 | 60,2% | 5 yo | PX Sherry Hogshead |
| [100% Islay] PX Sherry Cask for The New.WhiskyOrder / Pitch, Travis Williams / AWC Pick | 773/2015 | 07.10.2015 | 22.11.2021 | 60,2% | 6 yo | PX Sherry Hogshead |
| 5 yo Fresh Sauternes Hogshead for LMDW´s Islay Room | 902/2015 | 18.11.2015 | 26.04.2021 | 58,1% | 5 yo | Fresh Sauternes Hogshead |
| Sauternes Matured Single Cask for Kilchoman Appreciation Society, 1st Release | 903/2015 | 18.11.2015 | 13.04.2022 | 57,9 % | 6 yo | Fresh Sauternes Hogshead |
| | | | | | | |
| Port Finish Single Cask for The Distillery Shop / "Be a Bottler" | 800/2016 | 20.09.2016 | 02.06.2022 | 55,9% | 5 yo | Bourbon Barrel, Port Cask Finish |
| | | | | | | |
| Fresh Bourbon Single Cask for Cask Chasers.org | 292/2018 | 08.04.2018 | 10.01.2022 | 61,0% | 3 yo | Fresh Bourbon Barrel |
|  |  |  |  |  |  |  |
| Independend Releases |  |  |  |  |  |  |
| SMWS 129.1 – A smoky, peachy, yoghurt of loveliness |  | 28.06.2006 | July 2012 | 60,2% | 6 yo | Refill Ex-Bourbon Hogshead |
| SMWS 129.2 – Humbugs in a horse´s nose-bag |  | 13.12.2007 | 2012 | 61,6% |  | First Fill Ex-Bourbon Barrel |
| SMWS 129.3 – Unwind and set your watch to Islay time |  | 12.09.2008 | 2013 | 60,2% |  | First Fill Ex-Bourbon Barrel |
| SMWS 129.4 – Peat smoke infused peach posset |  | 19.06.2009 |  | 59,2% |  | First Fill Ex-Bourbon Barrel |
| SMWS 129.5 – Some like it hot! |  | July 2009 | 2014 | 59,2% |  | First Fill Ex-Bourbon Barrel |
| SMWS 129.6 – Peated candy |  | 06.11.2008 |  | 58,9% |  | First Fill Ex-Bourbon Barrel |
| SMWS 129.7 – An artist in an antique boat |  | 29.06.2010 | 2015 | 64,5% |  |  |
| Elements of Islay – Kh1 |  |  |  | 59,7% | 5 yo |  |
| Single Cask Nation – Jewish Whisky Company | 378/2007 | 01.11.2007 | July 2012 | 58,4% | 4 yo |  |
| Master of Malt Single Cask Series | 127/2008 | 20.03.2008 | 21.11.2013 | 59,6% | 5 yo |  |
| That Boutique-y Whisky Company, Batch 1 |  |  | 2013 | 55,5% |  |  |
|  |  |  |  |  |  |  |
| Blended Malts |  |  |  |  |  |  |
| Spirit of Unity – Uniting Spirit for Japan [Charity Blended Malt] |  |  | 18.05.2011 | 46,0% |  | Kilchoman Bourbon Barrel No. 95/2006 |
| Big Peat – "All Islay" Blended Malt Scotch Whisky [Small Batch, Christmas 2016] |  |  | 2016 | 54,6% |  |  |
| Great Islay Swim "Explorers Cask" [Single Cask Nation – Jewish Whisky Company] |  |  | 2017 | 57,5% |  | Part of a 10 yo Kilchoman Bourbon Barrel |
| KilchArd – Two distilleries, two casks |  |  | 2020 | 50,0% |  | Ardnamurchan PX Sherry Cask No. 532 & Kilchoman Bourbon Barrel No. 424 |
| | | | | | | |