Kilchoman 100% Islay 8th Edition released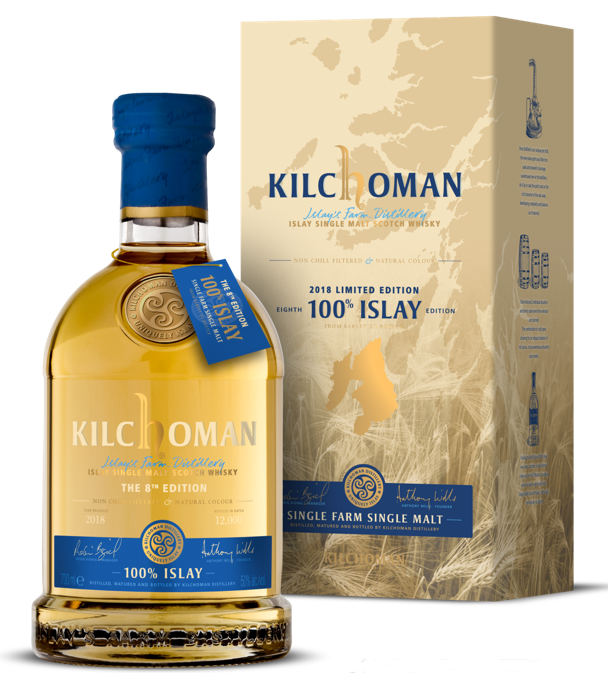 The 8th edition of the 100% Islay series was released yesterday, 10 September 2018, rather than in spring as in previous years. Kilchoman wants to keep the release date in autumn in the future, it is supposed to symbolise the end of the barley harvest on Rockside Farm.
Another novelty in the series, which has so far exclusively used whiskies matured in bourbon barrels, is the use of sherry casks. This year, for the first time, it is a vatting of 23 bourbon barrels and 7 oloroso sherry butts, which were filled from 2008 to 2012. The barley used, of the Optic variety, was harvested in 2007-2011 at Rockside Farm, which is part of the distillery.
According to Anthony Wills, the sherry casks (about 40%) give the whisky additional depth and fullness of flavour to the otherwise predominant flavours of fresh fruit and vanilla tones.
The design of the bottles is also new: they have been given a clear polypropylene label by award-winning designer Craig Mackinlay of Breeze Creative, with whom Kilchoman has famously worked since the distillery was founded, which differs from the traditional transfer-onto-glass variant. The new type of labelling gives the bottling a really high-quality look and will certainly lead to more attention on the sales shelf.
.
Cask type: 23 Bourbon Barrels & 7 Oloroso Sherry Butts
Vintage: 2008–2012
Bottled: August 2018
Strength: 50,0 % abv
Phenol level: approx. 20 ppm
Number of bottles: 12.000
Bottle size: 0,7 l / 0,75 l
Bottle code:
100 27.08.18 18/73
100 28.08.18 18/73
Barcode: 5 060210 701758
Distribution: worldwide