Kilchoman European Tour 2023 announced
After a break of a few years, Kilchoman has now announced a new European tour. As in 2014, 2015 and 2018, the Kilchoman Landrover will once again make its way across Europe fully loaded with whisky and merchandise goodies.
Starting on 16 April in Luxembourg, countless events ranging from smaller afternoon information events to extensive evening tastings are planned in 13 countries, with the Kilchoman Landrover due to arrive back on Islay in time for the Islay Festival Fèis Ìle.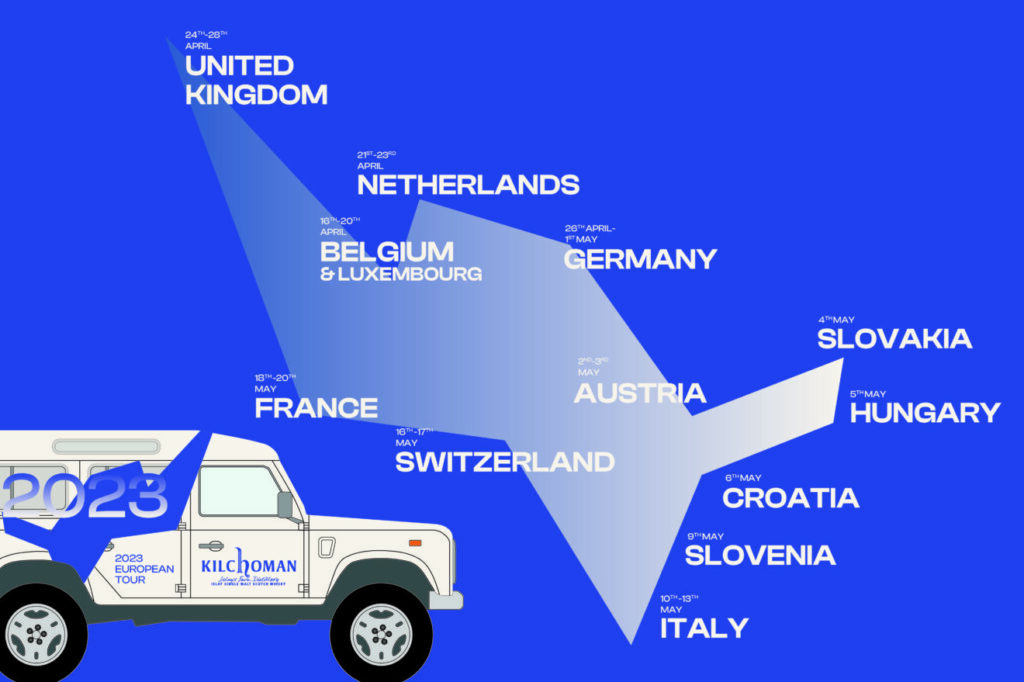 As with every European Tour, there will also be a special Kilchoman bottling that will be available exclusively at the tour stops. In the past, this was traditionally a Machir Bay bottling at cask strength, but this time they have decided on a small batch release of Kilchoman matured in bourbon and port wine casks. The edition is 3325 bottles with an alcohol content of 58.5%.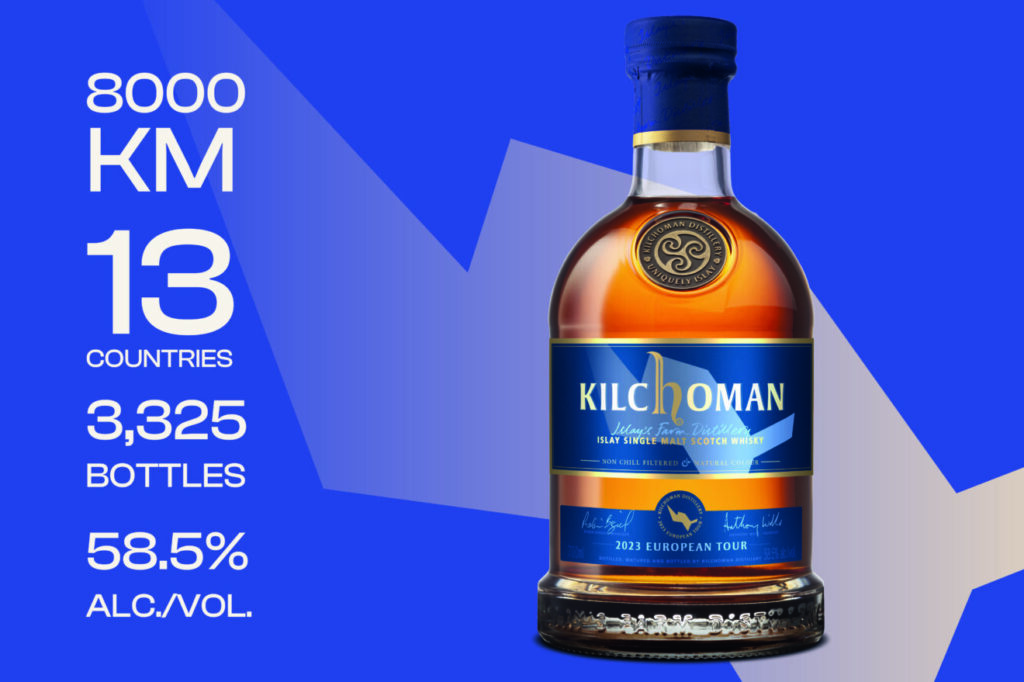 The events in the individual countries will be run by different members of the Kilchoman marketing and sales team. Starting with George and James Wills in Luxembourg, Belgium and the Netherlands, the German meetings will not be handled by Peter Wills as originally announced, but by Carol-Ann MacTaggart and Cloe Wood. Catherine MacMillan and Cloe Wood then travel through Austria, Switzerland and Croatia and will be replaced by Antea Allegro and Peter Wills for Slovenia and Italy. Catherine will be back to join Antea for Switzerland and France before James and George make their way through the UK back to Islay for Fèis Ìle.
Here is an overview of the tour stops:
Belgium / Luxembourg
16th April: Shopping Centre Massen, Wemperhardt, LU
17th April: De Schelf Spirits, Hamme, BE
18th April: Huis Aerts, Bree, BE
19th April: Drink Factory, Mons, BE
20th April: TasTToe, Boortmeerbeek, BE
Netherlands
21st April: Van der Boog, The Hague
Vonk Zaandam, Amsterdam
22nd April: Woudenberg Whisky Show, Utrecht/Arnhem
23rd April: Berendsen Dranken, Enschede
Germany
26th April: Whisky For Life, Frankfurt
Whisky Spirits, Frankfurt
27th April: Weinhaus Hilgering, Dortmund
28th April: Men's Needs, Hamburg
Weinquelle Lühmann, Hamburg
29th April: KaDeWe, Berlin
Whisky & Cigars, Berlin
1st May: Tara Spirits, Munich
Austria
2nd May: Potstill, Vienna
3rd May: Dr. Bottle, Graz
Slovakia
4th May: Svet Nápojov, Bratislava
The Izzi Pub, Bratislava
Hungary
5th May: GoodSpirits Bar, Budapest
Croatia
6th May: Fine Stvari, Zagreb
Esplanade Hotel, Zagreb
Slovenia
9th May: Lord Byron Pub, Koper
Italy
10th May: Ferrowine, Castelfranco
Boss Hogg Whisky County, Treviso
11th May: Whisky Antique, Formigine
Atlas Whisky Bar, Bologna
12th May: Baobab Café, Milano
Julep Cocktail Bar, Milano
13th May: Whisky Club Italia, La Limonaia di Merone
XXL Café Chivasso, Torino
Switzerland
16th May: Globus, Zürich
The Whisky Store, Rapperswil-Jona
17th May: Häberli, Dagmersellen
Friends of Isles & Islay, Lucerne
France
18th May: La Bouchonnerie, Annecy
La Java des Flacons, Annecy
19th May: Bon Plan du Vin, Burgundy
Whisky & Spirit, Burgundy
20th May: Au Secret du Vins, Lille
UK
24th May: Milroys of Soho, London
The Whisky Exchange, London (Covent Garden)
25th May: Aston's of Manchester, Manchester
House of Malt, Carlisle
26th May: Royal Mile Whiskies, Edinburgh
Usquebae, Edinburgh
27th May: Good Spirits, Glasgow
Robbie's Drams, Ayr
28th May: Green Welly Stop, Tyndrum
George Hotel, Inverary