Kilchoman (100% Islay) Private Single Cask 87/2008 for Heikki and Ilkka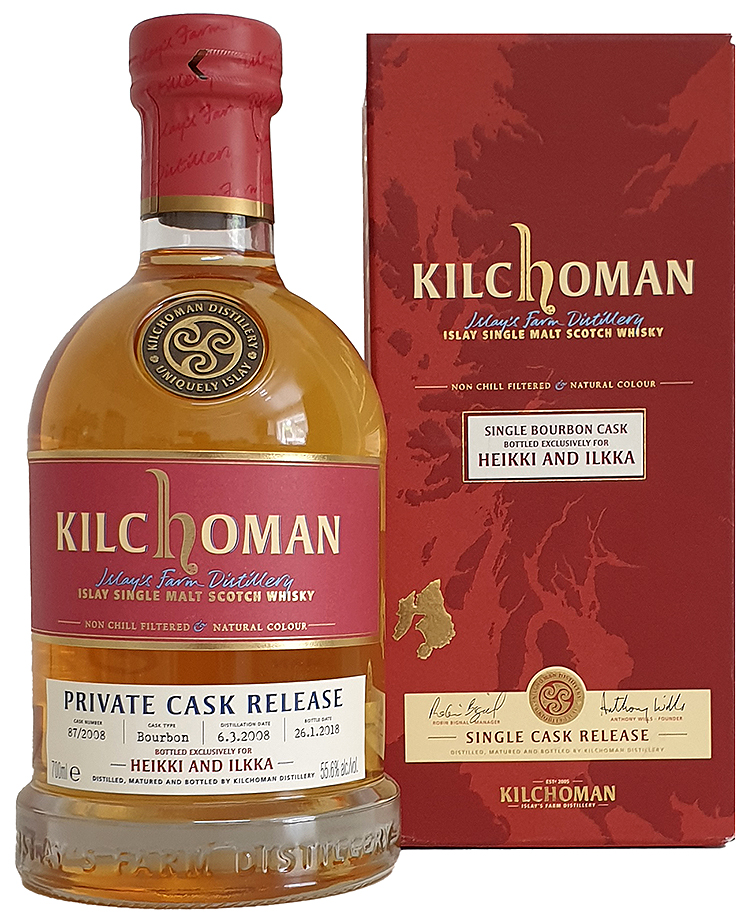 Cask No.: 87/2008
Cask type: 1st Fill Ex-Bourbon Barrel
Date Filled: 6.3.2008
Date Bottled: 26.1.2018
Age: 9 yo
Strength: 55,6 % abv
Phenol level: approx. 20 ppm
Number of bottles: 243
Bottle volume: 0,7 l
Bottle code: 87/08 5RUYSW78
Market: Private Cask (Finland)
.
In 2006 and 2007, Kilchoman sold numerous casks to private individuals in order to obtain urgently needed capital for the distillery's ongoing operations during the economically strained early years. These were almost exclusively 1st fill and 2nd fill bourbon barrels.
Later, they tried to buy back as many of these casks as possible, as the stocks of whisky from the first years had quickly become very scarce. This buy-back programme was only moderately successful, however, and most owners kept their casks and usually had them bottled after the original agreed storage period of 10 years. So there was a great wave of Kilchoman Private Cask bottlings in 2016 and 2017.
The bottling listed here is the only Private Cask release of a 100% Islay cask known to us. The brothers Heikki and Ilkka Rajala from Finland bought two casks during the Fèis Ìle 2007, where Kilchoman's Private Cask Programme was still heavily promoted. However, under the condition that one of them would be filled with 100% Islay Spirit. Kilchoman agreed to this request, but the brothers had to wait another three quarters of a year for this cask to be filled, as 100% Islay production did not restart until early 2008 after the Kiln fire in early 2006.
The cask was bottled in early 2018 with an age of just under 10 years. The other cask of the brothers, a 2007 refill bourbon barrel, has not yet been bottled.
.
.