Kilchoman 100% Islay PX Sherry Single Cask 326/2015 for Bar Selene – The 30th Anniversary
Cask No.: 326/2015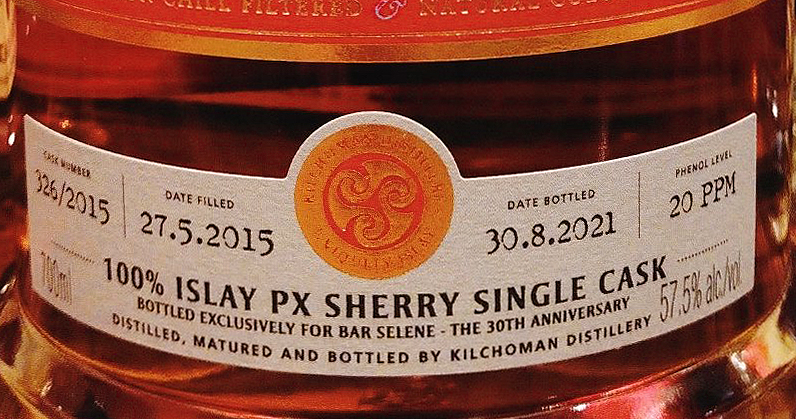 Cask type: PX Sherry Hogshead
Date Filled: 27.05.2015
Date Bottled: 30.8.2021
Age: 6 yo
Strength: 57,5 % abv
Phenol level: approx. 20 ppm
Number of bottles: 341
Bottle volume: 0,7 l
Market: Japan
.
This single cask release was bottled on the occasion of the 30th anniversary of Bar Selene in Mito, Japan. Typical in COVID and post-Brexit times it appeared somewhat belatedly in Japan at the beginning of 2022.
This bottling is another of just over a dozen releases to date in a series of Pedro Ximénez Sherry Hogsheads filled with 100% Islay Spirit on 27 May 2015, all previously bottled at 5 to 6 years of age, giving Kilchoman aficionados their first opportunity to taste PX full maturations with 100% Islay whisky.
Kilchoman usually bottles its 100% Islay whisky, distilled from the farm's own barley, mainly in bourbon barrels and also in oloroso sherry casks. Other types of casks are extremely rare here.