Kilchoman (2nd) Single Bottle from Cask No. 1/2005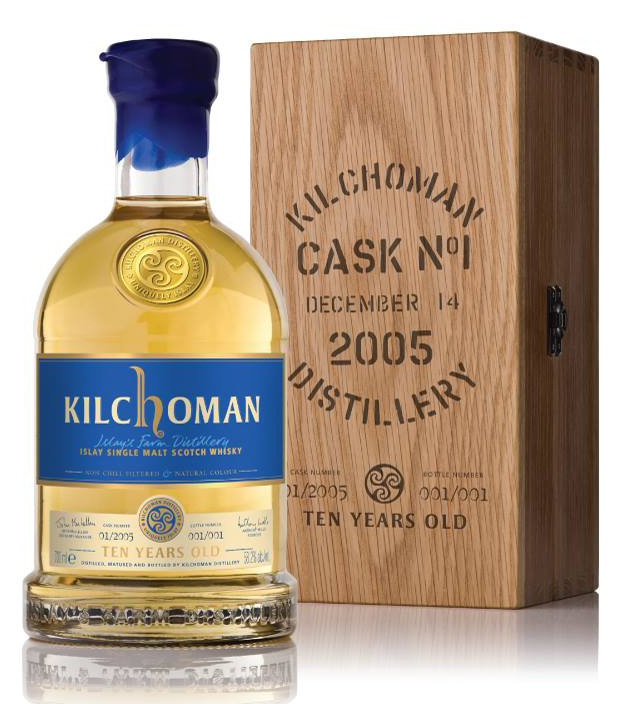 Cask No: 1/2005
Cask type: Refill Ex-Bourbon Barrel
Date Filled: 14.12.2005
Date Bottled: 14.12.2015
Age: 10 yo
Strength: 58,2 % abv
Phenol level: approx. 20 ppm
Number of bottles: 1
Bottle volume: 0,7 l
.
After New Spirit flowed from the Kilchoman stills for the first time on 9 November 2005, the first 7 casks in the distillery's history were bottled on 14 December 2005.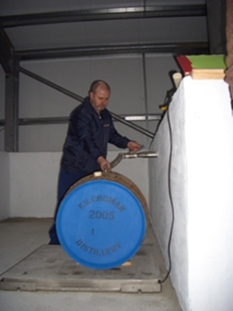 The very first cask filled, No. 1/2005, is treated to this day as the Holy Grail of the distillery. Always prominently displayed and the subject of numerous photographs with Kilchoman founder Anthony Wills, among others.
.
On two occasions so far, a bottle from this cask has been bottled and auctioned for charity on each occasion. The first bottle was auctioned by Anthony Wills at the Islay Whisky Festival in May 2009. The collector and Kilchoman shareholder Nils Ladefoged won the bid for 5400 pounds.
The 2nd bottle listed here was auctioned in December 2015 for £7,000 in aid of The Beatson Cancer Charity. Anthony Wills filled the bottle by hand on 14 December 2015 – exactly 10 years after distillation. Bids could be placed on the distillery website from 7 to 14 December. The Beatson Cancer Charity was chosen as the beneficiary in gratitude for the care of distillery manger John MacLellan, who suffers from prostate cancer.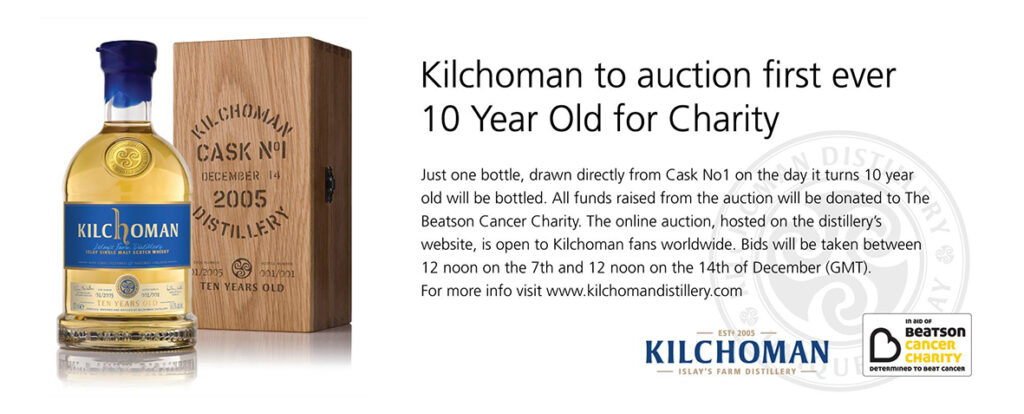 For the 3rd time, a bottle from Cask No. 1 was auctioned off on 5 October 2023 at the second edition of the biennial auction series "The Distillers One of One" for the remarkable proceeds of £15,000. In collaboration with the renowned auction house Sotheby's, whisky distilleries from all over Scotland auction off rare whiskies for a good cause at this event.
A small proportion of whisky from this cask is also included in the 10th Anniversary Release released in May 2015 to mark the distillery's 10th anniversary.
During the Feis Ìle 2013, participants of the so-called "Club-Members Master Class" were able to taste a small sample from this cask at the Kilchoman Open Day on 30 May.