Kilchoman Machir Bay Collaborative Vatting selected by Comraich Belgium Bars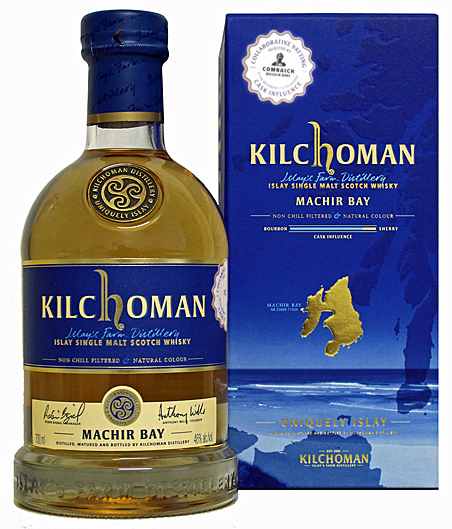 Cask type: Bourbon Barrels (87,5 %), Oloroso Sherry Casks (12,5 %)
Age: NAS
Bottled: 2020
Strength: 46,0 % abv
Phenol level: 50 ppm
Bottle volume: 0,7 l
Number of bottles: 120
Market: Belgium
.
Since the end of 2018, Kilchoman has been offering local whisky retailers under the name "Machir Bay Collaborative Vatting" a product line for individualised bottlings of the Kilchoman standard whisky.
The normal Machir Bay bottlings are known to have an Oloroso sherry cask content of about 10%, but with Collaborative Vatting, the respective dealer can choose between four different variants with slightly different proportions: 5%, 7.5%, 12.5% and 15% sherry cask whisky. The boxes and bottles in the normal Machir Bay design are provided with an individual sticker of the retailer.
In 2020, this bottling appeared for the Belgian Comraich Bars with an oloroso sherry content of 12.5%. The bottling has nothing to do, as sometimes erroneously stated, with the regularly released Comraich batches bottled by Kilchoman for the worldwide Comraich bars.