Kilchoman Port Cask Matured 2018 Edition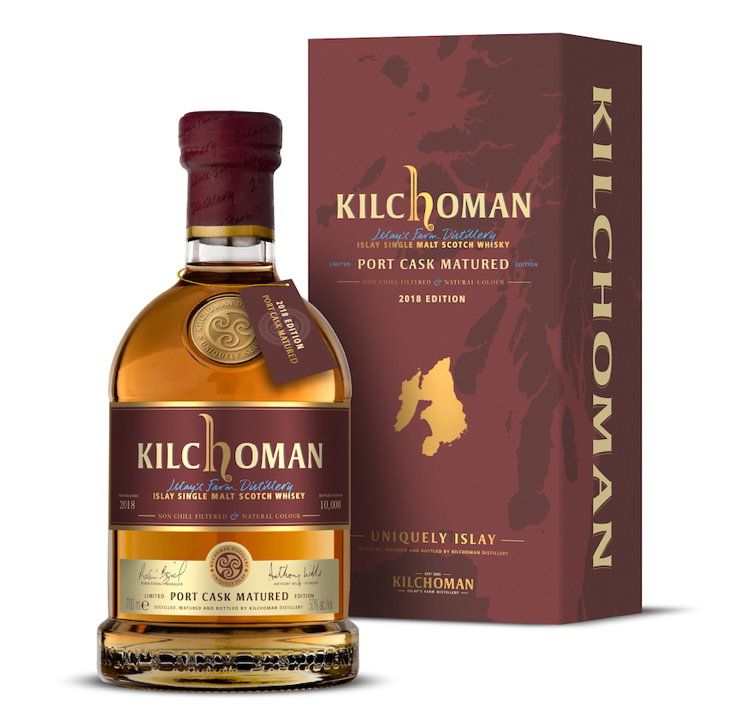 Cask type: 30 First und Second Fill-Ruby Port Hogsheads
Vintage: 2014
Bottled: March/April 2018 (PCM 18/26)
Age: 3 yo
Strength: 50 % abv
Phenol level: 50 ppm
Number of bottles: 10.000
Bottle size: 0,7 l / 0,75 l
Distribution: worldwide
.
Nose: medium peaty smoke notes that fade away quickly, behind this fruitiness, which oscillates between red fruit/wine tones and the typical yellow fruit, a bit lively and young looking (hints of new make)
Flavour: fruity wine tones are present, but much less than in the first release, less oily and less dry; bread dough at the end
Finish: medium length, peaty-dry, slightly bitter at the end
Conclusion: Compared to the 1st Port Wine release from 2014, the 2nd release looks much younger and less mature. This is certainly due to the partial use of 2nd fill casks (reused casks of the 1st release), which would have simply needed a little more storage time. If you like young peaty whiskies with wine cask notes, the 2nd release is drinkable (comparable to some Caol Ila releases with a red wine cask finish, e.g. "Calla"); but compared to the first release it is disappointing.