Kilchoman Slightly Peated Sherry Hogshead 555/2012 for Jack Rose Dining Saloon (Washington, DC)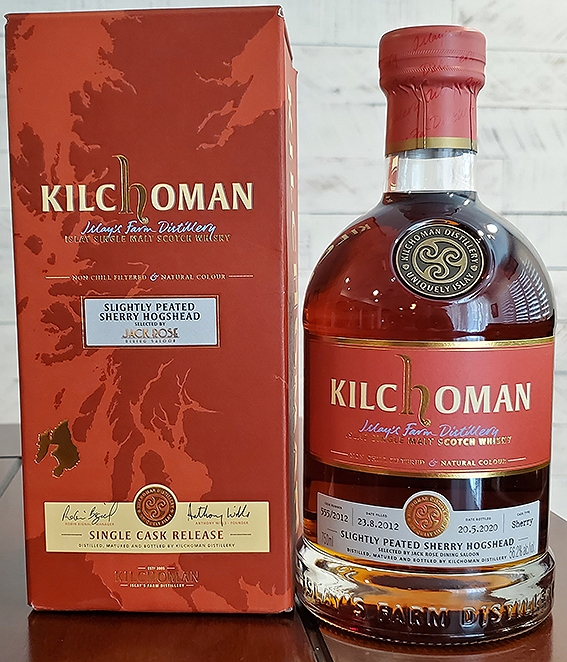 Cask No.: 555/2012
Cask type: Oloroso Sherry Hogshead
Distillation Date: 23.8.2012
Bottling Date: 20.5.2020
Age: 7 yo
Strength: 56,2 % abv
Phenol level: n.a.
Bottle volume: 0,75 l
Market: USA
.
At the beginning of 2020, Kilchoman released the first two single cask bottlings with "unpeated" whisky made from the farm's own barley. Both were sherry hogsheads in which the whisky was stored for a good 7 years. In the second half of the year, two bottlings from the bourbon barrel were released, which were characterised by an outstanding fruitiness, as the lack of peat smoke made the distillery note even clearer.
Jack Rose Dining Saloon released a bottling from the bourbon barrel as well as one from the sherry hogshead in late summer 2020 and thus enabled its customers to directly compare both cask maturations. Both bottlings were labelled as "slightly peated", because despite the use of unpeated malt, the "low wines and feints receiver" was not emptied before distillation and the whole plant was not cleaned, so that minimal peat smoke notes are still perceptible in the final product. This is also the reason why Kilchoman usually uses the term "unpeated" in inverted commas.
.