New product line presented: Small Batch Releases
In a press release today, Kilchoman presented its new product line of "Small Batch Releases for Selected Markets", the No. 1 for Germany was already delivered a few days ago.
Priced between the General Releases (Machir Bay and Sanaig) and the annual Limited Releases (such as Loch Gorm, 100% Islay etc.), this new range is designed to strengthen the national markets and offer each country a special taste variant.
The basis of each Small Batch Release is an already finished Machir Bay vatting or "Machir Bay Collaborative Vatting", i.e. a whisky with 46% abv, which was previously matured for 3-5 years predominantly in bourbon barrels and 5-15% in oloroso sherry casks. This vatting is then married with an additional special cask.
For the "Germany Small Batch No. 1" the additional cask is a Port Hogshead. The shares are stated as 70% Bourbon, 5% Sherry and 25% Port. The alcohol strength is 48.9%, the edition is 2.520 bottles.
Already announced for July 2019 is the "Netherlands Small Batch No. 1" with 85% Bourbon, 5% Sherry and 10% PX. In the course of the year there will be a "Belgium Small Batch No. 1" with 25% STR cask content. The already published "Finland Small Batch No. 1" differs slightly from the above pattern. In this case a normal collaborative vatting with 80% bourbon and 20% sherry without additional cask content. (550 bottles, 46% abv)
The various small batches will therefore allow the Kilchoman enthusiast to experience the notes familiar from Machir Bay, such as yellow fruit, citrus and peat smoke, in combination with aromas from other casks. We are curious!
.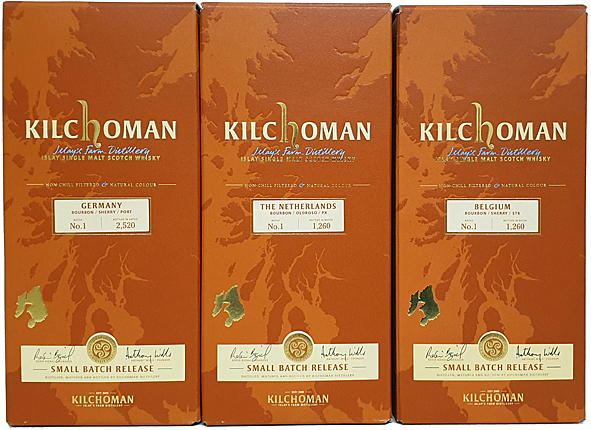 .