4th Live Tasting on Friday, 10th April
The next online tasting with Anthony and James Wills was announced for April 10, 2020. This time the focus is on a preview of 4 upcoming limited releases of the year 2020.
The corresponding tasting packs can be purchased from 3pm GMT today in the distillery's online shop for £19.99 + shipping. The number of tasting packs has been increased to 200, as demand at the last tasting was not nearly satisfied.
Loch Gorm 2020 – 46%. A sample of the recently vatted and bottled Loch Gorm 2020, due for release on April 6th.
Am Bùrach Sample – Cask No 4060, 46%. A preview of a cask that will be making up the one off release of Am Bùrach in May, something truly unique.
100% Islay Bourbon Barrel – Cask No 191/2011, 55.3%. The 100% Islay will have it's annual release in September (10th Edition), here is a look at a cask strength sample of what to expect from this years Single Farm Single Malt.
Fino Cask – Cask No 294/2016, 59%. The final limited edition release of the year will feature some of Kilchomans rare Fino Sherry casks. Sample of a cask going into the vatting come October.
New Make Sanitiser – 63.5%. The New Make 'Sanitiser' is a little extra thrown into the pack, at over 60% abv the spirit can act as a hand sanitiser to kill off the germs pre tasting.
Kilchoman Branded Glencairn Tasting Glass
.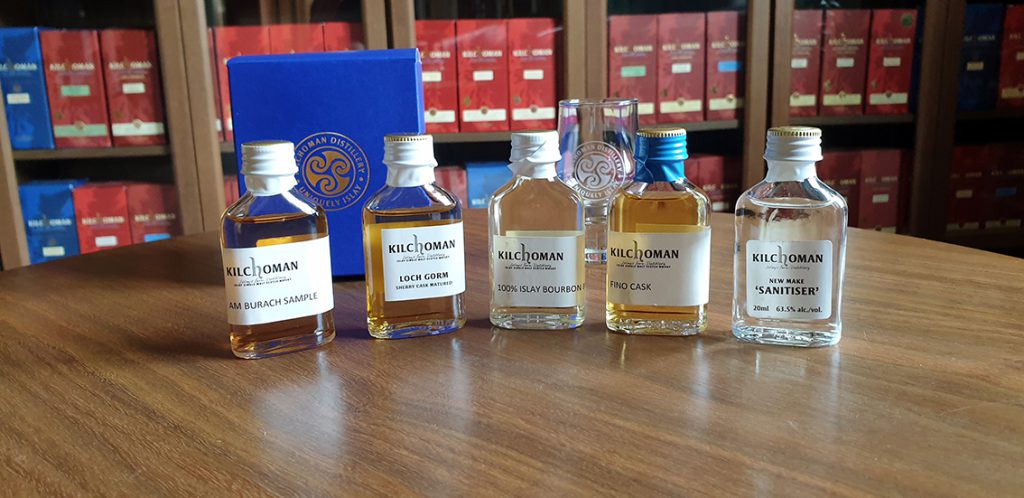 .