Tasting Notes: Kilchoman Live Tasting 10th April 2020
Kilchoman Am Bùrach, 46%, Cask No. 4060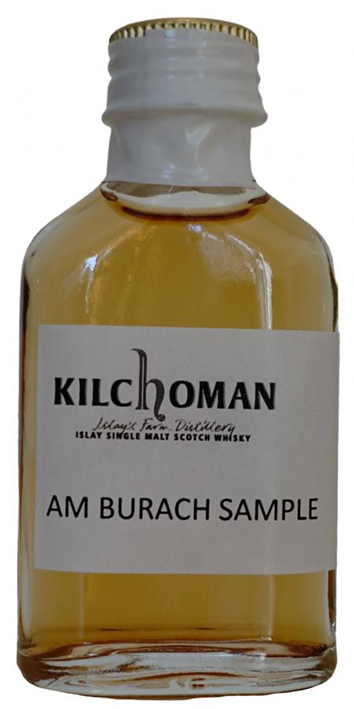 Nose
Surprised with floral notes: cut flowers, spring meadow. But also a lot of peat smoke, warm tar cardboard and salt. Apricot wedges grilled over time, peach and passion fruit juice, oranges.
Taste
A comparatively strong and full start for 46%. Intense smoke, apricots, peaches. Less floral than on the nose. Tart herbs interacting with the fruits. Yeast dough, dark chocolate, freshly ground espresso beans.
Finish
The strong smoke keeps it in the mouth for a long time. But it's not all just smoke (or warm tar), no, the fruits from the nose and from the palate come into their own. Delicious.
Even as a small sample, it really makes you want more. Fruit and smoke are well coordinated, youth only flashes a little here and there.
Kilchoman Loch Gorm (2020), 46%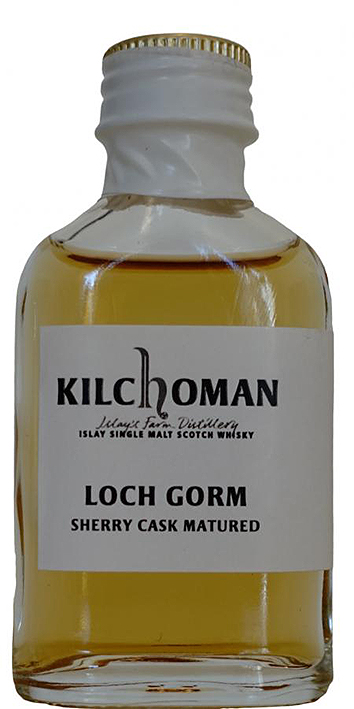 Nose
Soft and sweet with berries (blackberries, black currants), grapes and raisins. Dry wood and very subtle smoke. Cardamom and cinnamon, a little grated ginger. Nougat chocolate, caramel candy, soft fudge.
Taste
Soft and smooth start, directly dosed sherry sweetness with raisins, dried figs, ripe grapes. On the tongue with clear smoke, still holding back more than dashing forward. Chocolate notes and cocoa powder accept the fruit notes well and are closely related. Ginger, cinnamon, curry powder.
Finish
Medium-length finish, increasing warm peat smoke, mixed with raisins and grapes. Leather and a mild mixture of spices set a nice accent.
Very balanced integration of the sherry casks. Not too dominant, not too pale, actually just right to have enough of the distillery character on the tongue.
Kilchoman 100% Islay Bourbon Barrel, Cask No. 191/2011, 55.3%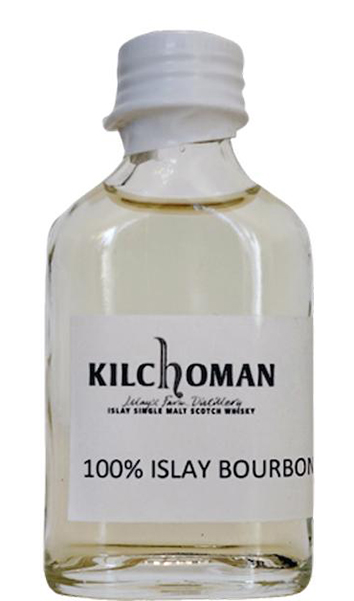 Nose
The difference is striking right after a Loch Gorm: full aroma of a bourbon barrel with vanilla, honey and lemon. Cold peat smoke, Hansaplast, dried seaweed and algae. Has a certain sharpness, which is, however, not alcoholic. Pepper and paprika, savory, thyme.
Taste
Surprisingly soft at the start, only spreads cozy warmth in the mouth. The smoke of a cold campfire. Ashy, lemony; thus clearly gives rise to Ardbeg associations. Vanilla, honey, caramel. Increasingly dry. Pepper and chili spice, hot peppers. But he puts the gas out again at the back.
Finish
Medium length, dry, smoky, lemony. The spice cannonade from the tongue slowly ebbs away, it becomes tamer, softer again.
Not wrong, the 100% Islay in barrel strength. That would be something I would like to explore for a whole bottle. For comparison then an Ardbeg with similar strength to check whether this really works with this Ardbeg notion on the tongue.
Kilchoman Fino Cask No. 294/2016, 59%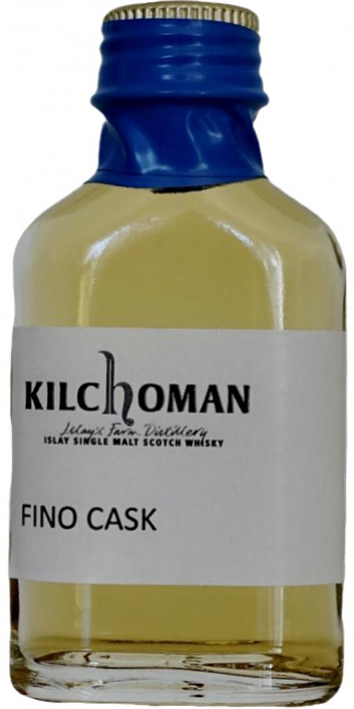 Nose
In 59% I thought that there wasn't really much going on in the nose, but far from it: sweet yellow apples and pears, smoked. Mild smoke that has taken on the sweetness of the fruit. Lemons and tangerine water. Curry powder.
Taste
Strong start that immediately floods the mouth with fruity smoke. Dry from the start. Smoked apples and pears, strawberry jam. Tangible sweetness on the tongue. Warm corrugated iron, seaweed, salt, machine oil. Milk chocolate, fresh hay.
Finish
Still in the medium-long range, but in the end the smoke clearly predominates. Toffee, chocolate, cinnamon buns.
Since I really like the Laphroaig Cairdeas Fino Cask and I have almost only had good experiences with Fino Cask ripening, I was very excited about this one. He didn't quite meet my expectations, but a little too much youth gets through for my taste. But he has the equipment, let's wait and see how it tastes when it is bottled in autumn this year.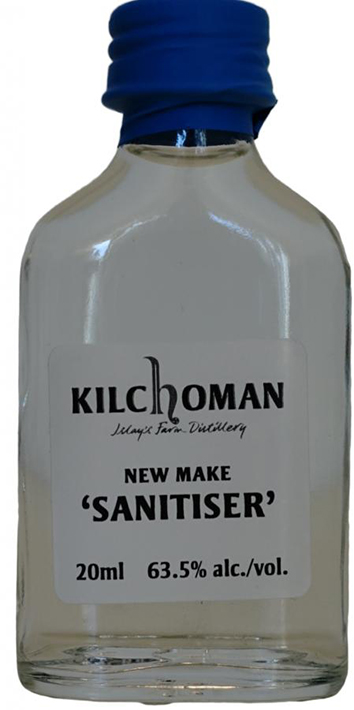 Kilchoman New Make 'Sanitiser' 63.5%
Nose
(Over-) clearly pear. Next to it, warm metal, pepper and lemon.
Taste
Tastes fresh from the still, as if it could transport copper particles onto the tongue. Pear notes, yellow apple. Very fruity and with a smoky note that you can hardly identify as such.
Finish
Short and dry, pearly and with a little chocolate.
The stocks of own Sanitiser are (still) covered, which was too good for my fingers. Always exciting to try new make. On the basis of this starting product, one can only be amazed at what an oak barrel is able to form from a clear, almost neutral distillate.