Live Tasting on Friday, 24th April announced
Kilchoman today announced the next, now already 5th edition of the Live Tastings for April 24, 2020. As usual, Anthony and James Wills will be tasting some Kilchoman whiskies in the new visitor centre. Starting at 6pm GMT, Instagram and Facebook users will be able to participate, ask questions and, if they were lucky enough to purchase one of the Tastings Packs, taste the whiskies presented at the same time.
This time the Tasting Pack includes some whiskies from the Small Batch series and what should be especially interesting is a first sample of this year's Fèis Ìle release:
UK Small Batch – Madeira – 70% Bourbon /5% Oloroso Sherry / 25% Madeira
Netherlands Small Batch – PX Sherry – 85% Bourbon / 5% Oloroso Sherry / 10% PX Sherry
Belgium Small Batch – STR – 70% Bourbon / 5% Oloroso Sherry / 25% STR (Red Wine)
Fèis Ìle 2020 – This release is matured in ex-bourbon barrels filled in the first few years of production in 2007 and 2008 for a minimum of 12 years.
Kilchoman Branded Glencairn Tasting Glass
The Tastings Packs can be purchased for £19.99 + postage on the Kilchoman website on 15th April. Due to the great demand from previous Tastings, Kilchoman has increased the number of Tastings Packs to 600.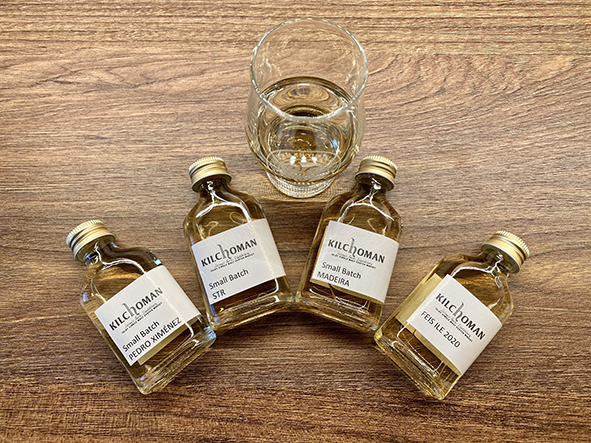 .