Kilchoman Blind Tasting announced
Kilchoman today announced the next online tasting for June 25, 2020. This time it will be a blind live tasting with Anthony Wills. Four different Kilchoman whiskies he will try to identify and guess the cask type, peating level and age. The "Mystery Packs" can be purchased from tomorrow at 11pm in the distillery's online shop. The tasting will be online on June 25th from 7pm time via Instagram, Facebook and You Tube.

About the 4 whisky samples only the following is known so far:
Dram No. 1 – 46% (20 ml)
Dram No. 2 – 48% (20 ml)
Dram No. 3 – 57,4 % (20 ml)
Dram No. 4 – 59% (20 ml)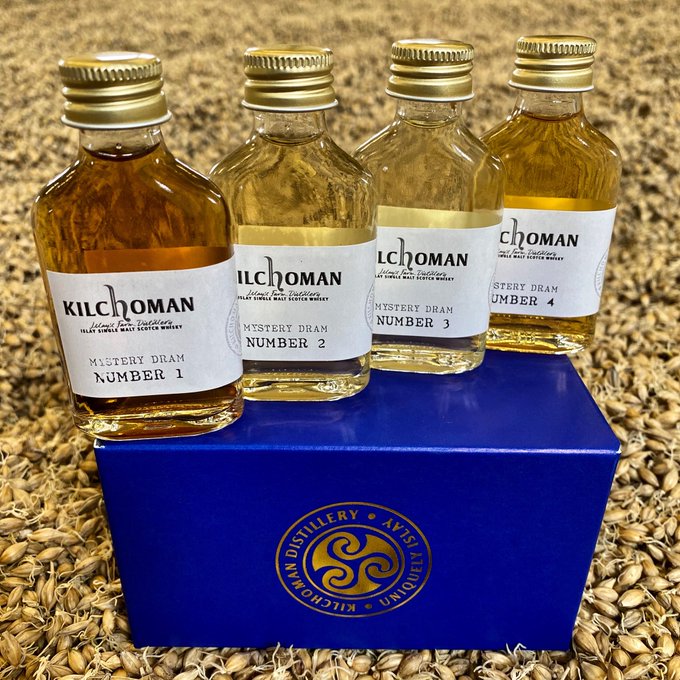 2020/06/25 Update: the solution
Anthony Wills proved himself in a very entertaining blind tasting as an expert of his whiskies, he basically recognized all of them correctly, only on the last one he typed the right cask, only that it was a 100% Islay he did not recognize, 3.5 of 4 points as he put it himself. By the way, the tasting team of kilchomania.com achieved the same score, we were especially proud that we were the first (and as far as we could follow, the only ones) to recognize the last whisky correctly.
Here now the individual whiskies:
Dram No. 1 – Sanaig (Dark Batch)
Dram No. 2 – Vintage 2010
Dram No. 3 – 100% Islay Bourbon Single Cask 425/2013
Dram No. 4 – 100% Islay PX Matured Single Cask 319/2015
.