100% Islay Bourbon Matured Single Cask 425/2013
A new single cask release is now available for purchase in Kilchoman's online shop. After a Madeira and a Cognac Finish Single Cask, the 3rd bottling, which replaces the Distillery Shop Exclusive releases in Corona times, is a 100% Islay whisky that has been matured in a fresh ex-bourbon barrel for almost 7 years.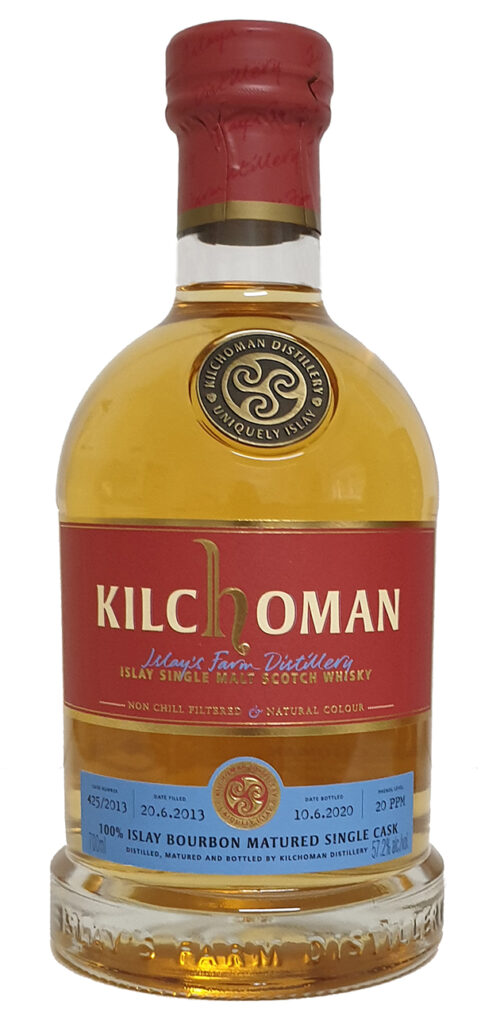 Cask No.: 425/2013
Casktype: 1st Fill Ex-Bourbon Barrel
Distillation Date: 20.6.2013
Bottling Date: 10.6.2020
Strength: 57,2 % abv
Phenol level: approx. 20 ppm
Number of bottles: 232
Bottle volume: 0,7 l
Market: worldwide (via Kilchoman Online Shop)
.
Tasting Notes:
Nose:
Warm corrugated iron, tar cardboard, salt, seaweed, a dash of lemon, a campfire made of wood and peat sods away. Fresh apricots flash through here and there. Vanilla ice cream, honey, white chocolate, dusted with pepper. Has a little youthfulness, which provides a good discount in the nose. 86
Taste:
In the extremely strong, yet tongue-friendly beginning, a beautiful fruit basket full of mango, papaya, pineapple and passion fruit is immediately apparent. Clear tropical feeling. Full and creamy. No longer youthful at all, but ripe and ready to be picked. Salty sea spray, warm tar, lemon cake, accompanied by a mild note of peat smoke. Gets dry over time without losing this great fruitiness. 88
Finish:
The tropical fruits also linger in the medium-long finish, sometimes appearing like Tropi Frutti gummy bears. Soft fudge, marzipan, vanilla, honey and a hint of allspice. 87
Almost seven years old, the colleague, you don't really notice it on his tongue. A bit on the nose, but that doesn't really spoil the very positive overall impression. It would be very desirable if a 100% Islay cask strength release made it into the core range. 87/100 points