Kilchoman 100% Islay Bourbon Matured Single Cask 29/2012 for Team Glen Muscle
Cask No.: 29/2012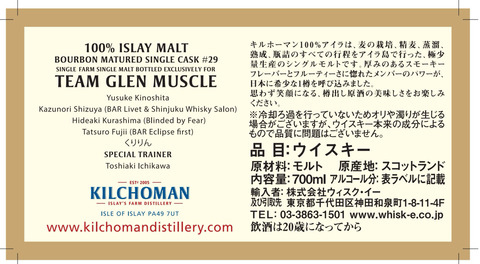 Cask type: 1st Fill Ex-Bourbon Barrel
Date Filled: 26.1.2012
Date Bottled: 20.3.2020
Age: 8 yo
Strength: 55,9 % abv
Phenol level: approx. 20 ppm
Number of bottles: 247
Bottle volume: 0,7 l
Market: Japan
.
Team Glen Muscle is a group of Japanese whisky enthusiasts who, in collaboration with various whisky distilleries and importers, have bottled whiskies "by whisky lovers for whisky lovers" on several occasions.
The 100% Islay release listed here was realised together with the Japanese Kilchoman importer Whisk-e Ltd. The latter sold its part of the release through the Shinanoya chain for 12,100 yen from 22 June 2020.
The whisky was matured for over 8 years in a fresh bourbon barrel.
.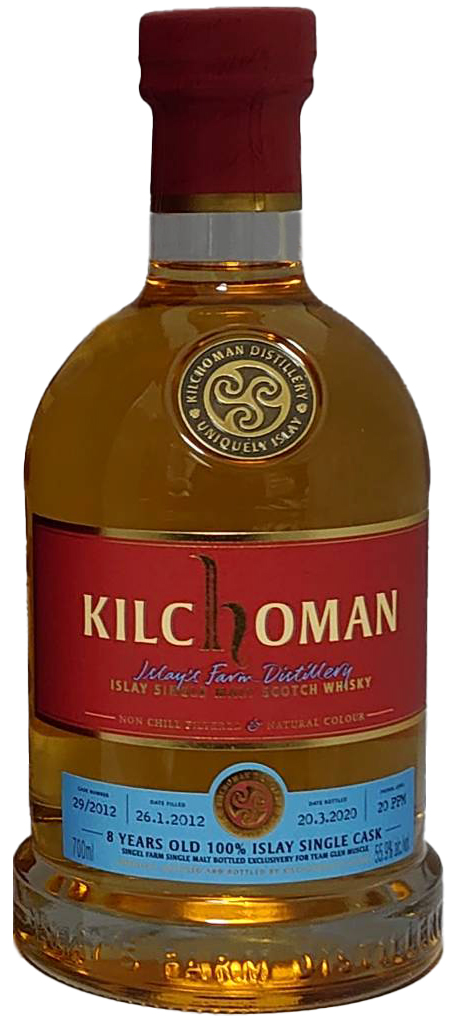 .