100% Islay 10th Edition announced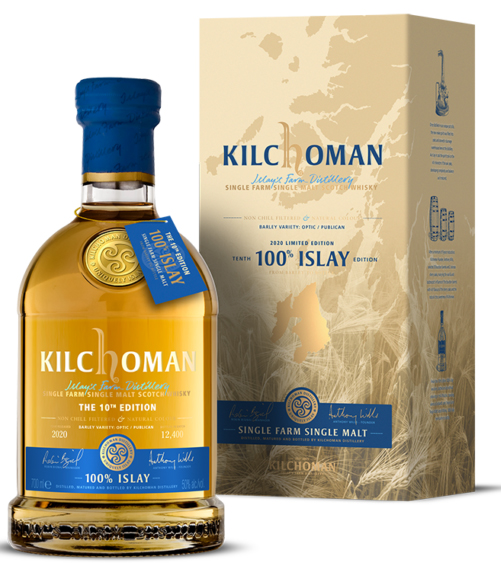 Kilchoman Distillery today announced the release of the 10th edition of the 100% Islay range. It will be available in the distillery's online shop for £71.94 from September 16th and from whisky retailers worldwide starting next week.
The 10th edition is a vatting of 39 ex-Bourbon Barrels and two Oloroso Sherry Butts, which matured for over 9 years in Kilchoman warehouses. This is whisky distilled from barley malt of the Optic and Publican varieties harvested at Rockside Farm in 2007, 2009 and 2010. As usual with the 100% Islay range, the alcohol content is 50.0% abv. 12.400 bottles will be released.
For the 2nd time in the history of the 100% Islay series, this year's edition is not a pure bourbon barrel maturation, but sherry casks were used as in 2018. In contrast to the sherry portion of about 40% of the 2018 edition, which is known to have caused some controversy among Kilchoman fans, this year's portion is a good 10%. It is certainly no coincidence that this is the sherry cask proportion that Anthony Wills has repeatedly described in the past as ideal for Kilchoman whiskies. In any case, we are already looking forward to the result and will soon publish our impressions here.
"The Optic and Publican varieties used for the 10th Edition, paired with a light peat smoking, long fermentation and high spirit cut creates a bright, floral nose of citrus sweetness that gives way to prunes, cinnamon and cooked apples & pears on the palate. The finish brings waves of mildly spiced peat smoke, lasting sweetness and rich sherry notes" Anthony Wills, Kilchoman Founder & MD