Kilchoman STR Finish Single Cask 225/2011 [Online Shop Exclusive]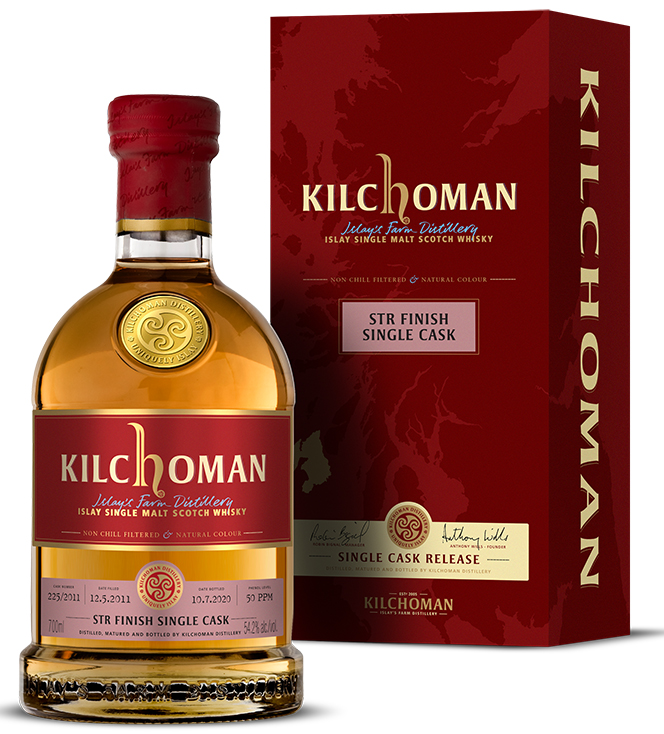 A new single cask release is now available for purchase in Kilchoman's online shop. After a Madeira and a Cognac Finish Single Cask as well as a 100% Islay Release, this is now the 4th bottling, which replaces the Distillery Shop Exclusive Releases in Corona times, it is an STR Finish Single Cask.
Distilled on 12.05.2011, the whisky has been matured in a fresh bourbon barrel for over 8 years before being finished in an STR cask (Shaved, Toasted and Re-charred Red Wine hogshead) for ten month. Bottled on 10.07.2020 with an alcohol strength of 54,2 % 250 bottles were filled. The price per bottle is £74.58 (plus VAT and shipping).
The Cask No. 225/2011 is, by the way, a sister cask of the STR Finish Single Cask 229/2011, which was recently distributed in Germany in the Uniquely Islay series (#5/9) and was bottled just a few weeks earlier. As is often the case with Kilchoman, this is an interesting opportunity for comparison.
.
Cask No.: 225/2011
Cask type: 1st Fill Ex-Bourbon Barrel, STR Hogshead Finish
Distillation Date: 12.5.2011
Bottling Date: 10.7.2020
Age: 9 yo
Strength: 54,2 % abv
Phenol level: 50 ppm
Number of bottles: 250
Bottle volume: 0,7 l
Distribution: worldwide (via Kilchoman Online Shop)