Taste Guide: STR Cask
The STR Cask – the letters stand for Shaving, Toasting and Re-Charring – is an invention of James Swan, who unfortunately passed away far too early. As an expert and consultant, Dr Swan had a decisive influence on the planning and operation of Kilchoman Distillery in its early years.
To make an STR cask the inner surface of a used red wine cask is first shaved to create a new surface of fresh oak wood with low red wine saturation. This leads to a more subtle red wine note of the whisky stored in this cask than is the case with unprocessed red wine casks. The inner surface is then toasted, i.e. heated over a fire made from oak chips obtained from used cask staves. This leads to a caramelisation of the sugars and vanilines contained in the fresh wood. Finally, the cask is burnt out (re-charred) to ensure a high level of flavour extraction from the wood.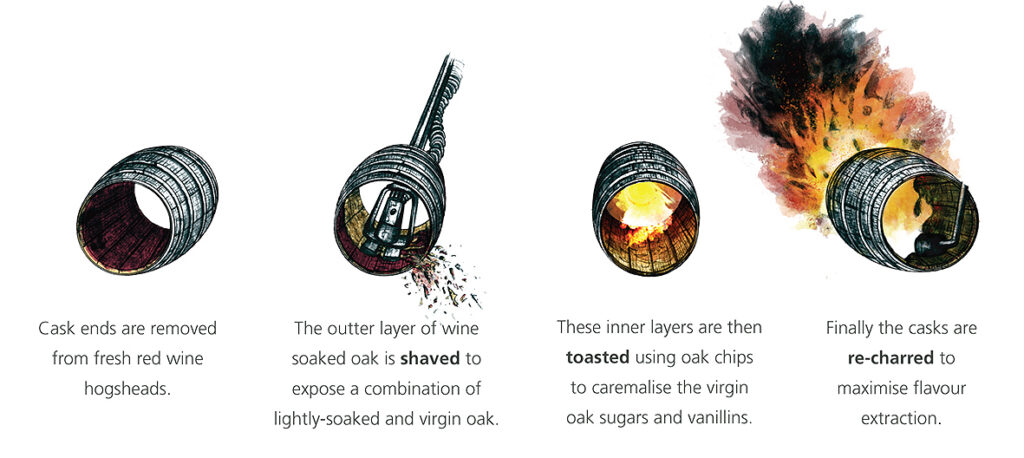 In 2011, Kilchoman filled some of these casks for the first time, which were made by the Dias cooperage in Portugal. It quickly became apparent that the Kilchoman distillate developed exceptionally well in this type of cask. Thus, from year to year, more and more STR casks were filled and for the future one has even envisaged a regular STR release.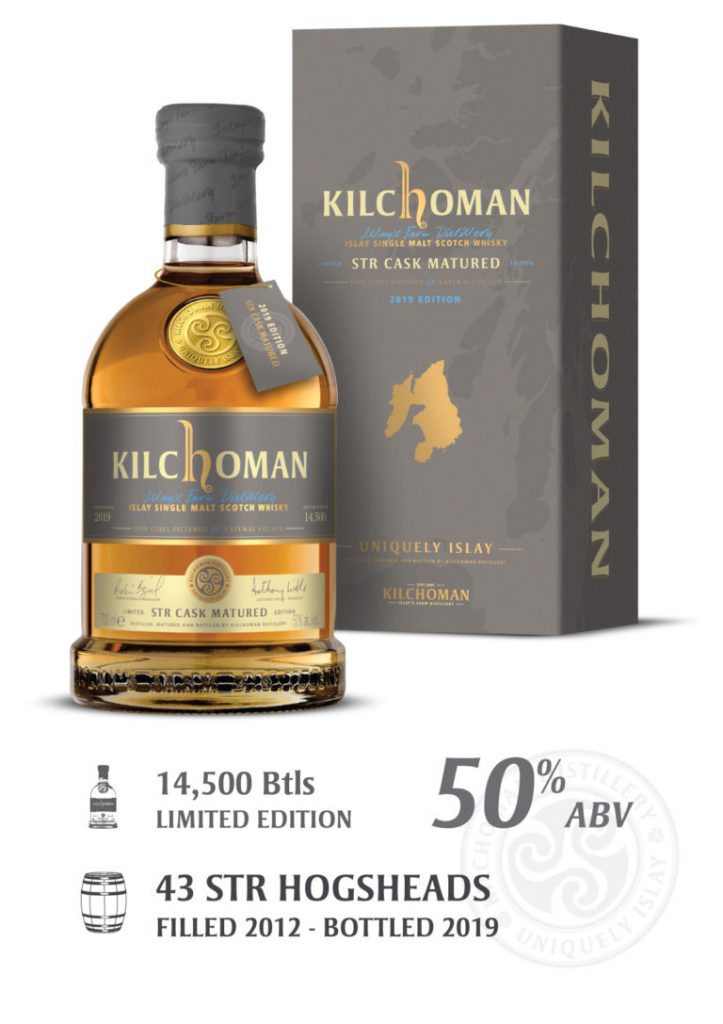 In May 2019 the first STR Cask Matured Edition was released. For this release of 14.500 bottles Anthony Wills selected 43 STR Hogsheads, which had been filled in 2012.
Since then, more than twenty STR cask finish releases have followed, in which the whisky was initially aged on average for 7-8 years in a bourbon barrel and then matured for a few months in an STR hogshead. Especially with a series of casks (No. 224-234/2011) whose contents had been distilled on May 12, 2011 and which were bottled in 2020/2021 with different STR finish times ranging from 8 to a further 21 months, one can wonderfully trace the development of Kilchoman whisky in STR casks.
.
What does Kilchoman whisky from the STR cask taste like?
In general, you can say that Kilchoman matured in STR casks has a nice triad of basic tones on the nose and palate. First of all, there are the notes of red berries, raspberries and cherries, which come from the red wine cask. In addition, there are quite present flavours, which come from the special treatment of the casks, i.e. charred wood, toasted aromas and a nice spiciness. Thirdly, there are the typical Kilchoman flavours: citrus, yellow fruits and of course the maritime peat smoke. What makes this cask type so successful for Kilchoman is that the three basic elements are wonderfully interwoven after some maturation time, complement each other, neither red wine notes nor the peat smoke dominate, for example. The result is truly complex whiskies that you can sniff and taste for a long time to discover ever new nuances.
.
Port STR Cask
On 20 April 2022, the Chinese Kilchoman importer SMCC announced a completely new Kilchoman bottling: a Port STR Cask Finish. Since Kilchoman sources its STR casks from the Portuguese cooperage Dias, it was probably obvious to try out the so successful STR process on port casks. We are looking forward to further bottlings.
.
Kilchoman STR Cask Releases
.