STR Finish Single Cask 628/2012 for Bresser & Timmer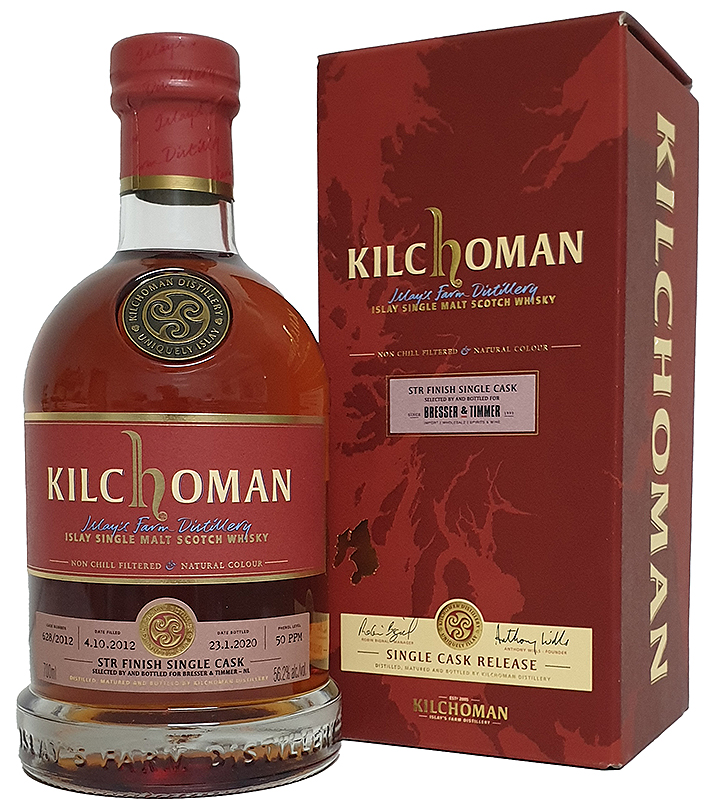 As one of the first new Kilchoman releases of 2020, Dutch importer Bresser & Timmer has just launched an STR-Finish Single Cask bottling.
It has been matured in a fresh bourbon barrel (No. 628/2012) for nearly 7 years before being finished in an STR cask (Shaved, Toasted and Recharred ex-red wine hogshead) for over 5 month.
After the "STR Cask Matured 2019 Edition" and the "Small Batch No. 1 for Belgium" with 25% STR content, there is now another opportunity to taste a STR cask matured Kilchoman.
.
Cask No.: 628/2012
Cask type: 1st Fill Ex-Bourbon Barrel, STR Cask Finish
Distillation Date: 4.10.2012
Bottling Date: 23.01.2020
Age: 7 yo
Strength: 56,2 % abv
Phenol level: 50 ppm
Number of bottles: 246
Bottle size: 0,7 l
Market: The Netherlands
.
.
Tasting notes
Archer:
Nose:
Above all else: sweet spice is the first thing that hits your nose. And at first it is not really possible to separate which sweetness and which spice it is. Black cherries, red grapes, raisins and dried dates only reveal themselves over time. Café au lait, curry powder, hot pepper. 89
Taste:
Despite his 56.2%, he is not too strong. Ripe grapes, blackberries, black currants. In addition milk chocolate, chocolate brownie, pepper and freshly grated nutmeg. Almonds. Slight peat smoke note. 90
Finish:
Long and dark fruity with a long lingering smoke note. Hardly gets dry, the (berry) fruits linger for a long time. 89
STR & Kilchoman rules. 89 / 100 points
.