Kilchoman STR Cask Matured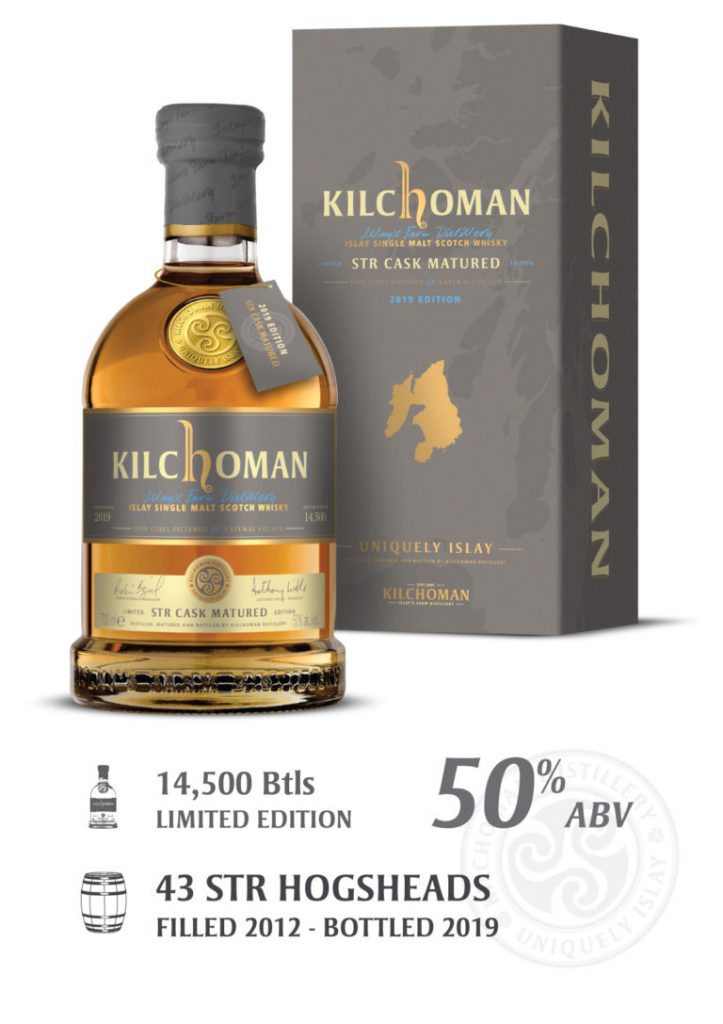 Cask type: STR Hogsheads
Vintage: 2012
Bottled: 04/2019
Strength: 50,0 % abv
Phenol level: 50 ppm
Number of bottles: 14.500
Bottle volume: 0,7 l / 0,75 l
Bottle code: 23.04.19 19/45
Distribution: worldwide
.
On May 8, 2019, Kilchoman released a STR Cask Matured bottling for the very first time. The STR Cask – the letters stand for Shaving, Toasting and Re-Charring – is an invention of James Swan, who unfortunately passed away far too early. As an expert and consultant, Swan had a decisive influence on the planning and operation of Kilchoman Distillery in its early years.
The inner surface of used red wine casks is first shaved to create a new surface of fresh oak wood with low red wine saturation. This leads to a more subtle red wine note of the whisky stored in this cask than is the case with unprocessed red wine casks. The inner surface is then toasted, i.e. heated over a fire made from oak chips obtained from used cask staves. This leads to a caramelisation of the sugars and vanilines contained in the fresh wood. Finally, the cask is burnt out (re-charred) to ensure a high level of flavour extraction from the wood.
Anthony Wills selected 43 STR Hogsheads for the release, which had been filled in 2012. The whisky was bottled at 50% abv.
.
Tasting Notes
Florian Lenhardt:
Nose:
A nice sweet raspberry as an overtone, in addition quite decent oak influence, which brings some dryness and spice, the smoke is not too present in the nose, a bit acid, vinous, greasy, yes really then quite dry overall, slightly malty, yes good wood, slightly scorched.
After the first sip of creamy, some vanilla comes to chocolate (bittersweet).
Taste:
Oily, full-bodied, starts sweet, the smoke here is more intense, fruity, red wine, raspberry, cinnamon, then the oak beats, it is drier, the mouth is a bit misty, acid, intense, overall a nice mouthfeel, good to drink, the 50% hit it again to the point.
Finish:
Red fruity sweet on the palate, increasingly dry oak in the mouth, ashen smoke, pleasant and warming finish.
At the very beginning I thought "it's a pity red wine again, something new would not be bad", but the burned out casks make the whole thing really very interesting, the strong oak influence is clear, but makes for me the whole thing more complex and exciting and the fruity sweetness of the red wine is a nice contrast.
88 / 100 points
.
Archer:
Nose:
The aromas from the red wine casks are directly present. If it were not for the typical Kilchoman smoke, you would not necessarily be able to identify him as a Rockside Farm child. Smoked bacon strips, cherry flavored chewing gum, grape juice, menthol. Bacon-wrapped dates. Through the smoke and bacon, the fruit notes are not sweet, but they give the nose only a pleasant fruity aroma. Scalloped wood, thyme, marjoram, coriander. Removes grease and chain oil. 89
Taste:
Launches on the tongue with pleasant force, immediately dumps a dense cloud of peat smoke into the mouth. Sweet Amarena cherries, blackberry jelly, raspberry syrup. Slightly dry from coking logs. Leather and tobacco notes. Nutmeg, pepper, marjoram. Dark chocolate, espresso beans. The red wine pre-assignment ensures deep-dark, fruity notes, the STR treatment for a counterbalance to tartness and dryness. Fits together very well, fits like ass on bucket. 89
Finish:
Medium-long and dry finish, in which the peat smoke again properly pushes the tube, the fruit nevertheless not give in and last but not least chocolate and toffee notes appear. 88
As part of a Kilchoman tasting led by Peter Wills, I had him in the glass once before, along with seven other Kilchomans. He came right to the end and, although there were a number of other drams in my glass before, he has had a very positive memory of me. I was curious how he would like me in an unprecedented tasting – how nice that in the end he even liked me a little better.
89 / 100 points