Timeline 2019
April 8: As in previous years, the series of annual limited releases begins with the Loch Gorm, Kilchoman whisky aged exclusively in Oloroso sherry casks.
Anthony Wills has selected 20 Oloroso Sherry Butts from 2006, 2007, 2008, 2009 and 2011 for the 2019 edition. This means that for the first time, 12 and 13 year old casks are also included. The circulation is 15,000 bottles, bottled with an alcohol strength of 46% abv.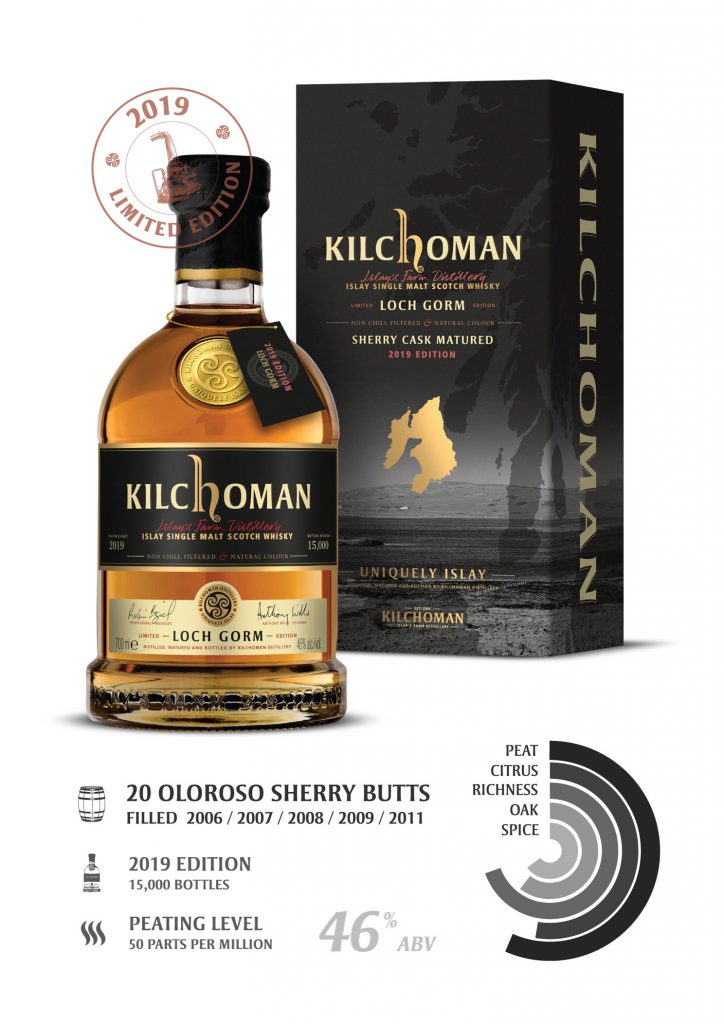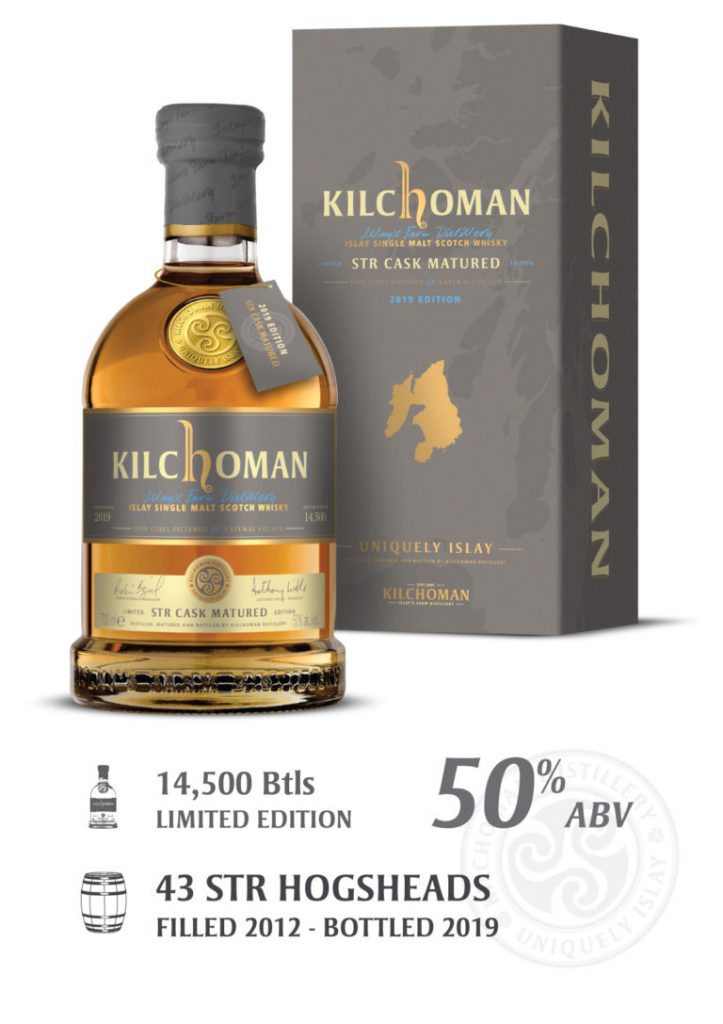 May 8: Kilchoman announces the release of a completely new limited release, the "STR Cask Matured". The STR Cask – the letters stand for Shaving, Toasting and Re-Charring – is an invention of James Swan, who unfortunately passed away far too early. As an expert and consultant, Swan had a decisive influence on the planning and operation of Kilchoman Distillery in its early years.
The inner surface of used red wine casks is first shaved to create a new surface of fresh oak wood with low red wine saturation. This leads to a more subtle red wine note of the whisky stored in this cask than is the case with unprocessed red wine casks. The inner surface is then toasted, i.e. heated over a fire made from oak chips obtained from used cask staves. This leads to a caramelisation of the sugars and vanilines contained in the fresh wood. Finally, the cask is burnt out (re-charred) to ensure a high level of flavour extraction from the wood.
Anthony Wills selected 43 STR Hogsheads for the release, which had been filled in 2012. The whisky was bottled at 50% abv.
30 May, the Kilchoman Open Day at Fèis Ìle 2019, was once again one of the highlights of the year for Kilchoman fans. Once again, a tried and tested mix of tours, tastings, food and drink was on offer. Among the many highlights: a masterclass tasting "Founders Cask" with Anthony Wills and the well-known whisky author Dave Broom, where one could taste not only interesting cask samples but also spirit samples obtained by using different types of yeast, a New Make Masterclass with Robin Bignal, the well known programme item "Be a bottler" where you could bottle your own Machir Bay, plus "Ultimate Be a bottler", for which a single cask was specially provided, a food pairing with French whisky specialist Martine Nouet and much much more.
The much sought-after Fèis Ìle release was this time a vatting of a fresh Bourbon Barrel and an Oloroso Sherry Butt, both over 11 years old.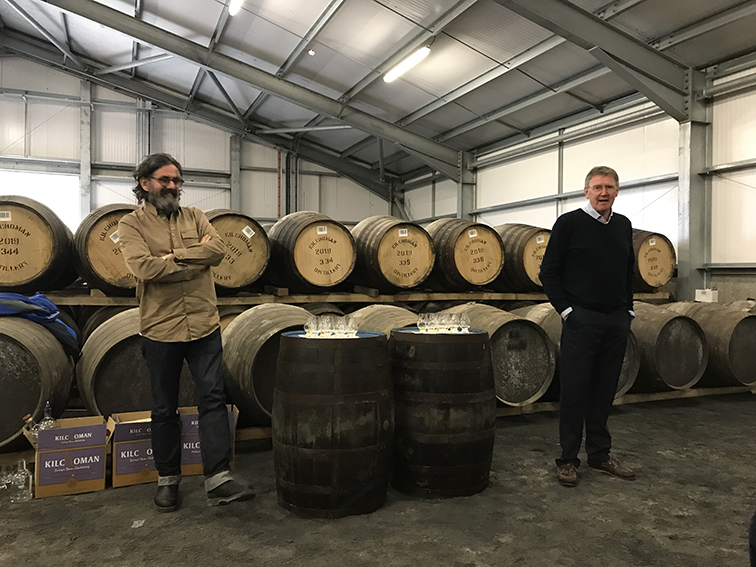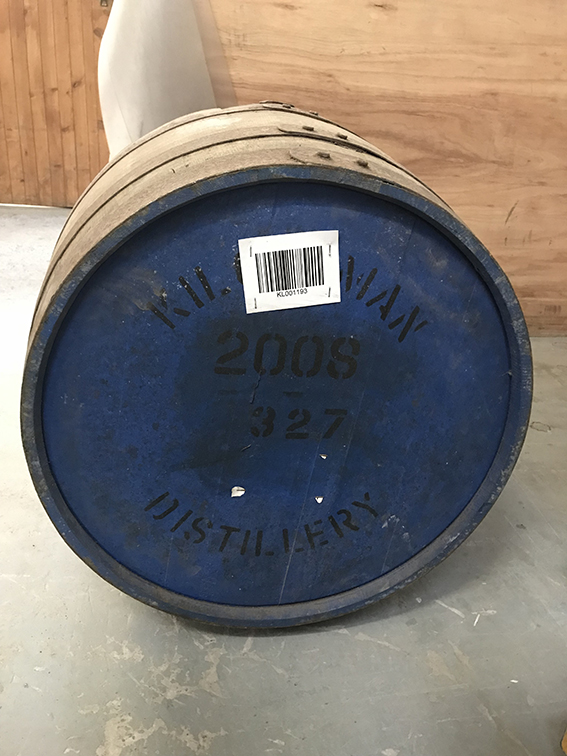 July 16: Kilchoman presented its new product line of "Small Batch Releases for Selected Markets", the No. 1 for Germany was already delivered a few days ago.
Priced between the General Releases (Machir Bay and Sanaig) and the annual Limited Releases (such as Loch Gorm, 100% Islay etc.), this new range is designed to strengthen the national markets and offer each country a special taste variant.
The basis of each Small Batch Release is an already finished Machir Bay vatting or "Machir Bay Collaborative Vatting", i.e. a whisky with 46% abv, which was previously matured for 3-5 years predominantly in bourbon barrels and 5-15% in oloroso sherry casks. This vatting is then married with an additional special cask.
For the "Germany Small Batch No. 1" the additional cask is a Port Hogshead. The shares are stated as 70% Bourbon, 5% Sherry and 25% Port. The alcohol strength is 48.9%, the edition is 2.520 bottles.
Already announced for July 2019 is the "Netherlands Small Batch No. 1" with 85% Bourbon, 5% Sherry and 10% PX. In the course of the year there will be a "Belgium Small Batch No. 1" with 25% STR cask content. The already published "Finland Small Batch No. 1" differs slightly from the above pattern. In this case a normal collaborative vatting with 80% bourbon and 20% sherry without additional barrel content. (550 bottles, 46% abv)
The various small batches will therefore allow the Kilchoman enthusiast to experience the notes familiar from Machir Bay, such as yellow fruit, citrus and peat smoke, in combination with aromas from other barrels.
.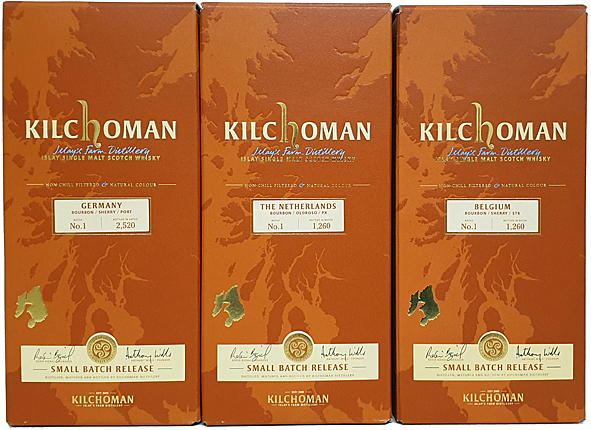 .
August: Stillhouse expansion completed. With the installation of a panoramic window in the gable of the new stillhouse, another important step in the expansion program to double production was completed. The extension of the stillhouse to double its length includes two new stills identical in size and shape, a new mashtun and a new malt transport system; six new washbacks were installed in the rear part of the old malting floor. This increases the distillery's maximum production capacity to 480,000 litres of alcohol per year.
The expansion programme started in 2017 with the construction of the new kiln/malting floor building, which was completed in 2018, continued with the extension of the stillhouse and the installation of the new equipment this year and is expected to be completed in about 3-4 months with the completion of the new visitor centre. In parallel to this work, further warehouses are being built to accommodate the many newly filled barrels. In 2018, Kilchoman was filling 38 casks per week and this number will quickly rise to over 70 casks per week, which will require significantly more storage space.
About 6 million pounds sterling have been put into the expansion program, and in Anthony Will's words, "practically built a second distillery". Great care was taken to ensure that the newly installed stills, mash tuns and washbacks are exact counterparts of the old ones so as not to change the character of the distillate. In addition, the new equipment should also allow experiments with different yeast types or isolated distillations with changed parameters. Obviously, there are still some innovations to be expected.
.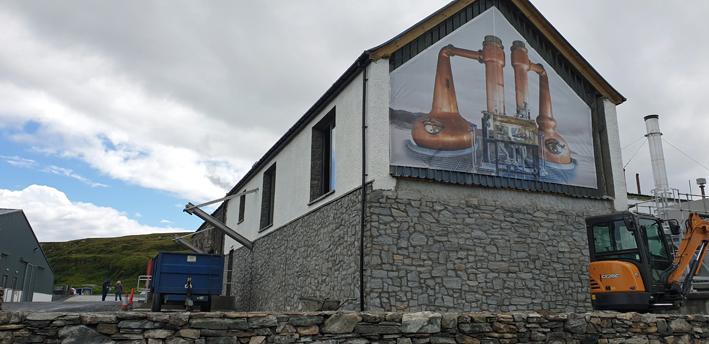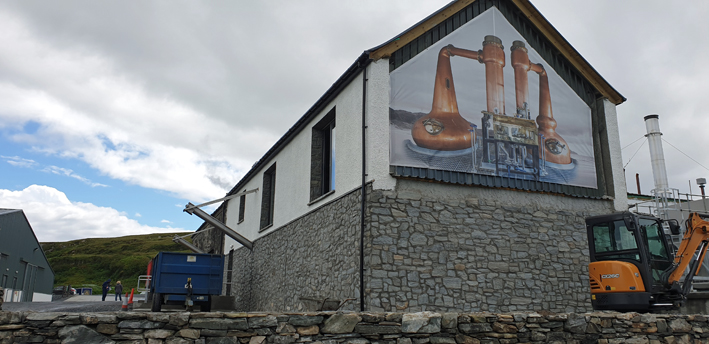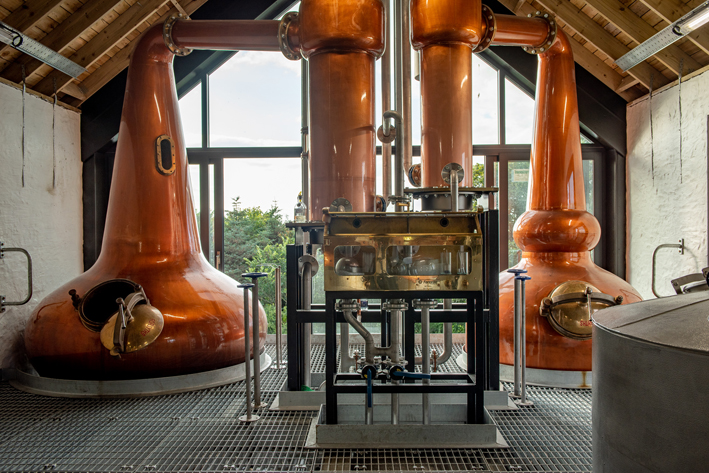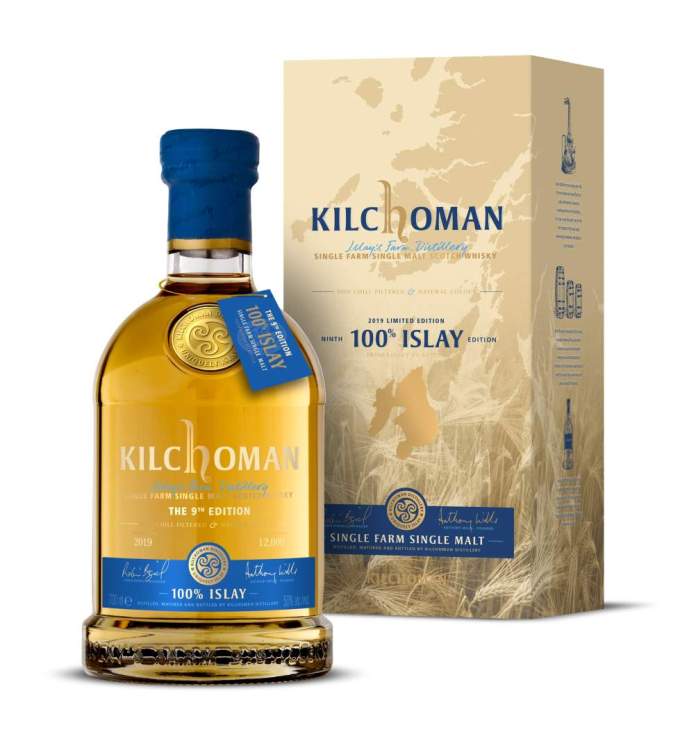 September 2019: 9th Edition of »100% Islay« released. The 2019 edition is a vatting of 43 ex-bourbon barrels matured for over 9 years in Kilchoman warehouses. This is whisky made from malt from the 2007 and 2009 barley harvests. As usual with the 100% Islay range, the alcohol content is 50.0% abv. The edition size is 12,000 bottles.
With the 9th edition Kilchoman returns to the pure bourbon cask maturation that distinguished all previous 100% Islay editions with the exception of 2018. As Anthony Wills himself emphasised several times, the 100% Islay, which is significantly lighter peated at 20 ppm, harmonises exceptionally well with bourbon barrels.
"Our 100% Islay spirit pairs seamlessly with ex-bourbon barrels. The lower peating level (20ppm) allows the natural floral sweetness of the spirit to shine through whilst a higher age profile adds layers of overripe tropical fruit and stewed plums whilst the high ABV makes it no lightweight. I'm delighted with how the 9th Edition has come together and as ever, I look forward to hearing people's opinions" Anthony Wills, Kilchoman Founder & MD
September 19: Extension work on the Malt Store: After the construction work on the new still house was finished in summer with the installation of a panorama window, there were more construction works in September. The old kiln building, which will continue to be used as a malt warehouse, has been given a new extension. As can be seen on the photo below, a popular photo motif of the distillery has changed quite significantly.
October 5: Nicole Lindsay, the previous head of the visitor centre, had her last working day on 5 October. She is moving to Springbank Distillers Ltd as Regional Sales Manager and will be responsible for East Asia.
In October 2015 she started working at Kilchoman, first in the café, from 2016 in the office and as a tour guide. In March 2017 she was appointed Visitor Centre Manager after Bryony Boyd moved to Ardnahoe..
October 16: »Vintage 2010« released. The fifth edition of the biennial Vintage series is a vatting of 45 casks – 42 ex-Bourbon Barrels and 3 Oloroso Sherry Butts – all filled in 2010. The 15.000 bottles of the 9-year-old whisky, with an alcohol content of 48%, were bottled at Kilchoman without colouring and without chill filtration, as usual.
While the first 3 editions of the Vintage series were aged exclusively in Bourbon barrels, the last release changed this to a vatting of mainly Bourbon and some Oloroso Sherry casks. This year the ratio is about 85% Bourbon to 15% Sherry. Kilchoman has been trying out the combination of bourbon and sherry casks of different ages and mixing ratios since its first bottlings in 2009. Anthony Wills stressed that a mixing ratio of approximately 85:15 results in a particularly good balance between the vanilla and citrus notes of the bourbon barrels and the spicy tones of the sherry butts.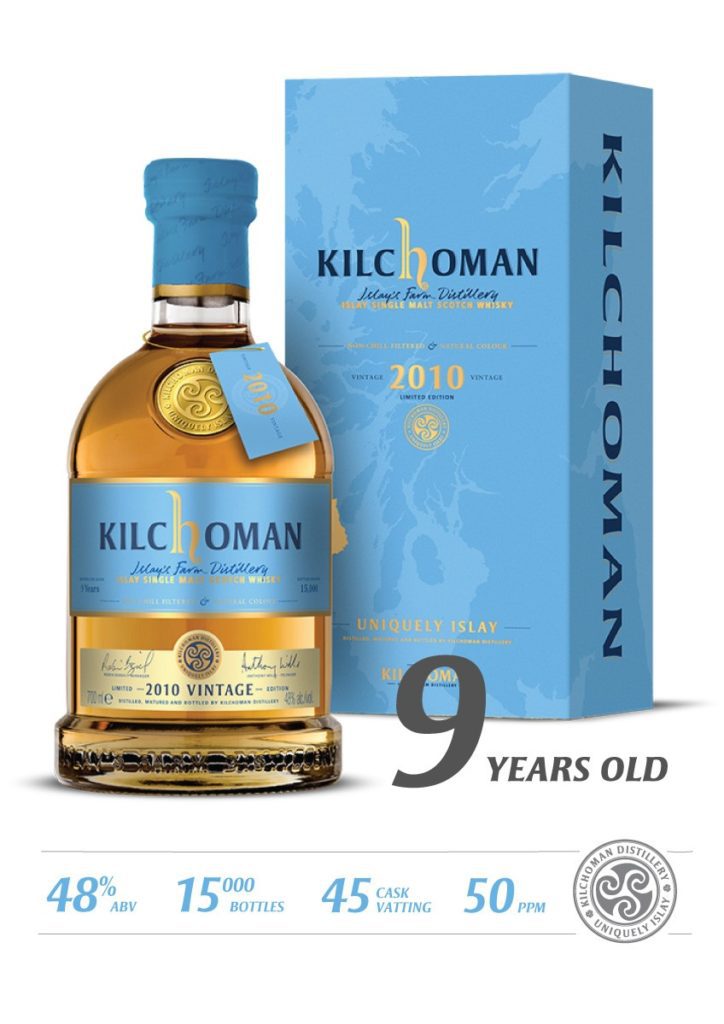 October 28 – November 11: Germany tour for the 10th anniversary of Kilchoman Single Malt. 10 years ago, on September 9, 2009, the Kilchoman distillery released its first single malt whisky, the "Kilchoman Inaugural Release". To celebrate this anniversary, the German Kilchoman importer "Alba Import" organised a series of tastings with Peter Wills in six German cities. As usual on previous Kilchoman tours, these tastings took place at local whisky dealers. (Stefan Meier Tabakwaren, Freiburg im Breisgau – whisk(e)y shop tara, München – REWE Kornelius Golbik, Mömbris bei Aschaffenburg – Scotia Spirit, Köln – Whiskyland Oranienburg – Flickenschild Whisky & Cigars, Itzehoe).
To mark this anniversary, a special single cask bottling was also launched, the "Bourbon Matured Single Cask No. 10/2009 – celebrating 10 years of Kilchoman Single Malt in Germany". Distilled on 15.1.2009 and bottled on 23.9.2019, the whisky was thus stored for over 10 years in a refill ex bourbon barrel.
.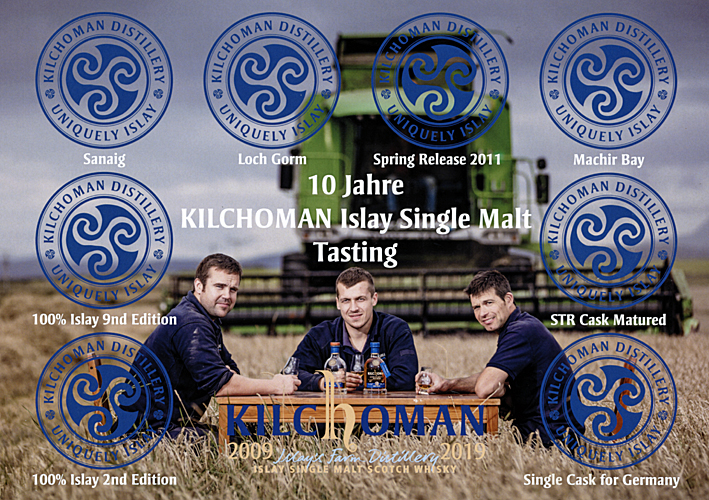 November 4: After the farewell of Nicole Lindsay, who managed the Kilchoman Visitor Centre from 2017 to 2019, a new manager has now taken up work after exactly one month. Carol-Ann MacTaggart, who comes from Bowmore, attended Islay High School there and worked at Lochside Hotel in Bowmore from 2005-2013. She then worked as Assistant Manager at the Bridgend Hotel, before taking up her new position as Visitor Centre Manager at Kilchoman.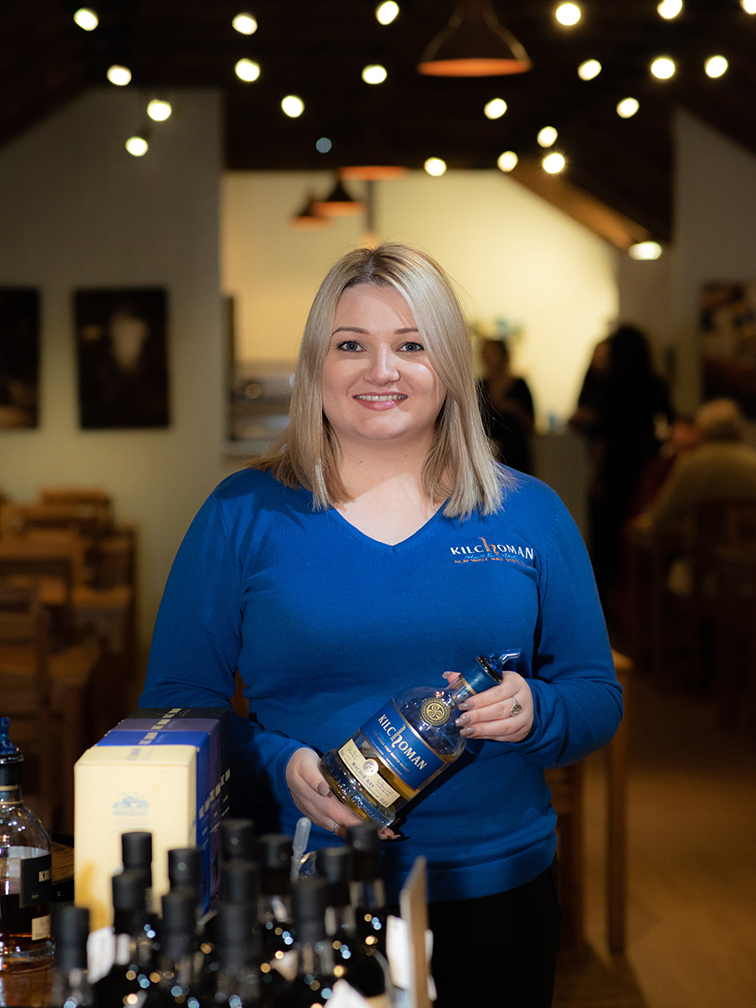 November 28: Club Release 8th edition released. The 2019 Edition for Kilchoman Club members is a vatting of 3 Bourbon Barrels and one Oloroso Sherry Butt, filled between October 2006 and December 2007. The 1,242 bottles with an alcohol content of 54.3% abv were available in the online shop for 119.40 pounds on Thursday, 28 November 2019 from 12.00 GMT and, despite the high price, sold out within a short time.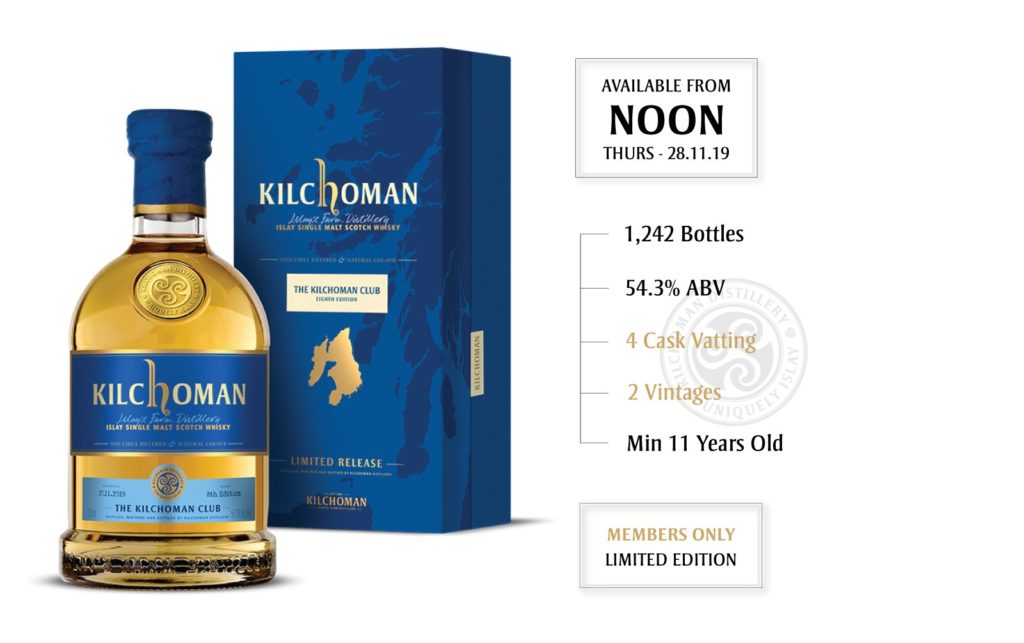 December: Hungarian zoologist and obvious Kilchoman fan Barna Páll-Gergely has identified a land snail found in North Vietnam in 2013 by researchers from the Natural History Museum London as a new species and named it after the Kilchoman distillery. The new land snail species is named Entadella kilchomani and reaches a diameter of 3.5 cm.
.