Kilchoman STR Cask Matured – Japan Ambassador´s Cask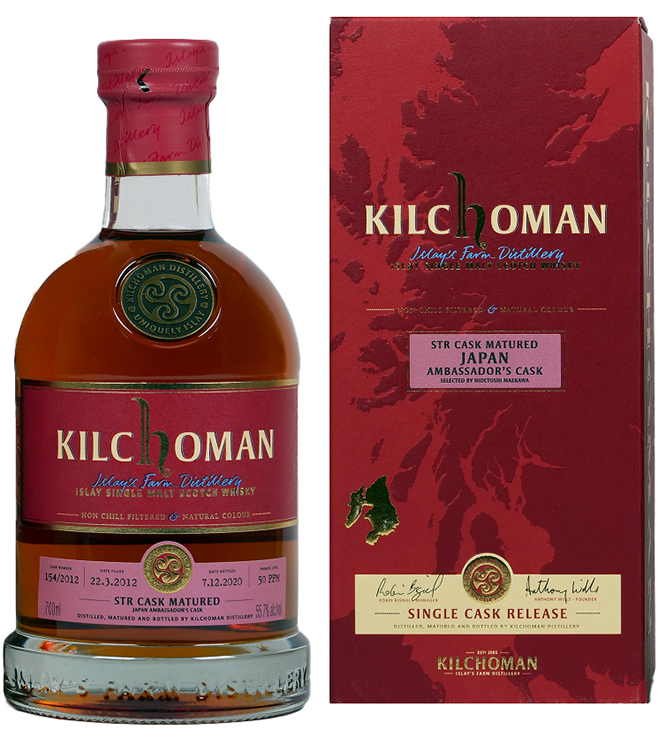 At the end of April, a new single cask bottling was released for the Japanese market. Under the series title Japan Ambassador's Cask, Kilchoman's Japanese brand ambassador Hidetoshi Maekawa, owner of the bar Shamrock in Takamatsu, wants to market Kilchoman bottlings selected by him in the future.
For the first single cask in this series, he chose an STR finish cask (and not, as the name suggests, an STR full maturation). Distilled on 22.03.2012, the whisky was first matured for almost 8 years in Bourbon Barrel No. 154/2012 and was then finished for 10 months in an STR cask (Shaved, Toasted & Re-charred Red Wine Hogshead). The bottling on 7.12.2020 at cask strength of 55.7% alcohol yielded 232 bottles.
.
Cask No.: 154/2012
Cask type: Ex-Bourbon Barrel, STR Hogshead Finish
Distillation Date: 22.3.2012
Bottling Date: 7.12.2020
Age: 8 yo
Strength: 55,7 % abv
Phenol level: 50 ppm
Number of bottles: 232
Bottle volume: 0,7 l
Market: Japan