Tequila Finish Single Cask 638/2013 [Online Shop Exclusive]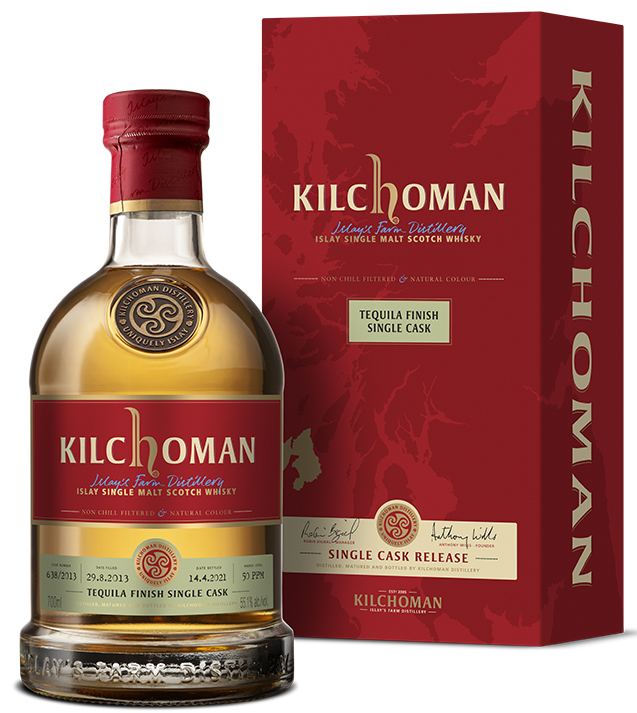 Like last year, Kilchoman is also releasing a new Online Shop Exclusive Release on the day of the launch of the Fèis Ìle Release and the Fèis Ìle Tasting Packs, and also like last year, when the first Cognac Finish Single Cask was released, it is a world first, namely the first Tequila Finish Single Cask from Kilchoman. And so you don't have to be a soothsayer to predict that a third common feature will be added: the sell-out of this bottling within the first day.
Due to the change in the corresponding SWA regulations, it is now allowed to use casks for whisky maturation that previously contained, for example, Calvados, Tequila or Mezcal. Last year, Kilchoman was able to show with some first Calvados releases how well the Kilchoman Spirit develops in these casks.
At various online tastings, Anthony Wills had already reported that the distillery had also filled some tequila and mezcal casks for the first time in 2020, some intended for full maturation, some for finishing, and how amazingly well the whisky had developed in these casks, so that they immediately filled some more around Christmas time.
Now, for the first time, we Kilchoman fans have the opportunity to taste a tequila finish. The cask no. 638/2013 was a fresh ex-bourbon barrel in which the whisky, distilled on 29 August 2013, matured for over 6 years before being finished in a tequila cask for over 9 months. The cask strength bottling on 14 April 2021 yielded 255 bottles. The price is £74.58 + VAT and shipping.
According to Kilchoman the Tequila finish has given the whisky bursts of green agave, enhanced the maritime notes and citrus sweetness. We are already very excited about this novelty and will present our tasting notes here shortly.
.
Cask No.: 638/2013
Cask type: 1st Fill Ex-Bourbon Barrel, Tequila Cask Finish
Distillation Date: 29.8.2013
Bottling Date: 14.4.2021
Age: 7 yo
Strength: 55,1% abv
Phenol level: 50 ppm
Number of bottles: 255
Bottle volume: 0,7 l
Distribution: Online Shop Exclusive