Kilchoman 10 yo STR Single Cask Finish [Online Shop Exclusive]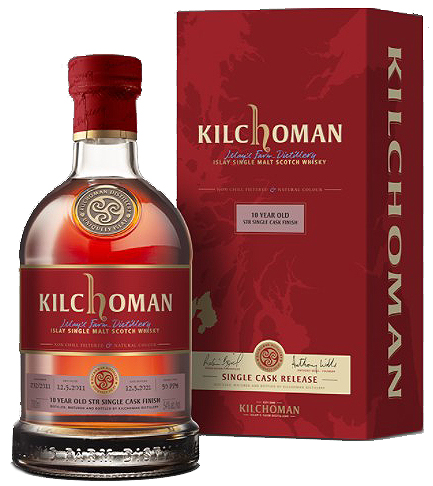 On June 3, the Kilchoman Open Day at the Fèis Ìle 2021 Kilchoman also released a new Online Shop Exclusive bottling.
It is a 10 year old STR Cask finish, the oldest release with this type of cask so far. Distilled on May 12, 2011, the whisky was first matured for over 8 years in a fresh bourbon barrel (No. 232/2011) and then finished for a full 21 months (another new record) in an STR cask (Shaved, Toasted and Re-charred Red Wine Hogshead). The 217 bottles were bottled on May 12, 2021 with an alcohol strength of 54.0%. The price for a bottle is £83.25 (plus VAT and shipping).
With these key data, one can expect a very fruity Kilchoman whisky! Not only Anthony Wills emphasizes again and again that the Kilchoman distillate develops extraordinarily well in this type of cask invented by James Swan, so that Kilchoman has been filling more and more STR casks for a few years and has a regular STR release in mind for the future.
In the past, we too were able to convince ourselves of how well STR casks and Kilchoman distillate go together when tasting some STR releases (full maturations and finishes), and as is so often the case with Kilchoman single cask bottlings, this offers interesting opportunities for comparison with sister casks that have already been released: the cask 228/2011, also filled on May 12, 2011 appeared at the beginning of the year in Norway (9 years, 17 months STR finish), the No. 231/2011 at the end of last year in Denmark (9 years, 15 months STR finish), in addition, Kilchoman had already released in September 2020 with the cask No. 225/2011 an Online Shop Exclusive STR Finish (9 years, 10 months STR finish). And finally, in May 2020 within the Uniquely Islay Series An t-Earrach the cask 229/2011 with 8 months STR Finish had appeared. Based on the steadily increasing STR finish length in these bottlings distilled on the same day, the development in this cask type can be wonderfully understood.
.
Cask No.: 232/2011
Cask type: 1st Fill Ex-Bourbon Barrel, STR Hogshead Finish
Distillation Date: 12.5.2011
Bottling Date: 12.5.2021
Age: 10 yo
Strength: 54,0% abv
Phenol level: 50 ppm
Number of bottles: 217
Bottle volume: 0,7 l
Distribution: Online Shop Exclusive