Kilchoman Small Batch STR / Bourbon / Sherry [for Smaller Markets]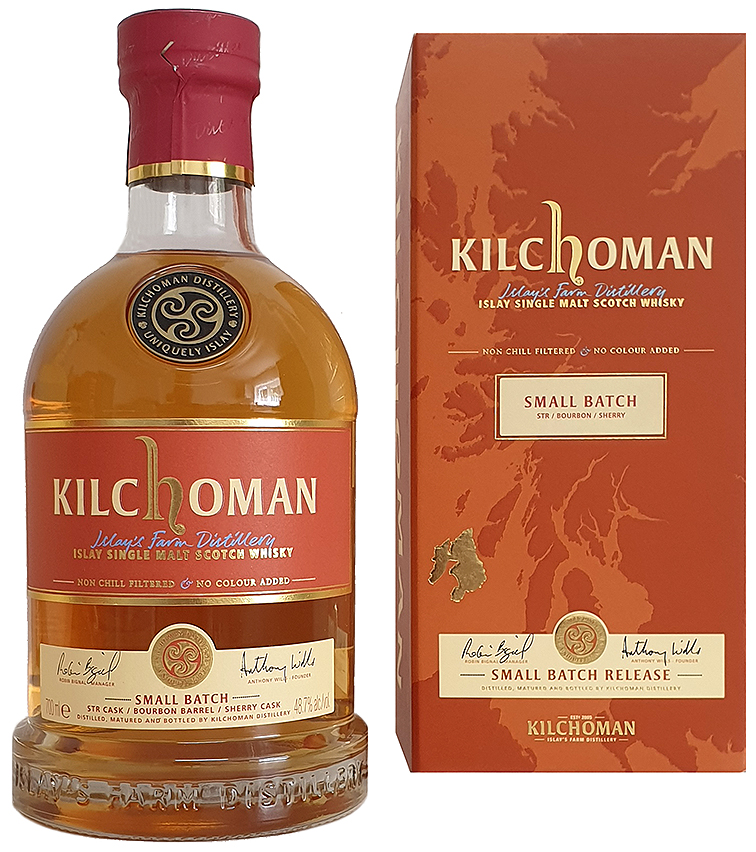 The basis of the whiskies in the series of Small Batch Releases for selected markets, which began in 2019, is an already finished Machir Bay vatting or Machir Bay Collaborative Vatting , i.e. a whisky with 46% alcohol strength, which was previously matured for approx. 5 years predominantly in bourbon barrels and 5-15% in oloroso sherry casks. This vatting is then married with an additional special cask.
While the individual releases of the meanwhile very successful series are usually bottled specifically for individual countries and sometimes even for individual national retailers, Kilchoman has now brought out a new bottling without special country labelling. It will be distributed in various "smaller markets" in order to give countries, where an own exclusive bottling is not profitable, access to a larger number of Kilchoman releases. A first partial edition has just been released in Denmark.
The additional cask is an STR cask (Shaved, Toasted & Re-charred ex-Red Wine Cask). The proportions of the individual casks in the vatting are given as 75 % bourbon, 5 % oloroso sherry and 20 % STR.
.
Cask types: 75 % Bourbon Barrels / 5 % Oloroso Sherry / 20 % STR
Age: NAS
Date Bottled: 20.03.2023
Strength: 48,7 % abv
Phenol level: 50 ppm
Number of bottles: 2.520
Bottle volume: 0,7 l
Bottle code: 20/03/23 23/16
Barcode: 5 060210 706906
Distribution: Smaller Markets (Denmark, Hungary …)
.