Pedro Ximénez Single Cask Finish 457/2013 [Online Shop Exclusive]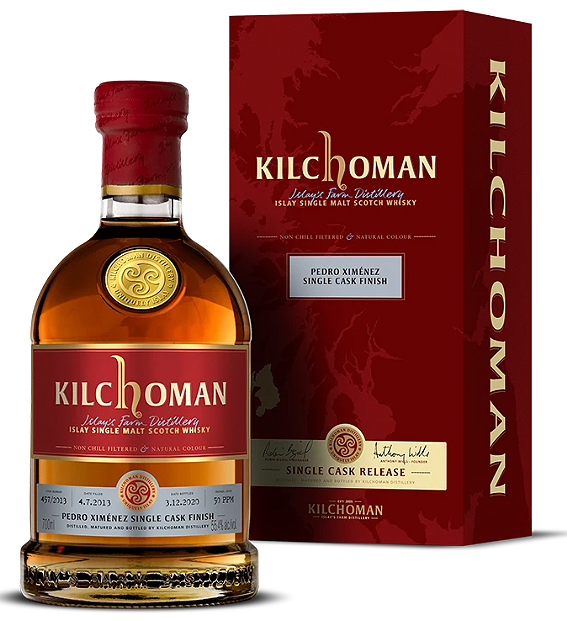 At the end of the year, Kilchoman has brought another new exclusive release into the Online Distillery Shop, for the first time even before the previous bottling is sold out.
The 6th edition of the online shop exclusive editions, introduced in times of the Corona pandemic, is a PX Finish Single Cask. Distilled on 4 July 2013, the whisky has been matured in a fresh bourbon barrel for over seven years before beeing finished in a Pedro Ximénez sherry hogshead for four months. The whisky was bottled on 3 December 2020 with 55.4% abv. The price of a bottle is again £74.58 (excluding VAT).
.
Unfortunately, similar to many other distilleries and UK online shops, Kilchoman distillery is not currently shipping to mainland Europe due to transport uncertainties associated with the approaching Brexit. We are therefore unable to provide our readers with taste notes for the time being and pursue the interesting question of the extent to which the unusually short PX finish has shaped the whisky in terms of taste.
Kilchoman hopes to resume shipments to the EU in January and we will then immediately provide our assessment of this whisky.
.
Cask No.: 457/2013
Cask type 1st Fill Ex-Bourbon Barrel, PX Sherry Finish
Distillation Date: 4.7.2013
Bottling Date: 3.12.2020
Age: 7 yo
Strength: 55,4% abv
Phenol level: 50 ppm
Bottle volume: 0,7 l
Distribution: Online Shop Exclusive