First Kilchoman Live Tasting in 2021 announced
Kilchoman today announced the first online tasting of 2021 with George & Peter Wills for 21 February from 7pm Islay time.
In addition to the two Core Range whiskies Machir Bay and Sanaig, the Tasting Pack this time includes two pre-release samples of 2021 that are likely to attract the most interest, Loch Gorm 2021 and Comraich Batch 4.
Here are the whiskies in detail:
.
Machir Bay. The two Kilchoman standard releases, Machir Bay and Sanaig, have been a frequent feature of online tastings over the past year, especially often as food pairing experiments – i.e. combining them with special foods, such as smoked venison sausage, seafood, cheese or chocolate. Two of the chocolate bars from Edinburgh chocolatier COCO that Kilchoman paired with its core range whiskies at the end of last year are now available to order from the online shop. For the Machir Bay, this is Atlantic Sea Salt & Lime Milk Chocolate.
Sanaig. The Kilchoman chocolate that goes well with the sherry-toned Sanaig whisky is called Haggis Spice Dark Chocolate.
Loch Gorm 2021. A vatting of 24 Oloroso Sherry butts filled in 2011 and 2012. The annual limited sherry cask release Loch Gorm traditionally kicks off the Kilchoman year. After last year's edition was described, not only by Anthony Wills himself, as the best Loch Gorm ever released and at the peak of maturity, one can be particularly excited about the 2021 edition, which is to be released in March!
Comraich Batch 4. The batch bottled Comraich releases can only be tasted in the bars of the same name and do not reach the trade. In the meantime, there is a worldwide network of whisky bars that are distinguished by an exceptional range of whiskies in general and Kilchoman whiskies in particular and have been granted Comraich bar status by Kilchoman. An overview can be found here.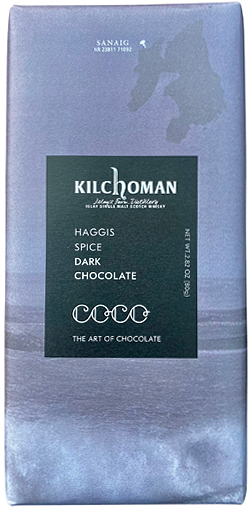 The Tastings Packs can be purchased for £16.66 + tax and shipping on the Kilchoman homepage. The chocolates cost £4.17 each.
It's a good thing that Kilchoman has lifted the shipping ban to the EU, which was imposed due to the Brexit uncertainties over the turn of the year 2020/21, a few days ago!
.