First Kilchoman Whisky released: "Kilchoman Inaugural Release"
Today we can report on a new milestone in the still young history of Kilchoman. On 9 September 2009 (9.9.9) Kilchoman released its first whisky, the "Kilchoman Inaugural Release".
The whisky was initially matured for between 2,5 to 3 years in fresh ex-bourbon barrels and was then finished for 5 months in Oloroso sherry butts to give the still very young whisky a little more complexity and depth. It is not coloured and non chill-filtered.
The casks were first married on Islay and the whisky reduced to 46% drinking strength, after which it was shipped to the Houston Bottling Company in Dumbarton, where bottling took place on 31 August 2009. The edition is 8,450 bottles.
From 10 September, it will be available in 14 countries worldwide (UK, Austria, Belgium, Canada, Denmark, Finland, France, Germany, Japan, New Zealand, Netherlands, Spain, Sweden and Switzerland).
.
To celebrate the release of the first Kilchoman whisky, Kilchoman founder Anthony Wills had invited to the "Inaugural Single Malt Launch Party" on 9 September, and numerous guests, including the managers of the other Islay distilleries, attended.
In the packed Malting Floor of the distillery, Anthony Wills gave a brief overview of the distillery's ups and downs so far in his opening speech. Afterwards, the well-known whisky author Charles MacLean, a supporter of Kilchoman from the beginning, gave a lecture in which he put forward the thesis that Scotch whisky distillation possibly began on Islay and possibly in the Parish of Kilchoman. Afterwards, the whisky expert and Kilchoman consultant Dr. James Swan led over to the tasting of the Inaugural Release by the guests present, piped in by bagpiper James MacEachern.
.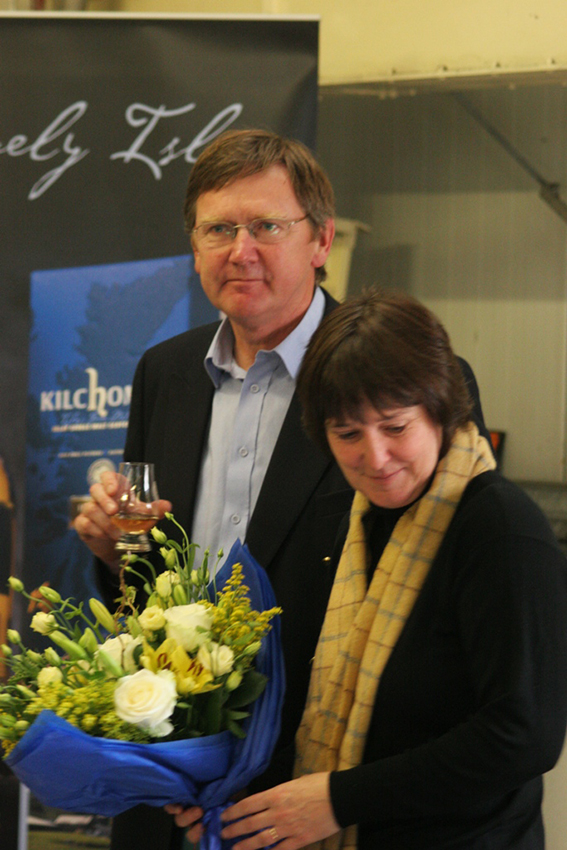 .