Kilchoman 10 yo Calvados Single Cask Finish for Whisky Brother 10th Anniversary
The award-winning South African whisky shop Whisky Brother in Johannesburg celebrates its 10th anniversary next month. To mark the occasion, it has now released an exclusive Kilchoman Single Cask bottling.
The bottling, which is 10 years old for obvious reasons, showcases, in Whisky Brother's words, "one of our favourite distilleries that has been part of our whisky journey over the years as a similarly young, passionate and proudly independent whisky company."
This is a Calvados Single Cask Finish, the whisky was first matured for more than 7 years in a fresh bourbon barrel and then finished in a Calvados cask for more than two years.
.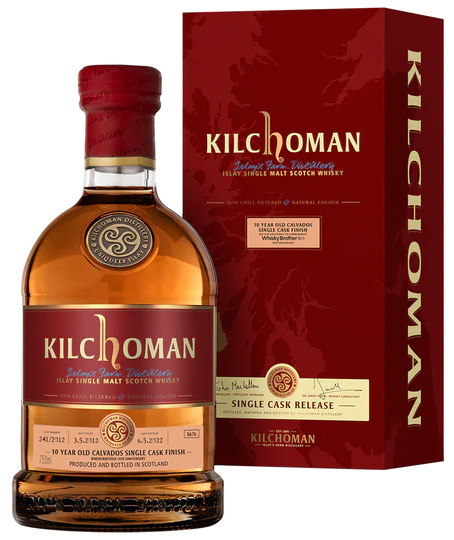 Cask No.: 241/2012
Cask type: 1st Fill Ex-Bourbon Barrel, Calvados Cask Finish
Date Filled: 3.5.2012
Date Bottled: 6.5.2022
Age: 10 yo
Strength: 54,0 % abv
Phenol level: 50 ppm
Number of bottles: 222
Bottle volume: 0,75 l
Market: South Africa