Kilchoman Christmas Live Tasting announced
Kilchoman announced today that, as in 2020, there will be a "Christmas Live Tasting" with Anthony and George Wills as the last online tasting of the year on Tuesday 28 December from 7pm Islay time.
The Tasting Pack contains the two Core Range whiskies Machir Bay and Sanaig and two pre-release samples, this time those of the Madeira Cask Matured Release and the Kilchoman Club Release 2021.
.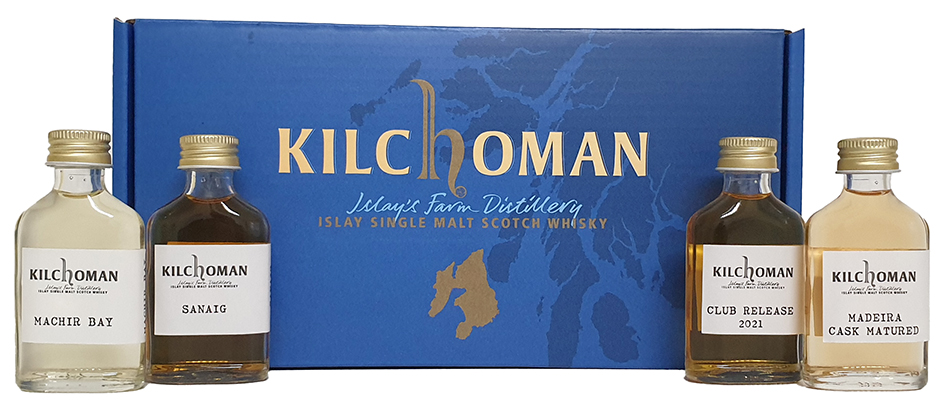 Here are the whiskies in detail:
Machir Bay – 46.0%. THE standard whisky from Kilchoman. A vatting of 3-5 year old Bourbon barrels (approx. 90%) and some Oloroso Sherry casks (approx. 10%).
Sanaig – 46,0%. The second General Release from Kilchoman is also a vatting of bourbon and sherry casks, but unlike the Machir Bay, it has a much higher proportion of sherry casks, which gives the whisky a completely different character. Here, about 70% Oloroso sherry casks are used, plus predominantly the smaller sherry hogsheads, in which the whisky matures much more quickly.
Kilchoman Club Release 2021, 10th Edition – 52,6%. This year's special bottling for Kilchoman Club members will be officially released on 8 December 2021. It is a vatting of three Oloroso sherry casks, nearly 13 years old.
Madeira Cask Matured – 50,0%. Originally planned as the 4th limited release of 2021, the edition had to be postponed until next year due to a shortage of bottles. It is now scheduled for release in spring 2022. It is a vatting of 46 fresh Madeira Hogsheads, which were filled in May 2015 and bottled after 5 years and 3 months of maturation with an alcohol content of 50% abv.
.
.
The tasting packs can again be purchased for £16.66 + tax and shipping on the Kilchoman homepage. Some Tasting Packs will also include a small Christmas gift – from a Kilchoman T-shirt to a bottle of the latest Distillery Only Single Cask release.
.