Kilchoman Club Release 6th Edition announced
Kilchoman today announced that the 6th Edition of the annual Club Release will be available exclusively to Club members from noon (GMT) on Wednesday 6 December at £99.00 per bottle. Due to the low number of 1,241 bottles, sales are limited to one bottle per person.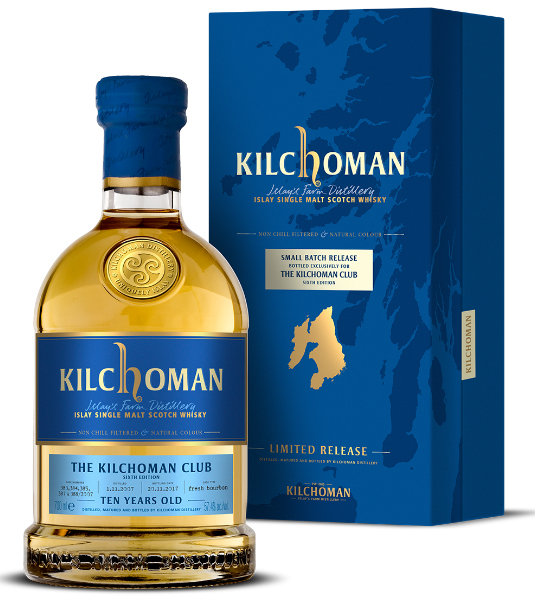 The 2017 Club Release is a vatting of five 10-year-old bourbon barrels at cask strength (57.4%), all distilled on 1 November 2007 and bottled on 20 November 2017.
The casks were individually selected by Kilchoman founder Anthony Wills and represent his vision of the perfect 10-year-old Kilchoman whisky:
"For me personally, Kilchoman is best when matured in fresh bourbon barrels, the lighter influence of the American oak makes for a more harmonious marriage between cask and spirit. This allows for Kilchoman's natural floral citrus character to develop and integrate with that of the bourbon oak flavours. These casks are like our crown jewels, we have few casks over ten years old so need to be very selective with when they are bottled. These being fresh barrels, are at their peak now, the balance is fantastic and they are some of the very best Kilchoman casks I've tasted."
.
Cask Nos.: 383-385, 387, 388/2007
Cask type: 1st Fill ex-Bourbon Barrels
Date Filled: 1.11.2007
Date Bottled: 20.11.2017
Age: 10 yo
Strength: 57,4 % abv
Phenol level: 50 ppm
Number of bottles: 1.241
Bottle volume: 0,7 l
Bottle code: KC 20/11/17
Distribution: Kilchoman Club Members only via Kilchoman website
.