Kilchoman Distillery officially opened
On 3 June 2005, the Kilchoman distillery (still under construction) was officially opened during the Islay Festival Fèis Ìle. The Kiln and Warehouse No. 1 are still under construction, but the Stillhouse and the Malting Floor – where the official opening took place – are finished. The Visitor Centre with a small café was also already open.
Visitors were free to look around the distillery and the very first Kilchoman tours took place. It was announced that the first spirit would be distilled on this day, but this schedule could not be kept due to some construction delays.
.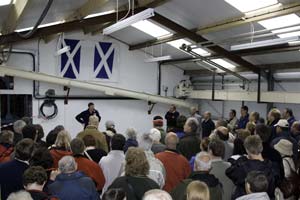 .