Kilchoman Loch Gorm 2016 announced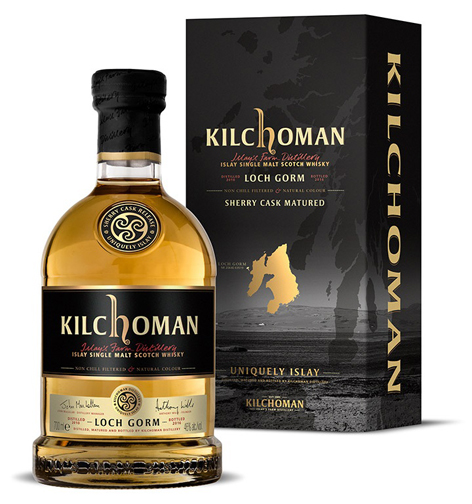 Kilchoman today announced the release of this year's Loch Gorm release. The fifth and oldest release to date of Kilchoman's annual limited edition of whisky matured exclusively in oloroso sherry casks, which has borne the name of the loch near the distillery since the 2nd release, will be available from the distillery shop for £65.40 from 10am Islay Time on Thursday 7 April 2016 and from retailers worldwide in the coming weeks.
17 First and Refill Oloroso casks, all more than 6 years old, have been married for this bottling. Unlike last year's 5-year-old edition, which contained a proportion of whisky matured in the smaller Oloroso Sherry Hogsheads alongside whisky matured in Oloroso Sherry Butts, this year's edition was exclusively matured in Sherry Butts. After 6 years, the maturation of the whisky is now probably so far advanced that earlier measures such as a hogshead finish or an additional hogshead portion to achieve a more distinct sherry note are no longer necessary.
Loch Gorm also received a newly designed packaging: it shows a view of the loch that gives it its name in the lower part.
Anthony Wills, Kilchoman Founder and Managing Director writes: "The whole range is developing year on year and it is exciting to release the next evolution of Loch Gorm. Maturation exclusively in oloroso sherry butts has given this release a beautiful balance of big, rich sherry flavours, smoke and softer fruits typical of Kilchoman."
.
Cask type: 17 First- und Refill Oloroso Sherry Butts
Date Filled: ?
Date Bottled: März / April 2016
Age: 6 yo
Strength: 46,0 % abv
Phenol level: 50 ppm
Number of bottles: 14.000
Bottle volume: 0,7 l / 0,75 l
Bottle codes:
LGM 30.03.16 16/15
LGM 31.03.16 16/15
LGM 01.04.16 16/15
LGM 04.04.16 16/15
LGM 07.04.16 16/15
LGM 08.04.16 16/15
LGM 11.04.16 16/15 (0,75 l)
LG 28.04.16 16/15
Barcodes:
5 060210 700935
8 92032 04418 9 (USA)
Distribution: worldwide
.