Kilchoman Loch Gorm 2016 angekündigt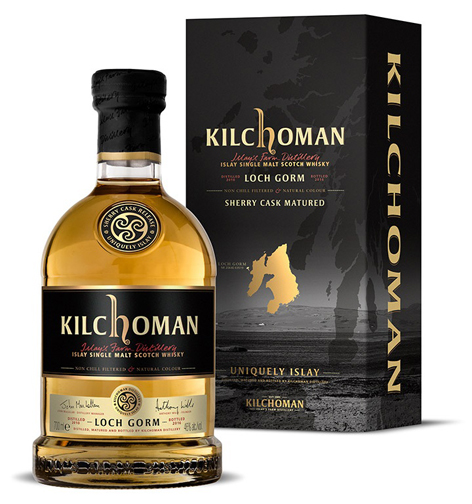 Kilchoman kündigte heute das Erscheinen der diesjährigen Loch Gorm-Release an. Die fünfte und bisher älteste Ausgabe der jährlichen limitierten Edition von ausschließlich in Oloroso Sherryfässern gereiftem Kilchoman-Whisky, die seit der 2. Ausgabe den Namen des nahe der Destillerie gelegenen Sees trägt, wird ab Donnerstag, dem 7. April 2016, 10.00 Uhr Islay Time, im Destillerie-Shop für £65.40 erhältlich sein und in den kommenden Wochen bei den Händlern weltweit.
17 First- und Refill-Oloroso-Fässer, alle mehr als 6 Jahre alt, wurden für diese Abfüllung verheiratet. Anders als bei der 5 Jahre alten vorjährigen Edition, die neben in Oloroso Sherry Butts gelagertem Whisky auch einen Anteil von in den kleineren Oloroso Sherry Hogsheads gereiftem Whisky enthielt, handelt es sich in diesem Jahr ausschließlich um Sherry Butts. Die Reifung des Whiskies ist nach 6 Jahren jetzt wohl so weit gediehen, dass frühere Maßnahmen wie ein Hogshead-Finish oder ein zusätzlicher Hogshead-Anteil zur Erzielung einer deutlicheren Sherrynote nicht mehr notwendig sind.
Loch Gorm erhielt zudem eine neu gestaltete Verpackung: diese zeigt im unteren Teil einen Blick auf den namensgebenden See.
Anthony Wills, Kilchoman Founder and Managing Director schrieb: "The whole range is developing year on year and it is exciting to release the next evolution of Loch Gorm. Maturation exclusively in oloroso sherry butts has given this release a beautiful balance of big, rich sherry flavours, smoke and softer fruits typical of Kilchoman."
.
Fassart: 17 First- und Refill Oloroso Sherry Butts
Fässer befüllt: ?
Flaschenabfüllung: März / April 2016
Alter: 6 Jahre
Alkoholstärke: 46,0 %
Phenolgehalt: 50 ppm
Flaschenanzahl: 14.000
Flaschengröße: 0,7 l / 0,75 l
Bottle codes:
LGM 30.03.16 16/15
LGM 31.03.16 16/15
LGM 01.04.16 16/15
LGM 04.04.16 16/15
LGM 07.04.16 16/15
LGM 08.04.16 16/15
LGM 11.04.16 16/15 (0,75 l)
LG 28.04.16 16/15
Barcodes:
5 060210 700935
8 92032 04418 9 (USA)
Vertrieb: weltweit
.