Kilchoman Madeira Single Cask [Finish] 79/2012 (Uniquely Islay Series – An Samhradh 2021 #2/9)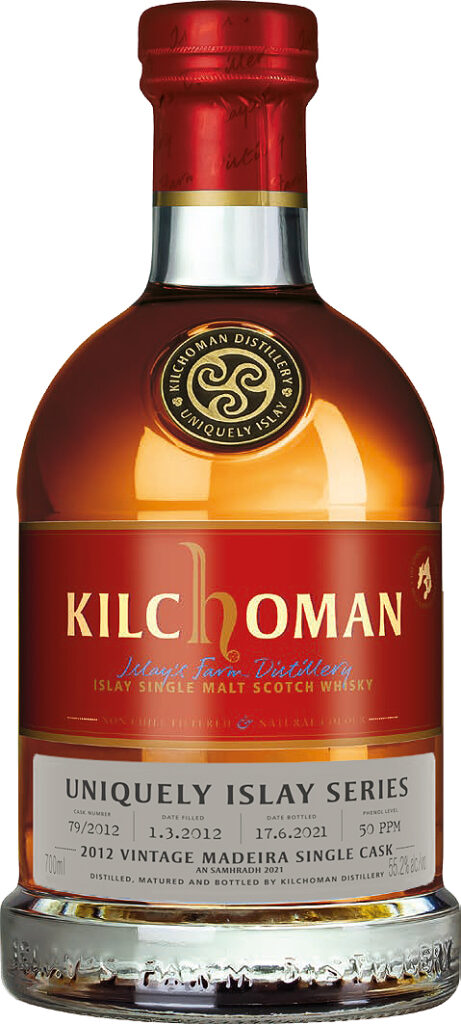 Cask No.: 79/2012
Cask type: 1st Fill Bourbon Barrel, Madeira Cask Finish
Distillation Date: 1.3.2012
Bottling Date: 17.6.2021
Age: 9 yo
Strength: 55,2 % abv
Phenol level: 50 ppm
Number of bottles: 247
Bottle volume: 0,7 l
Market: Germany
.
In late summer 2021, the German Kilchoman importer Hanseatische Weinhandelsgesellschaft Bremen released An Samhradh 2021, the third Uniquely Islay Series with nine different bottlings.
This is number 2 of this series. The whisky has been matured in a fresh bourbon barrel for over 7 years before being finished in a fresh Madeira Hogshead for 24 month.
.
Tasting Notes
Archer:
Nose
A lovely nose of sultanas, dried dates and figs, black cherries and red grapes, wrapped in a very well balanced smoky note. Well-aged oak planks, dry leaves, very slight mustiness from the barrel that adds just the right amount of spice to the nose. A blend of herbs and spices, nougat, marzipan bread. 90
Taste
Fortunately, it continues to be just as exciting and inviting on the tongue. The dried fruits, the cherries, the grapes, everything on the tongue. Add blackberries and blueberries, but without making it look like a fruit, because tasty peat smoke, pepper and grated nutmeg counteract this. 90
Finish
Medium to long, only slightly dry. Smoked fruits, Black Forest ham, salt and pepper, seaweed. One really wishes that the end of the finish would not come so quickly. 90
Very, very tasty. Once again the proof that Kilchoman and Madeira Casks go very well together.
90/100 points