New Port Quarter Cask Finish Releases for The Netherlands
Two new Ruby Port Quarter Cask Finish bottlings have been released in the Netherlands in the last few days, and a third has been announced.
Port finishings in small quarter casks, one of the Kilchoman novelties of 2020, are still quite rare to find. First launched in the 2nd half of 2020, only a dozen of these bottlings have appeared worldwide to date. Due to the small number of bottles per release (around 140), these bottlings are always sold out very quickly.
All these releases are initially stored in a bourbon barrel for about 7 years, the contents of which are then decanted into 2 Ruby Port Quarter Casks and matured in these for several months.
The liquor shop Vonk in Zaandam released the bottling of Port Quarter Cask 488B/2013, i.e. the 2nd half of Bourbon Barrel 488/2013. The sister barrel 491B/2013 was bottled for The Whisky Trinity – a series of exclusive whisky bottlings by the three Dutch retailers Verhaar, Van der Hejden and Woudenberg.
Both whiskies were distilled on 11/7/2013 and, after 7 years of bourbon cask maturation, finished for 7 months in Ruby Port Quarter Casks and bottled on 20/7/2021.
As you can see from the cask numbers, Kilchoman has changed the labelling system of the Quarter Casks. Previously, a "0" was appended to the original bourbon barrel number for the first quarter cask and a "1" for the second. So under the old system, we would be talking about casks 4881/2013 and 4911/2013. The new system of appending an "A" or a "B" is certainly the clearer one.
.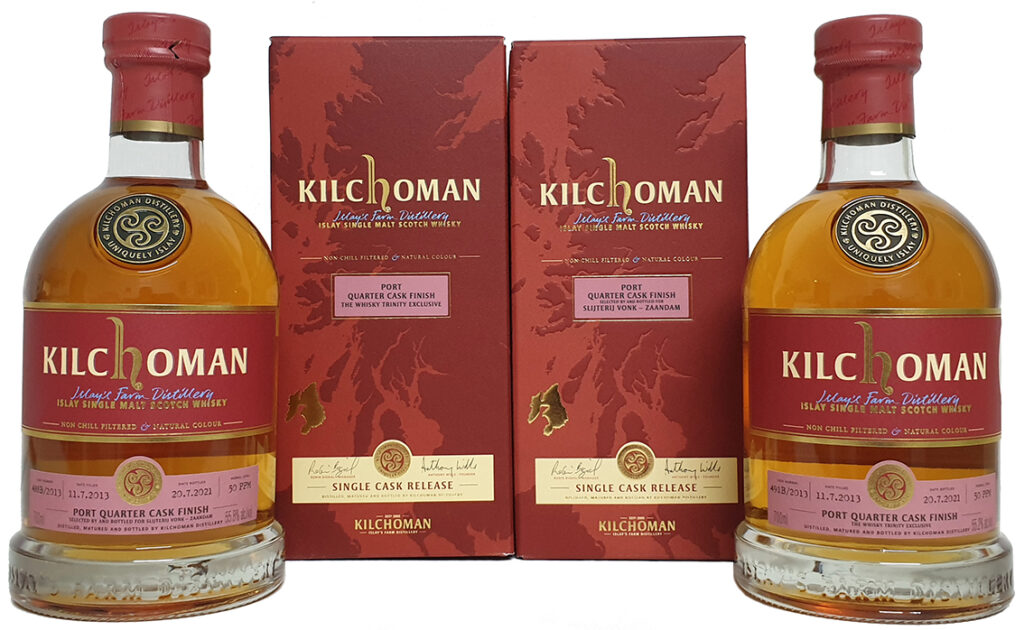 .
A third Ruby Port Quarter Cask Finish bottling (Cask No. 632A/2013) has been announced by whisky merchant Dramtime.nl and should be released in the next few days.
Update: on 30.10.2021 from 2.00pm GMT you can buy the Dramtime release in the online shop for €99.95 + shipping.
.
Kilchoman Ruby Port Quarter Cask Finish Releases to date: