New in the Distillery Shop: Ruby Port Single Quarter Cask Finish 2491/2012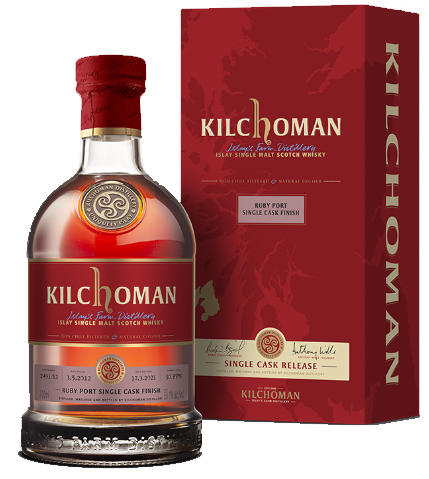 It has become almost a nice tradition that Kilchoman offers some of the single casks, which were tasted at the online tastings held regularly since the Corona restrictions, afterwards as a bottling in the online store of the distillery for sale. With the Ruby Port Quarter Cask Finish tasted at the last online tasting with George and James Wills on April 8, 2021, the distillery is now continuing this series.
Finishings in small Portwine quarter casks, one of the Kilchoman novelties of 2020, are still quite rare to find. First brought to market in the 2nd half of 2020, only ten of these bottlings have appeared worldwide to date. Due to the cask-related small number of bottles of about 140 bottles per release, these bottlings are also always sold out very quickly.
All of these releases are initially matured in a bourbon barrel for about 7 years, the contents of which are then decanted into 2 Ruby Port Quarter Casks and finished in them for several months.
The edition presented here is the bottling of the Quarter Casks 2491/2012, i.e. the 2nd half of the Bourbon Barrel 249/2012, in which the whisky distilled on 3.5.2012 has been matured for just under 8 years, before being finished in a Ruby Port Quarter Cask for a year and bottled on 17.3.2021 with 55.1% (143 bottles).
.
Kilchoman Ruby Port Quarter Cask Finish Releases to date: