Loch Gorm 2021 announced
As usual, the series of annual limited releases will be opened again this year with Loch Gorm, the Kilchoman whisky matured exclusively in oloroso sherry casks.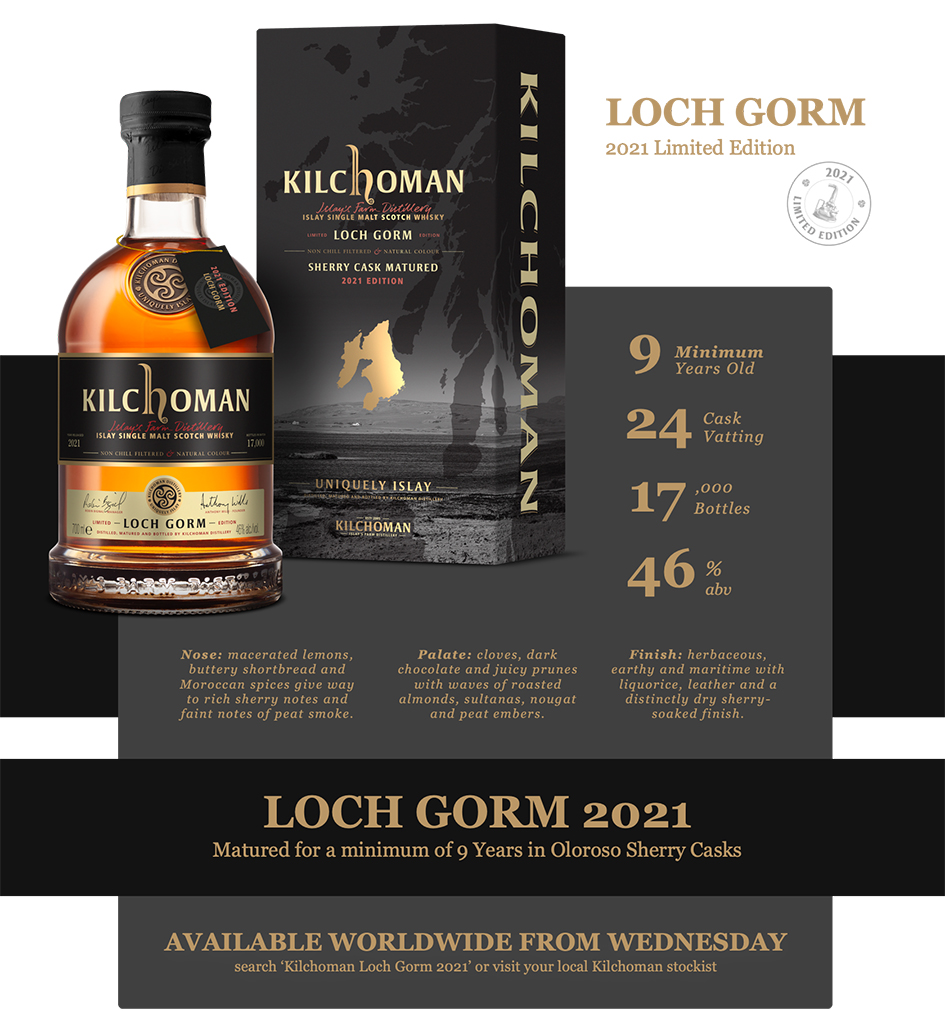 At the Kilchoman online tasting on 18 February, the whisky could already be tasted in advance and interesting information about this year's edition could be learned.
The 2021 edition is a vatting of 24 Oloroso Sherry Butts filled in 2011 and 2012. As always with Kilchoman, these 500 litre sherry butts come from Bodega Miguel Martin and were filled with spirit that has a phenolic content of 50 ppm. Once these casks had been matured for a minimum of 9 years, they were then vatted together and bottled at 46% abv, resulting in 17,000 bottles.
The annual Loch Gorm editions differ slightly from year to year in the composition of the casks used. With two exceptions in the early days of the series where hogsheads were also used, they are always Oloroso sherry butts, but of different ages and different numbers of first fill and refill casks. For this year's edition, fresh sherry casks were again selected for the most part, four of the sherry butts are refill casks, while in the 2020 edition there were only one or two refill casks, but the age of 9 years is quite a bit less than in last year's edition, where casks from 2007, 2008 and 2009 were also used and made the whisky one of the best and most complex Loch Gorm bottlings, not only in Anthony Wills' eyes. The comparison to this year's edition should be very interesting again.
After the 15,000 and 15,500 bottles of the last few years, the circulation was increased slightly this year to meet the growing demand.
The release is expected to be available at retailers worldwide from this week, a limited number of bottles will also be sold in the Kilchoman online shop from Wednesday 31 March 2pm UK time for £69.90 (limited to one bottle per person).
"Although we have always filled the bulk of our spirit into ex-bourbon barrels, the Loch Gorm releases have shown how well our peated Islay spirit can combine with sherry casks, something that's not always an easy task."
"Rich bold flavours with a breadth, depth and balance of character that sets it apart, the 2021 edition is packed with juicy fruit, macerated lemon and sweet chargrilled BBQ smoke" Anthony Wills, Kilchoman Founder and Master Distiller.