Kilchoman Loch Gorm 2021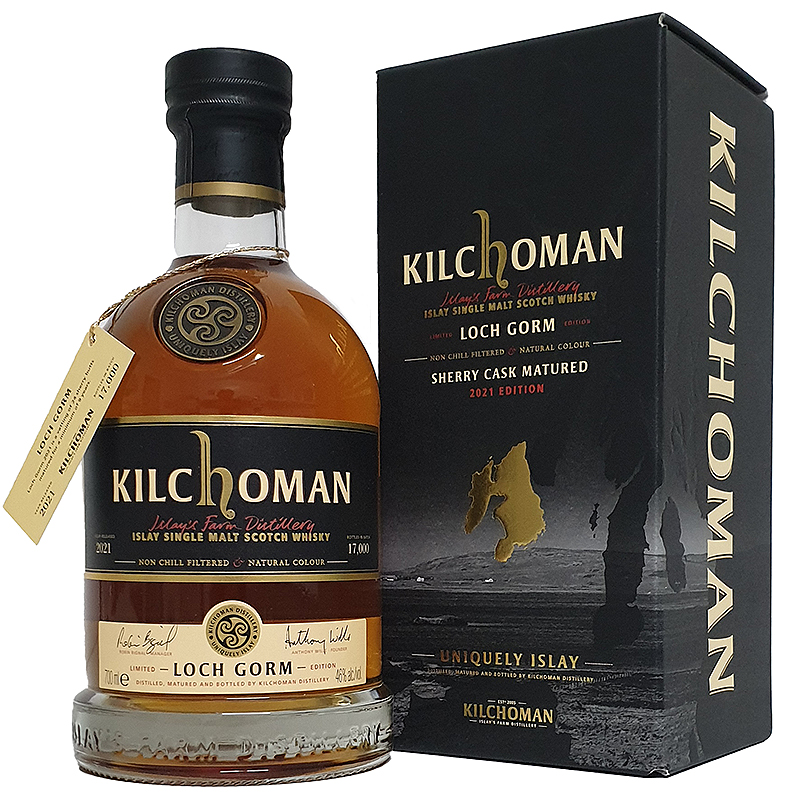 Cask type: 24 Oloroso Sherry Butts
Vintage: 2011, 2012
Bottled: 03/2021
Strength: 46,0 % abv
Phenol level: 50 ppm
Number of bottles: 17.000
Bottle volume: 0,02 l / 0,7 l / 0,75 l
Bottle code: LG 15.03.21 21/03
Distribution: worldwide
.
The 2021 edition of the annual Oloroso Sherry Cask release "Loch Gorm", could be ordered for the first time on 31 March 2021 via the Kilchoman homepage. A sample of this edition was also part of the online live tasting with Anthony and James Wills on 18 February 2021.
The 2021 edition is a vatting of 24 Oloroso Sherry Butts filled in 2011 and 2012. As always with Kilchoman, these 500 litre sherry butts come from Bodega Miguel Martin and were filled with spirit that has a phenolic content of 50 ppm. Once these casks had been matured for a minimum of 9 years, they were then vatted together and bottled at 46% abv, resulting in 17,000 bottles.
For the 2021 release, fresh sherry casks were again selected for the most part, four of the sherry butts are refill casks, while in the 2020 edition there were only one or two refill casks, but the age of 9 years is quite a bit less than in last year's edition, where casks from 2007, 2008 and 2009 were also used and made the whisky one of the best and most complex Loch Gorm bottlings, not only in Anthony Wills' eyes.
After the 15,000 and 15,500 bottles of the last years, this year's edition was slightly increased to meet the growing demand.
.