Kilchoman Pinot Noir Cask Finish for DrankDozijn
Anthony Wills had emphasised several times in the recent past that Kilchoman would like to focus more on "provenance" in the future when it comes to the wine casks used for whisky maturation. I.e. instead of using "anonymous" Sauternes or red wine casks, to indicate the exact origin, grape variety and producer. However, he also stressed that it is not easy to establish corresponding close contacts with different wineries instead of buying the casks from a cooperage as before.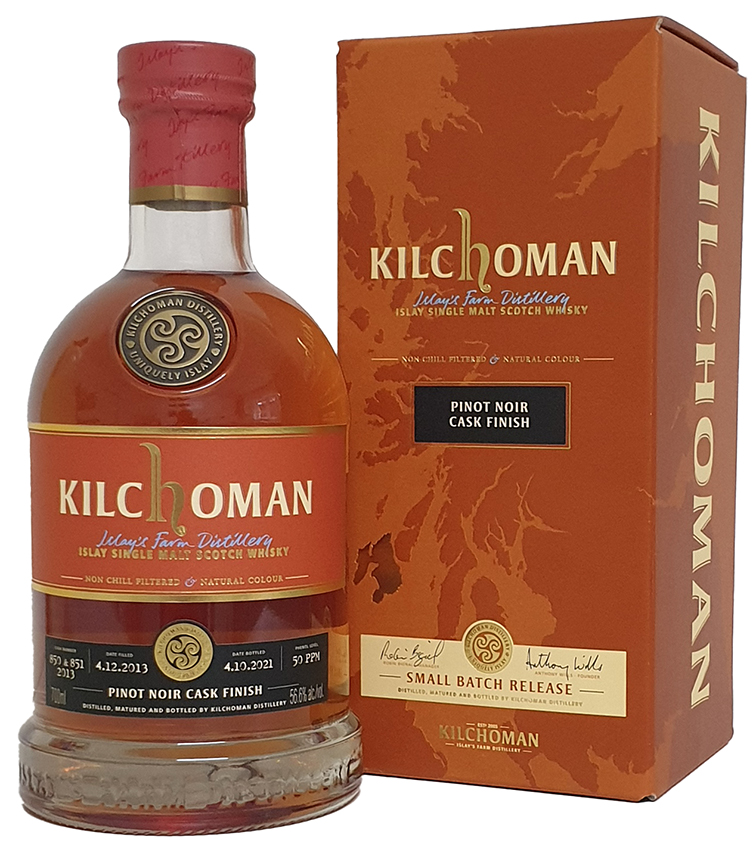 We Kilchoman friends can now taste the first result of these efforts. The Dutch spirits online retailer DrankDozijn (D12) released a Pinot Noir Cask Finish Small Batch on yesterday's "Black Friday".
It is a vatting of two casks, fresh bourbon barrels, in which the whisky was matured for more than seven years before it was finished for six months in Pinot Noir casks from the Palatinate wine house Franz Hahn. The casks yielded 497 bottles, bottled at cask strength of 56.6% abv.
During Black Friday, the bottles – limited to one per customer – could be purchased for €77.95. The remaining bottles are currently still available for €99.95.
.
Cask Numbers: 850 & 851/2013
Cask type: 1st Fill Ex-Bourbon Barrels, Pinot Noir Cask Finish
Distillation Date: 4.12.2013
Bottling Date: 4.10.2021
Age: 7 yo
Strength: 56,6 % abv
Phenol level: 50 ppm
Number of bottles: 497
Bottle volume: 0,7 l
Market: The Netherlands
.