Kilchoman Sauternes Cask Matured Release announced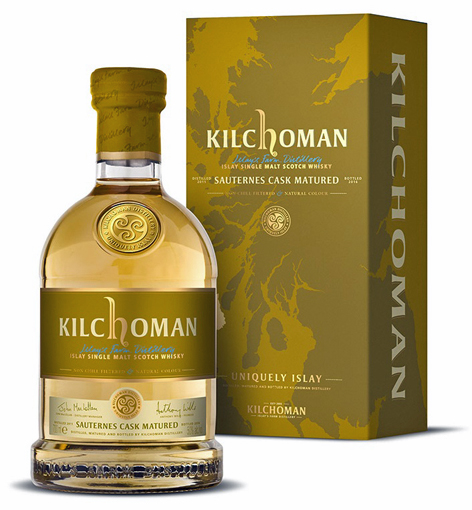 Kilchoman now announced the release of their first "Sauternes Cask Matured Release". It will be available at retailers worldwide in the coming week.
After a "Port Cask" and a "Madeira Cask Release" in the last two years, the "Sauternes Cask Matured Release" continues the series of annual wine cask maturations.
Distilled at the end of 2010 / beginning of 2011, the whisky was matured for over 5 years in French Sauternes casks. 6,000 bottles with an alcohol content of 50% were bottled. As with the "Port Cask" and "Madeira Cask Release", this is also a full maturation and not a Sauternes Cask finish.
Anthony Wills, Kilchoman founder and Managing Director writes: »Although only making up a small part of our range, full term wine cask maturation in Port, Madeira and now Sauternes has produced fantastic results. The combination of peat smoke, fragrant Kilchoman spirit and full maturation in fresh Sauternes casks makes for a truly unique single malt.«
Robin Bignall, Kilchoman Production Manager commented: "Having spent its full maturation period in fresh Sauternes casks the whisky has inevitably taken on the textured white age influence associated with Sauternes casks however it remains balanced with an intriguing mix of maritime peat smoke, sweetness and citrus vibrancy."
A limited number of bottles will be available from 7 September, 10am Islay Time, on the Kilchoman website for £73.50 per bottle.
.
Cask type: Sauternes Casks
Date Filled: 11/2010 – 01/2011
Date Bottled: September 2016
Age: 5 yo
Strength: 50,0 % abv
Phenol level: 50 ppm
Number of bottles: 6.000
Bottle volume: 0,7 l / 0,75 l
Bottle codes:
SAU 31.08.16 16/62
SAU 01.09.16 16/62
SAU 02.09.16 16/62
SAU 06.09.16 16/62
SAU 09.09.16 16/62 (0,75 l)
SAU 15.09.16 16/62
SAU 19.09.16 16/62
SAU 04.11.16 16/62
Barcodes:
5 060210 701055
8 92032 044288 (USA)
Distribution: worldwide
.