Kilchoman Original Cask Strength – Quarter Cask Release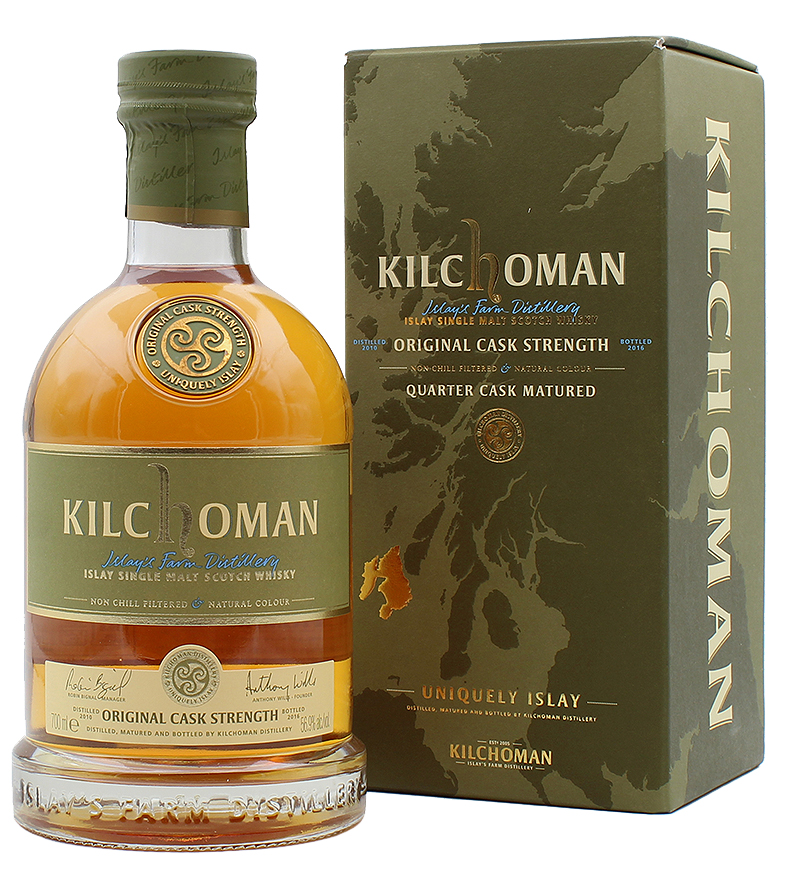 Cask type: Bourbon Quarter Casks
Vintage: 10/2010
Bottled: 09/2016
Age: 5 yo
Strength: 56,9 % abv
Phenol level: 50 ppm
Number of bottles: 12.000
Bottle volume: 0,7 l / 0,75 l
Bottle code:
OCS 19.09.16 16/79
OCS 20.09.16 16/79
OCS 23.09.16 16/79
OCS 13.04.17 16/79
Barcode: 5 060210 700591
Distribution: worldwide
.
On September 26, 2016, following the "Original Cask Strength Release" of 2014, Kilchoman presented a very special cask maturation with the 2nd edition of the series: a "Quarter Cask Release". Quarter Casks, as the name suggests, are only a quarter of the size of a 500-litre cask. The significantly larger surface area of the cask compared to its volume results in more intensive contact with the wood of the maturing distillate. For this reason some distilleries like to use Quarter Casks for finishing.
In October 2010, Kilchoman filled 132 quarter casks that had been specially made from bourbon cask staves by a cooperage. This was, so to speak, the distillery's first maturation experiment, after exclusively using "normal" bourbon casks (barrels and hogsheads) and Oloroso sherry casks (butts and hogsheads) in the early years. For the "Original Cask Strength – Quarter Cask Matured Release", 95 of these casks were filled. This resulted in a yield of 12,000 bottles. The age of the whisky is indicated on the packaging as over 6 years old, but since the casks were filled in early October 2010 and emptied in September 2016, the whisky is actually almost 6 years old.
Anthony Wills wrote about this release: »The Original Cask Strength releases allow us to show off Kilchoman at its natural powerful best. By bottling at cask strength, without chill filtering or colouring, the natural full bodied texture and character of the single malt shines through on both the nose and the pallet.«
.