Kilchoman Original Cask Strength – Quarter Cask Release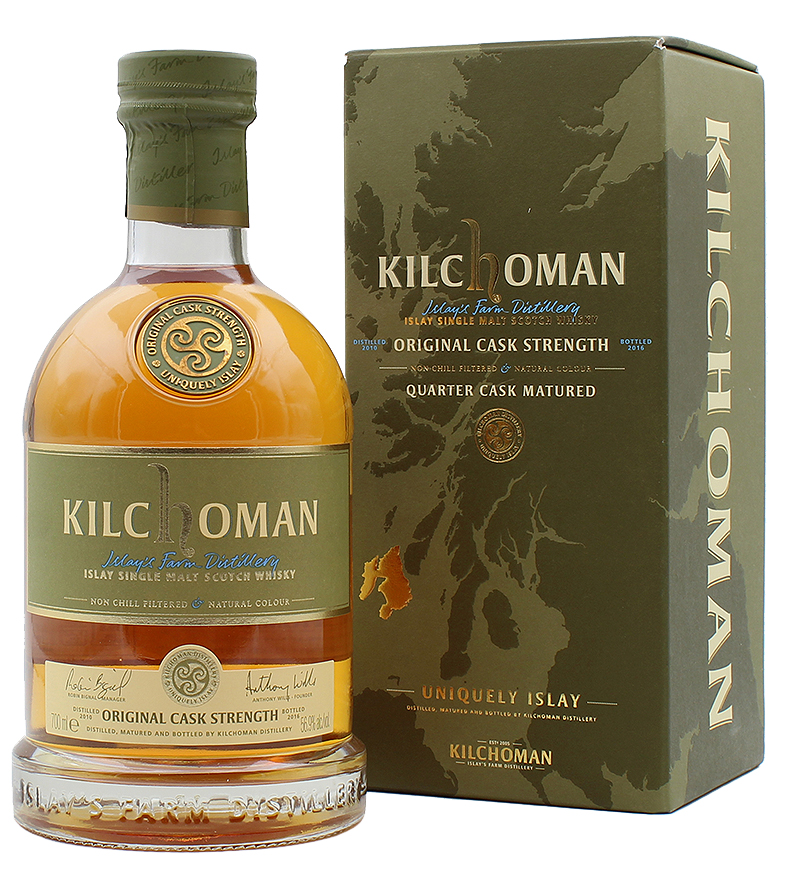 Fassart: Bourbon Quarter Casks
Fässer befüllt: 10/2010
Flaschenabfüllung: 09/2016
Alter: 5 Jahre
Alkoholstärke: 56,9 %
Phenolgehalt: 50 ppm
Flaschenanzahl: 12.000
Flaschengröße: 0,7 l / 0,75 l
Bottle Codes:
OCS 19.09.16 16/79
OCS 20.09.16 16/79
OCS 23.09.16 16/79
OCS 13.04.17 16/79
Barcode: 5 060210 700591
Vertrieb: weltweit
.
Am 26. September 2016 präsentierte Kilchoman nach der »Original Cask Strength Release« des Jahres 2014 mit der 2. Ausgabe der Serie eine ganz besondere Fassreifung: eine »Quarter Cask Matured Release«. Quarter Casks weisen wie der Name schon sagt nur die Größe von knapp einem Viertel eines 500 Liter-Fasses auf, die im Vergleich zum Volumen deutlich größere Oberfläche des Fasses führt zu einem intensiveren Holzkontakt des reifenden Destillates. Aus diesem Grund werden Quarter Casks von einigen Destillerien gern zur Nachreifung eingesetzt.
Im Oktober 2010 hatte man bei Kilchoman 132 Quarter Casks, die speziell von einer Küferei aus Bourbonfassdauben angefertigt worden waren, befüllt. Dies war sozusagen das erste Reifungsexperiment der Destillerie, nachdem in den Anfangsjahren ausschließlich "normale" Bourbonfässer (Barrels und Hogsheads) und Oloroso Sherryfässer (Butts und Hogsheads) eingesetzt worden waren. Für die vorliegende »Original Cask Strength – Quarter Cask Matured Release« wurden 95 dieser Fässer abgefüllt. Dies ergab eine Ausbeute von 12.000 Flaschen. Das Alter des Whiskies wird auf der Verpackung mit über 6 Jahren angegeben, da die Fässer aber Anfang Oktober 2010 befüllt und im September 2016 geleert wurden, ist der Whisky in Wahrheit knapp 6 Jahre alt.
Anthony Wills schrieb zum Erscheinen dieser Ausgabe: »The Original Cask Strength releases allow us to show off Kilchoman at its natural powerful best. By bottling at cask strength, without chill filtering or colouring, the natural full bodied texture and character of the single malt shines through on both the nose and the pallet.«
.