Kilchoman Sauternes Cask Matured Release angekündigt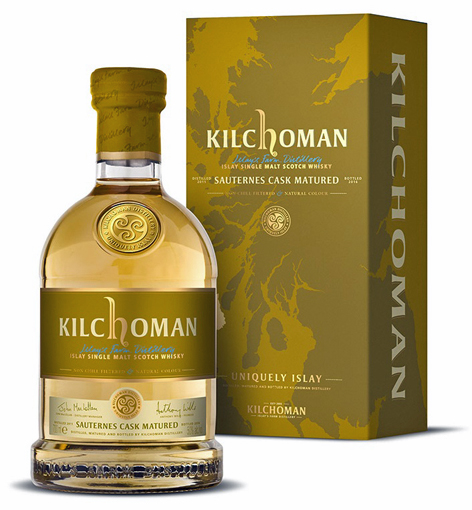 Kilchoman kündigte jetzt das Erscheinen ihrer ersten »Sauternes Cask Matured Release«. Sie soll aber der kommenden Woche bei den Händler weltweit verfügbar sein.
Nach einer »Port Cask«- und einer »Madeira Cask Release« in den beiden letzten Jahren setzt die »Sauternes Cask Matured Release« die Reihe der jährlichen Weinfass-Reifungen fort.
Destilliert Ende 2010 / Anfang 2011 lagerte der Whisky für über 5 Jahre in französischen Sauternes-Fässern. Abgefüllt wurden 6.000 Flaschen mit einem Alkoholgehalt von 50%. Wie schon bei der »Port Cask«- und »Madeira Cask Release« handelt es sich auch hier um eine Vollreifung und nicht um ein Sauternes Cask-Finish.
Anthony Wills schreibt dazu: »Although only making up a small part of our range, full term wine cask maturation in Port, Madeira and now Sauternes has produced fantastic results. The combination of peat smoke, fragrant Kilchoman spirit and full maturation in fresh Sauternes casks makes for a truly unique single malt.«
Robin Bignall, Kilchoman Production Manager äußerte: "Having spent its full maturation period in fresh Sauternes casks the whisky has inevitably taken on the textured white age influence associated with Sauternes casks however it remains balanced with an intriguing mix of maritime peat smoke, sweetness and citrus vibrancy."
Eine limitierte Anzahl von Flaschen wird ab dem 7. September, 10.00 Uhr Islay Time, auf der Kilchoman Website für £73.50 pro Flasche verfügbar sein.
.
Fassart: Sauternes Casks
Fässer befüllt: 11/2010 – 01/2011
Flaschenabfüllung: September 2016
Alter: 5 Jahre
Alkoholstärke: 50,0 %
Phenolgehalt: 50 ppm
Flaschenanzahl: 6.000
Flaschengröße: 0,7 l / 0,75 l
Bottle Codes:
SAU 31.08.16 16/62
SAU 01.09.16 16/62
SAU 02.09.16 16/62
SAU 06.09.16 16/62
SAU 09.09.16 16/62 (0,75 l)
SAU 15.09.16 16/62
SAU 19.09.16 16/62
SAU 04.11.16 16/62
Barcodes:
5 060210 701055
8 92032 044288 (USA)
Vertrieb: weltweit
.