Kilchoman Vintage 2009 released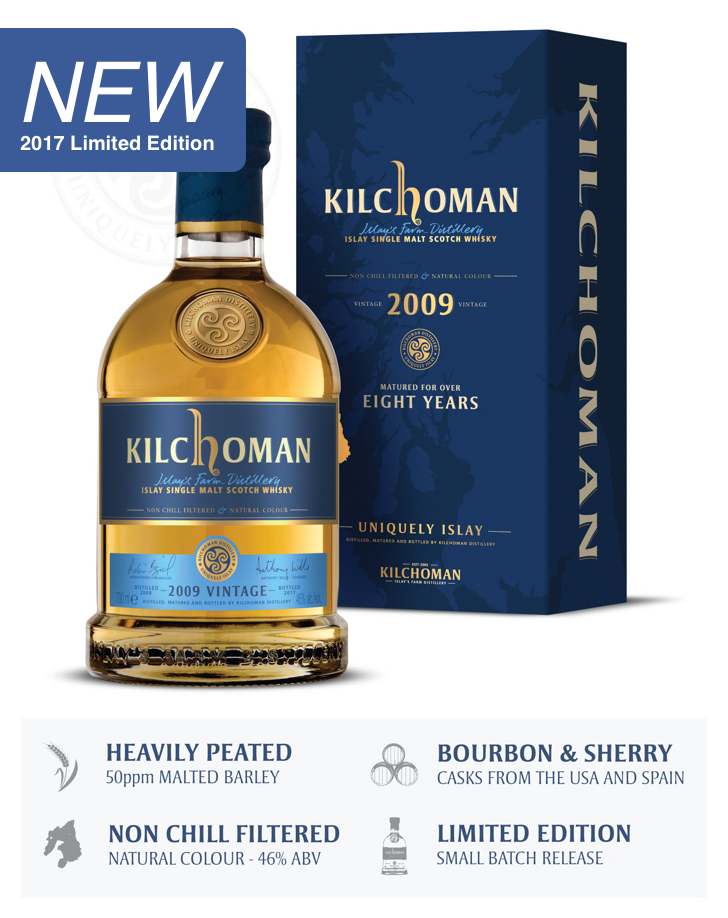 Today, 4th September, marks the official launch of the Vintage 2009 release. The 4th edition of the biennial series sets another new age record, it is the first 8 year old globally available release of a Kilchoman whisky.
This year, it comes up with an innovation: while the first three editions were matured exclusively in bourbon barrels, this time Anthony Wills also vatted three oloroso sherry butts from 2008 (!) in addition to fresh and refill bourbon barrels from 2009 "to add additional layers of rich cooked fruits to balance with the lighter citrus and vanilla of the bourbon barrels" as the announcement says.
Anthony Wills wrote about this release: "The evolution of Kilchoman single malt is well represented through our Vintage range. Now at eight years of maturation, the balance and depth of character coming through on both the nose and the palate is incredible. The oloroso sherry influence in the 2009 Vintage compared to the previous releases has given this whisky a different dimension with layered fruit and added sweet notes."
.
Cask type: Fresh und Refill Bourbon Barrels, Oloroso Sherry Butts
Vintage: 2008 / 2009
Bottled: 08/2017
Age: 8 yo
Strength: 46,0 % abv
Phenol level: 50 ppm
Bottle size: 0,7 l / 0,75 l
Number of bottles: unknown
Bottle code: VIN 31.08.17 17/80
Barcode: 5 060210 700751
Distribution: worldwide
.