Kilchomania has tasted: Fèis Ìle 2023 Release
1 June 2023 was Kilchoman Open Day at this year's Islay Festival Fèis Ìle. In beautiful weather, the numerous visitors were once again able to enjoy a variety of programme items, live music, food and drink. And, of course, queued up for the always coveted Fèis Ìle special bottling.
For this year's edition, Kilchoman founder Anthony Wills had selected and married three 100% Islay casks: two ten-year-old bourbon barrels and an eleven-year-old oloroso sherry butt. The whisky was distilled in 2012 and 2013 from Publican barley grown in Kilchoman's own fields in 2011 and 2012.
At the traditional Fèis Ìle online tasting with Anthony and Peter Wills, for which Kilchoman had sent out tasting packs to all interested parties in advance, Kilchoman friends worldwide were also able to taste the whisky.
.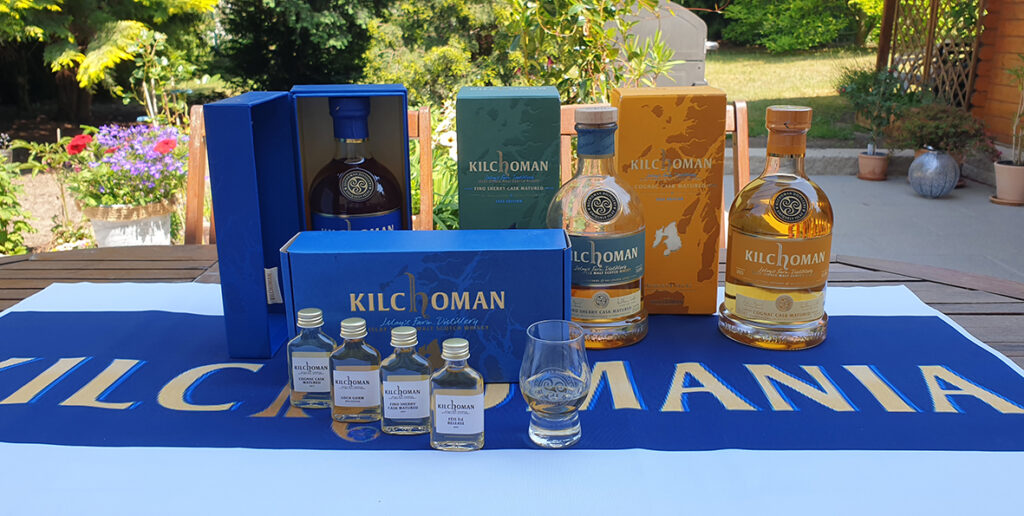 .
Here are our tasting notes:
Nose: The peat smoke is rather subtle and perfectly integrated, more bacony and warming, not as ashy as usual. No "campfire on the beach" as a frequent paraphrase of the Kilchoman peat smoke note is, but to quote Anthony Wills at the Fèis Ìle Online Tasting rather "barbecue on the beach". From the nose, it initially comes across as rather grassy, citrusy and fresh, which is somewhat surprising considering the sherry cask content of over 50%. White strawberries, pineapple and papaya are the dominant fruit notes, along with candied lemon peel, sweet vanilla, caramel, a good pinch of old oak, but without being too intrusive (just a hint of spice and bitterness). Great barley notes mix with the very own smoke, the cask blend was really successful! Deep, ripe and full of character. 90 points
Taste: a wonderful mix of fruits: pineapple, papaya, but also hints of the well-known Kilchoman citrus notes, the whole thing reminds of fruit chewing gums. After standing for a while, the influence of the sherry cask becomes more noticeable: dark berry fruits, a little coffee, subtle spicy oak tones complement the great mix of flavours. Seems older than 10 years. 91 points
Finish: medium long but full and very satisfying, first the malty sweetness and barbecue smoke, then comes a whole basket of fruit, with the sherry cask now dominating here and the red berry fruits together with a nice vanilla and tart woodiness are most evident. Just unbelievably delicious – that's how we love Kilchoman! 90 points