Kilchoman 100% Islay [unpeated] Bourbon Matured Single Cask 304/2011 for Whisk-e Ltd, Japan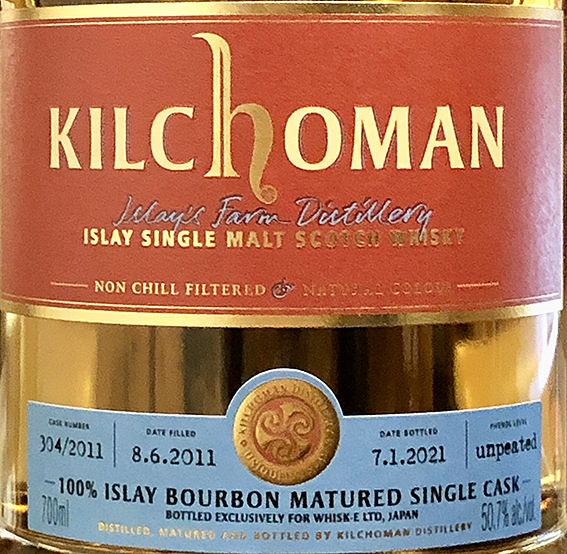 Cask No.: 304/2011
Cask type: Ex-Bourbon Barrel
Distillation Date: 8.6.2011
Bottling Date: 7.1.2021
Age: 9 yo
Strength: 50,7 % abv
Phenol level: n.a.
Bottle volume: 0,7 l
Market: Japan
.
With this single cask release for the Japanese importer Whisk-e Ltd, which was released in spring 2021, Japanese whisky lovers were now able to taste a Kilchoman made from unpeated barley for the first time.
As we explained several times before with the other "unpeated" Kilchoman whiskies, the whisky nevertheless has a slight peat smoke note, because the receivers were not emptied and the pipes not flushed between the distilling processes with peated malt. Only the newly built stillhouse will make a clean separation of the processes possible in the future.
Kilchoman therefore usually uses the term "unpeated" in quotation marks for these bottlings; in the USA, earlier releases were known as "sligthly peated".
The whisky was matured for over 9 years in an ex-bourbon barrel.
.