Kilchoman 13 yo Single Cask 38/2007 for House of Malt & The Chase Collection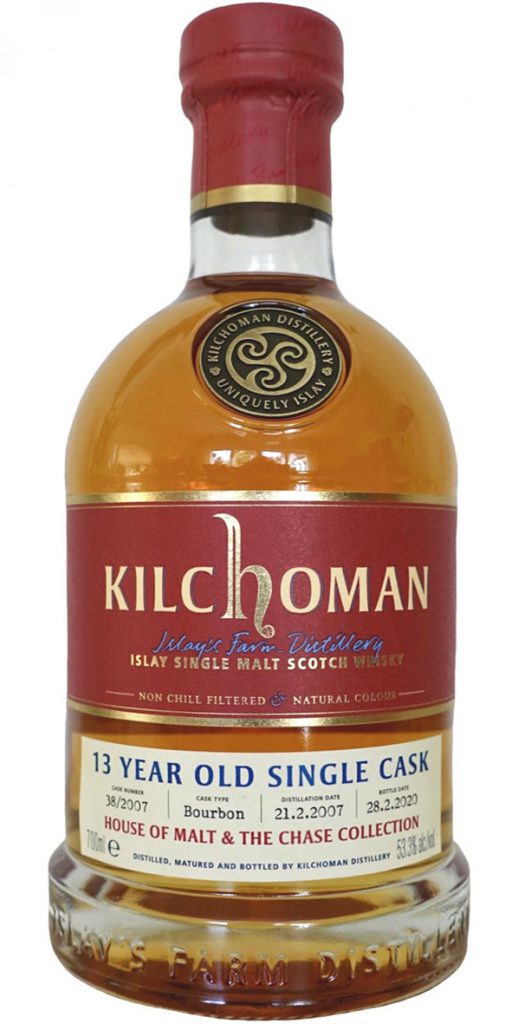 Cask No.: 38/2007
Cask type: 1st Fill Ex-Bourbon Barrel
Distillation Date: 21.02.2007
Bottling Date: 28.02.2020
Age: 13 yo
Strength: 53,3% abv
Phenol level: 50 ppm
Number of bottles: 236
Bottle volume: 0,7 l
Market: UK
.
The British whisky dealer House of Malt released this single cask bottling in April 2020. At this time it was the oldest Kilchoman single cask bottling worldwide, the whisky spent almost exactly 13 years in a 1st fill ex-bourbon barrel (distilled on 21.2.2007, bottled on 28.2.2020). As is well known, age records alone do not tell anything about the quality of a whisky, but the present bottling found an extremely positive echo among the Kilchomania members, as the following taste notes by Archer and the assigned score of 90 show. This 13-year-old ranks among the top group of Kilchoman bourbon cask releases for us, made up of a few 10, 11 and 12-year-olds.
.
Tasting notes
Nose:
In the first contact with the nose, he initially appears "calm" and acts with restraint. Mild, almost delicate smoke – at least initially. Vanilla, fresh cookie dough, yeast, honey and white chocolate. With time, it picks up speed, delivering seaweed and a pinch of pepper, the smoke note becomes clearer and more prominent. Lemon water, orange slices, almonds.
Taste:
Strong, smoky and sweet start. Apricots and peaches, fresh apple. A herbal mix of marjoram, chervil and tarragon. Creamy and hardly dry. Cafe au lait, warm cocoa. The fruits as a constant companion, the herbal mixture as a counterbalance.
Finish:
Long, increasingly dry and peaty. A fresh breeze from the sea, seaweed, salt, shell water – and still that sweetness of ripe apricots and peaches.
Just as well as Kilchoman works young, the taste experience with this 13-year-old "Methusalem" from the bourbon barrel is hard to get right. What is surprising are the enduring fruity notes it reveals from nose to finish. Delicious.

90/100 points