Kilchoman B.I.B. – Bourbon Influenced Batch [for the USA]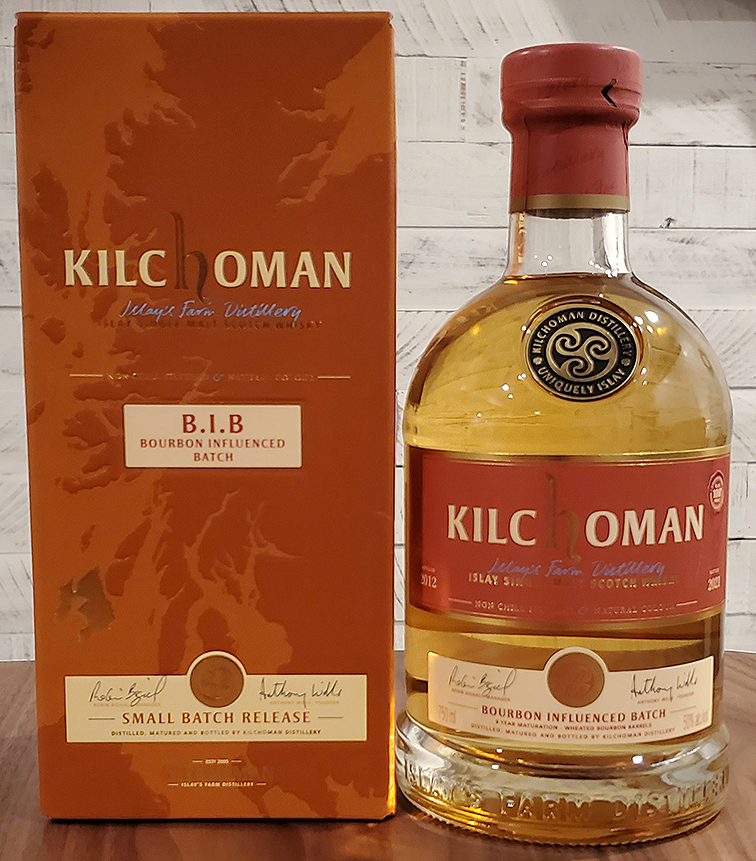 Cask type: Wheated Bourbon Barrels
Distillation Date: Spring 2012
Bottling Date: 6.5.2021
Age: 9 yo
Strength: 50,0 % (100 Proof)
Phenol level: 50 ppm
Bottle volume: 0,75 l
Bottle Code: SB 06.05.21 21/90
Market: USA
.
This "Bourbon Influenced Batch", created in close cooperation between the Kilchoman distillery and the US Kilchoman importer ImpEx Beverages, was released in late summer 2021.
As is well known, Kilchoman sources all its bourbon barrels from the Buffalo Trace distillery in Frankfort, Kentucky. However, this distillery produces many different whiskies. Among them is the W. L. Weller Wheated Bourbon. While the mash of a classic straight bourbon whiskey consists of 51% to a maximum of 70% corn, rye and some barley malt, the wheated bourbon uses wheat instead of rye. This makes the whiskey "softer" and nuttier and less acidic in taste.
During one of the warehouse tastings to select new single cask releases for the USA, Sam Filmus and Chris Uhde from ImpEx discovered the Weller Wheated Bourbon barrels in Kilchoman's warehouses and the idea was born to create a special small batch from these casks. Five wheated bourbon barrels filled in spring 2012 were married and bottled at the popular US alcohol strength of 100 proof (50.0 % abv).
In order to emphasise the important role of the original US barrels, the contents of which are now returning from Scotland to the USA as a single malt, Kilchoman and ImpEx are still playing with the B.I.B. term. Naturally, a Scotch single malt whisky cannot be called "Bottled-in-Bond", this protected term is reserved for straight bourbon whiskeys produced according to the known regulations. So the B.I.B. on the bottle then NATURALLY means "Bourbon Influenced Batch"…
.